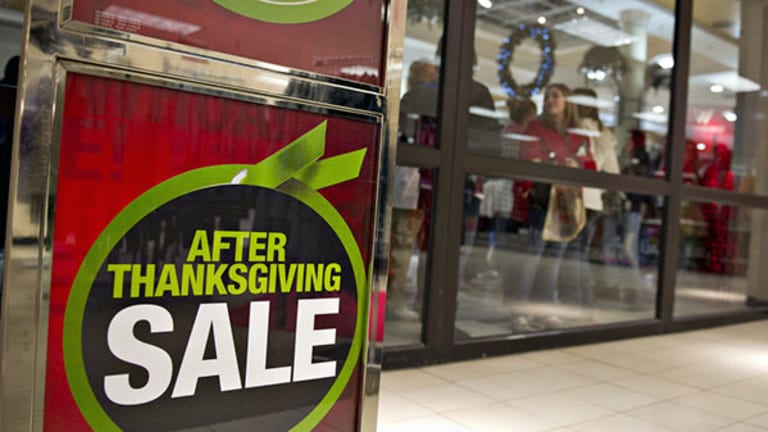 Month of Deals Helped Retailers Keep Holiday Sales Strong
Retailers lucked out in December, as warmer temperatures and confidence that deals would be plentiful throughout the entire season pushed shoppers into stores.
NEW YORK ( TheStreet) -- Retailers lucked out in December.
Warmer temperatures and confidence that deals would be plentiful throughout the entire season pushed shoppers into stores.
"Traffic has been really strong," said Morningstar analyst Paul Swinand in an interview with TheStreet. "The weather has been just cold enough to get people inspired, but not cold enough to keep people away from the stores."
He says some of the snowy weather in November sent people shopping in December.
Plus, excess promotions diluted the importance of Black Friday, which was once the Holy Grail of holiday shopping.
"The retailers pushed Black Friday to the point that it was Black Friday Month, so why rush if you can get the deals all season?" he added. This helped create a stronger December for retailers, in Swinand's view.
Plus, a lower savings rate put consumers in a better position to spend more money. November's personal savings rate dipped to 4.4% in November, compared to October's 4.6%, data from the Commerce Department showed on Tuesday. "If this can continue, it should give a little more tailwind for retail into 2015 as well," Swinand said.
As for stocks, the retail sector was elevated heading into the holiday shopping season, as consumer strength was priced into the markets, largely on the heels of low gas prices, leaving questions about how much room for growth remains in the retail space.
"If there is growth, some of it might be multiple expansion, assuming the retailers fire on all cylinders in 2015," Swinand told TheStreet. "I think Macy's (M) - Get Macy's Inc Report is a little ahead of itself because it doesn't have a great long-run growth trajectory."
He also says shares of Nordstrom (JWN) - Get Nordstrom, Inc. Report and Nike (NKE) - Get NIKE, Inc. Class B Report are rich.
Although Adidas (ADS) - Get Alliance Data Systems Corporation Report has not been performing well in the U.S., he thinks the company will gain market share in 2015. He also says a sale of its Reebok division, which has been slowing, could come next year, which would help the retailer. Swinand is bullish on Coach (COH) , which has a new designer and management team.
-Written by Scott Gamm in New York.
This article represents the opinion of a contributor and not necessarily that of TheStreet or its editorial staff. At the time of publication, the author held no position in any of the stocks mentioned.