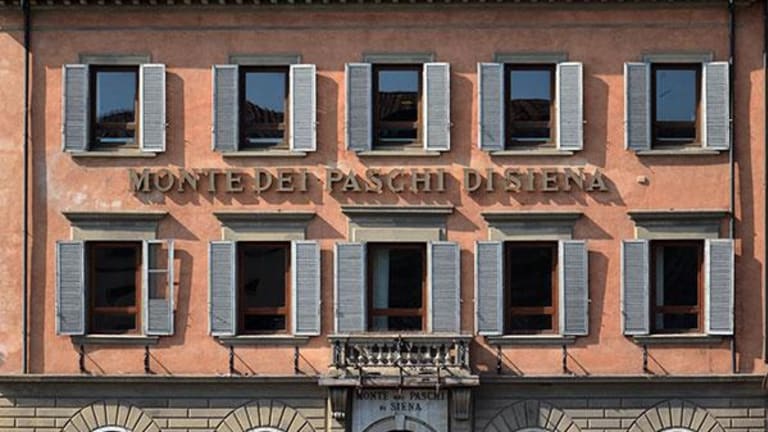 Monte dei Paschi Stock Suspended From Trading on Monday
As the market awaits EBA stress-test results, shares in the world's oldest lender are given another time-out.
Shares of beleaguered Italian lender, Monte dei Paschi (BMDPF) , were suspended from trading early Monday morning after falling by almost 8% after the opening bell. The plunge comes just days ahead of results from the European Banking Authority's most recent stress tests, which are widely expected to reveal a shortfall in Monte dei Paschi's capital buffer.
The shares fell by  7.6%, to trade as low as €0.28, before being suspended. The stock has fallen by almost 77% in the year to year to date as concerns have built over whether or not the bank can survive in a world where bad loans and low interest rates are eating away at its capital base and European Union regulations make public assistance all but impossible.
Analysts at Credit Suisse said last week that they believe the market is discounting a bailout, or even a resolution, or orderly winding up, in its current pricing of the shares.
They also estimate that Monte dei Paschi could have a capital shortfall of anywhere between €600 million and €3.5 billion ($659.4 million and $3.84 billion), an amount which is equivalent to almost a third of shareholders ' equity at the higher end of the range.
However, the largest capital shortfall is likely to be found at UniCredit (UNCFF) , which could have as much as a €9 billion hole on its balance sheet, according to Credit Suisse.
The European Banking Authority has said repeatedly during recent weeks that the current round of tests are not pass-or-fail tests, but that they should be treated as advisory in nature by the boards of Europe's banks.
Italian banks are struggling against a rising tide of bad debts which have seen no- performing loans in Italy reach an estimated €340 billion, according to PricewaterhouseCoopers. That is equivalent to almost 20% of the Italian banking system's assets.
Monte dei Paschi is widely believed to have the most exposure to non-performing loans out of all of Italy's banks and the ECB has ordered it to reduce the share of bad loans, as a percentage of assets, to 20% by 2018. The current level is more than 30%.
On July 22, Moody's downgraded Monte dei Paschi's baseline credit assessment rating by two notches to CA, which is one notch above default, before placing two more of the bank's credit ratings under review for downgrade.  The bank is based in the Tuscan city from which it takes its name, and with a heritage dating back to 1472, claims to be the world's oldest lender.
Italian banks'  bad debt tsunami is partly the result of a multi-year economic malaise that hit the Mediterranean nation in the wake of the financial crisis and also partly due to a slow-moving  judicial system which makes insolvencies both costly and time consuming to resolve.
Italian lawmakers have pinned their hopes on the bank funded rescue vehicle, Atlante, which was designed to buy up bad loans from banks. However, it has only around €6 billion in capital.
Other media reported on Monday that the Italian Association of Pension Funds was reported to be in discussion over the prospect of Italian funds hoovering up the banking system's bad loans.
European Commission representatives confirmed in late June that the EC is in discussions with the Italian government over ways in which it can embark upon a rescue of its banking sector without falling foul of European Union rules on state aid and/or the Bank Recovery and Resolution Directive.