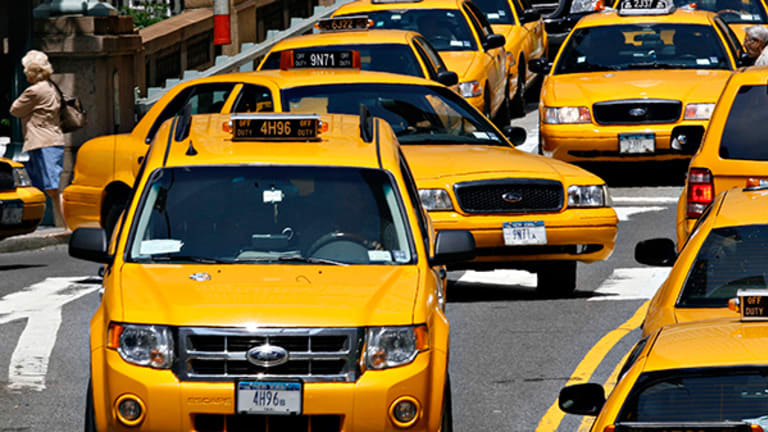 Montauk Credit Union Seized -- Who's Next in the Taxi Medallion Lending Market
The seizure of Montauk Credit Union may signal an end to risky taxi medallion lending practices, particularly as other lenders continue to experience severe medallion loan stress.
The seizure of Montauk Credit Union may signal an end to risky taxi medallion lending practices, particularly as other lenders continue to experience severe medallion loan stress.
NEW YORK (TheStreet) -- Over its long history, Montauk Credit Union built a healthy business providing taxi medallion business loans. "Over the past 40 years [Montauk] has never suffered a loss in a taxi medallion related loan and is proud to state we have never written off a single penny," read a March 12, 2014 letter from Montauk CEO Louis Jimenez petitioning NCUA to relax proposed risk-based capital requirements.
Roughly 18 months after those words were written, the New York State Department of Financial Services seized Montauk because of "unsafe and unsound conditions" related to deterioration in the taxi medallion loan portfolio and management's response.
The rise of Uber and other ride-sharing options, and the pain for taxi medallions has been well chronicled. But many lenders and industry observers have not recognized the permanence of the crisis or understood the impact. The riskiness of the lender response has derived from these oversights. 
Montauk, the lender on an inordinate number of Chicago taxi medallion foreclosures, has arguably been the most reckless perpetrator of aggressive practices in response to taxi medallion loan quality deterioration.
But it has had company. In addition to liberally restructuring loans as delinquencies spiked (see chart below), taxi medallion lenders refused credit to buyers at collapsed street asking prices. The absence of credit significantly contributed to freezing of historically liquid markets. At the same time, lenders engineered sales at prices 60% to 90% above the street asking prices by providing 100% financing. In turn, these inflated prices were used as the basis for valuing collateral on entire taxi medallion loan portfolios and marking-to-market owned medallions by other credit unions (Montauk, Melrose, Progressive and LOMTO) and publicly traded medallion lenders (Signature Bank (SBNY) - Get Report and Medallion Financial (TAXI) ). 
Credit Union Medallion Loan Stress Trend

Montauk was the first to suffer regulatory intervention, but LOMTO Federal and Melrose are experiencing alarming levels of medallion loan portfolio stress as measured by what might be termed the "pain ratio." The pain ratio is the sum of total medallion loan delinquencies, cumulative troubled debt restructured (TDR) and loan loss provisions/nonaccruals divided by total equity (see chart below). In Chicago, fleet owners indicated LOMTO is also offering 100% financing. Montauk's pain ratio was 280% at the end of the second quarter, with total medallion debt as a percentage of equity of 275%. Pain ratios for LOMTO and Melrose were 170% and 112%, respectively, and overall medallion loan portfolios as a percentage of equity were 305% and 420%, respectively. Medallion Financial and Progressive have also shown precipitous declines in medallion loan quality, reflected in dangerously high-and-rising pain ratios of 27% and 23%, up from 3.1% and 3%, respectively, in just the last two quarters. These spikes are particularly ominous in the context of such large medallion portfolio exposures exceeding 250% of book value.
After the New York state Supreme Court tossed out a lawsuit by these same credit unions alleging New York City should be treating e-hails like street hails, Melrose attorney Todd Higgins said "a catastrophe is unfolding, as an entire industry continues to be illegally destroyed [by Uber and other ridesharing services]." A leaked letter Higgins wrote to Judge Weiss before the decision indicated Melrose delinquencies and TDRs had risen another 10% from June to July. 
Pain Ratios for Medallion Lenders: Medallion Delinquencies, TDRs and Nonaccruals/Loan Loss Reserves as % of Enterprise Equity
Source: NCUA Call Reports, FDIC Call Report and SEC filings.
Medallion Loan Portfolios as Percentage of Enterprise Equity

Source: NCUA Call Reports, FDIC Call Report and SEC filings.
Finally, and most critically, the chart below shows the decline in NYC meter revenue is accelerating, contrary to prominent and inexplicable media suggestions that "2015 revenue is flat to down slightly."
Percentage Declines in New York City Yellow Taxi Medallion Revenue Accelerating

Source: TLC data.
Montauk went from confidently pressuring regulators to water down proposed risk controls, citing its medallion lending expertise and no losses for 40 years, to being seized by regulators for "unsafe and unsound conditions." In similar flurries of hubris, Medallion Financial President Andrew Murstein declared in July 2014 "Uber is nothing more than a terrific black-car company," and has pointed out "In 70 years we have never had a loss on a medallion loan that we have originated." Taxi medallion monopolies were vigorously protected from any new competition during those 70 years, and the only crises ever experienced involved temporary drops in ridership. Uber and other ridesharing services represent an unprecedented and permanent increase in the options available to consumers. As such, the 70-year comparison period Murstein is so fond of citing is off the mark. It's a completely different environment.
Since the third quarter of 2014, Medallion Financial's reported LTV ratio went from 40% to 75% and its delinquencies and troubled debt restructured went from 0.6% to 9.2% of combined medallion loans. Murstein's bold declarations sound as confident as Montauk's a year prior to its seizure, and suggest the management team is still denying the permanence and magnitude of the ridesharing phenomenon.
Could a downward spiral for taxi medallions be drawing near? Higgins summarizes as follows: "To put it bluntly, the imminent risk of cascading medallion foreclosures, followed by the collapse of the medallion market, and by extension the entire taxicab industry, is no longer a threatened harm -- it is a reality that is already unfolding." 
This article is commentary by an independent contributor. At the time of publication, the author held a short position in TAXI.