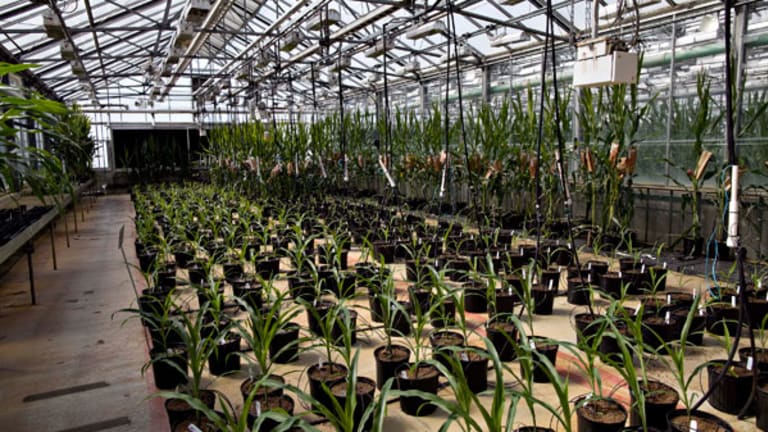 Monsanto's Stock Is Still a Long-Term Growth Story
This agricultural firm's shares should approach $140 in the next 12 to 18 months.
NEW YORK (TheStreet) -- Shares of agriculture giant Monsanto (MON) , which are near their 52-week high, have been growing like weeds, closing Monday at $122.10, up nearly 5% for the year to date.
Although the YTD performance is modest, you'll be hard-pressed to find a better performer over the past four years. During that span, Monsanto stock has bloomed well over 160% compared to the Dow's 75% gain.
Monsanto will report third-quarter earnings Wednesday. With management operating on all cylinders, I would not be in a rush to sell the stock here, especially since management recently backed its full-year outlook, saying it expects to post a smaller loss in the fourth quarter compared to previous years.
Remarkably, the stock has risen amid consumer protests over Monsanto's genetically modified seeds. These issues have raised debates about genetically modified organisms (GMO) and the extent to which they should be disclosed on food labels.
With the company involved in so much controversy, investors want to know if Monsanto is still a good stock to own, especially after such a strong four-year run. I wouldn't sell just yet, however. There's still potentially 15% more growth left in these shares -- and that may be conservative.
Consider that when compared to rivals Syngenta (SYT) and DuPont (DD) - Get DuPont de Nemours, Inc. Report, Monsanto already enjoys a strong market position in areas like corn and soybeans. This is due (in part) to Monsanto's Roundup Ready and Intacta traits, which allow farmers to effectively control weeds while preserving the safety of their crops.
Now there are signs Monsanto's growth potential may be even better. In the most recent quarter, Monsanto soybean sales jumped 21%. This was preceded by a 16% jump in the January quarter.
This means that Monsanto's core seed operations are staring to do the heavy lifting. Investors should be encouraged by this. Combined with the dominant performance of the agricultural productivity business, which includes the aforementioned herbicides such as Roundup, investors can expect a sharp upward move in Monsanto's profits in the next 12 to 18 months. This should bode well for the stock.
Part of the optimism has to do with a recent report from the U.S. Department of Agriculture that projects a 6% jump in soybean acreage for 2014, which would be a record at 81.5 million.

To capitalize on this growth, Monsanto management plans to expand the company's footprint in what management calls "precision farming," a practice that uses GPS and other technologies to help farmers boost crop yields.
Monsanto, which spent $930 million last year to pick off Climate Corp, a farm analytics company that specializes in customized weather information, plans to become more innovative.
To better compete with DuPont and BASFundefined, Monsanto is embracing technology to help bridge the divide that exists with farmers by helping them predict climate changes and provide better planting intelligence.
This means Monsanto will also be better equipped to make strategic operational decisions that can both drive down costs and boost profits. The three-point jump in gross margin in the April quarter was one example of how management's efficiency improvements can have pay off. This led to a 13% jump in net income. But management is not satisfied.
That's why on the basis of continued margin expansion and revenue growth in soybeans, Monsanto stock should command a fair value of $140 in the next 12 to 18 months.
At the time of publication, the author did not hold any stock in the companies mentioned.
This article represents the opinion of a contributor and not necessarily that of TheStreet or its editorial staff.