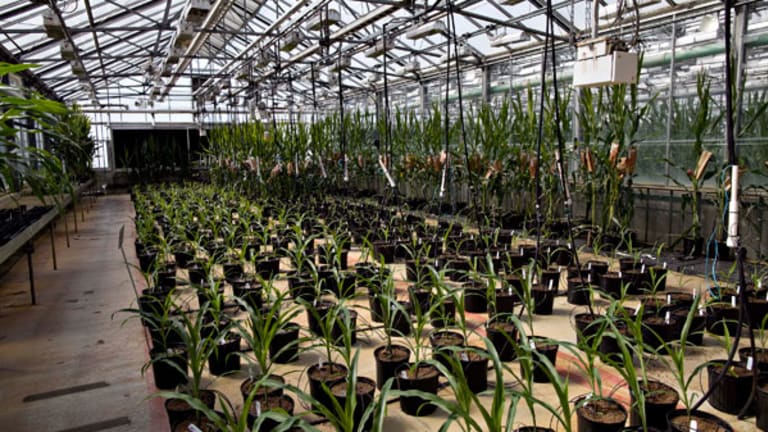 NEW YORK (TheStreet) -- The Monsanto (MON) presentation which accompanied its second-quarter earnings release today said it very clearly: "agricultural mega-trends: increasing demand requires more from sustainable yield gains globally."
That is good news for Monsanto, with the leading "clever seed" franchise for corn, wheat and soybean growers globally. The document also noted that it's impossible for 70% of the world's additional required agricultural output demand to continue to come from increased acreage, as it has for the last decade.
Monsanto looks well set for the foreseeable future. At 11:15 a.m. on Wednesday, Monsanto shares were at $114.07, up 0.5% for the day but down 2% year to date. 
But as recent price reversals in other thematically positive sectors have shown, investors have to be mindful of over-optimism and high valuations.
So should investors be looking to buy Monsanto shares today?
The initial market reaction has been mixed today, and the shares remain below where they started in 2014. Here is the problem: even taking into account the positive investment themes noted above, it is a struggle to believe Monsanto shares are cheap today.
Certainly, margins are up. Earnings are anticipated to rise by a "mid-to-high teens" percentage rate. The balance sheet is very strong. But an investor today has to pay up for that, as shown by the forward price-to-earnings ratio only a little below 20 times.
Cash flow is also a good guide, and the company's guidance for $600 to 800 million of free cash flow in their fiscal 2014 implies less than a 2% free cash flow yield. That's not much of a return for investors -- as evidenced by the current 1.5% dividend yield, while you wait for the longer-term agricultural themes to positively impact earnings and push the valuation down.
There is another way that valuation can be pushed down, of course -- and that is a lower share price. That is the key for owning a strong theme share like Monsanto.
Buy shares when they are on sale due to general market fear or specific investor concerns about the company. Hindsight is a wonderful investment educator. But if the stock market has a wobble akin to the one seen in late January, then put Monsanto high up your list of shares to look at when the screens are red and the headlines bearish.
At the time of publication, the author held no positions in any of the stocks mentioned.
This article represents the opinion of a contributor and not necessarily that of TheStreet or its editorial staff.