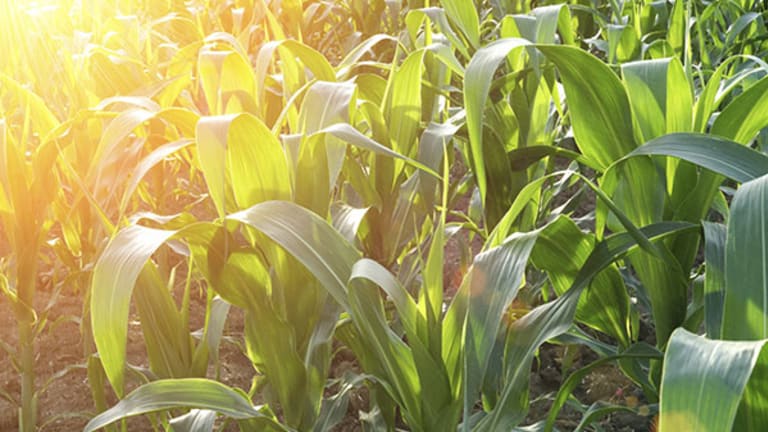 Monsanto Profit Projected to Drop Amid Decline in Corn Farming
Monsanto's genetically-modified soybean business, where sales are growing, isn't large enough to counter lackluster performance in its corn segment.
NEW YORK (TheStreet) -- Monsanto (MON)  may post a drop of about 7% in quarterly profits on Wednesday as the world's largest seed producer grapples with a decrease in farming of corn, its largest genomics product.
The St. Louis- based company may report earnings of $2.94 a share, the average estimate in a Bloomberg survey, compared with $3.15 a share a year earlier, on sales of $5.59 billion. The decline follows a report from the U.S. Department of Agriculture in 2014 that showed land acreage devoted to corn dropped by nearly 4% year over year. 
One bright spot in the company's outlook is its soybean segment, where sales surged almost 50% in the first quarter from the previous year. Soybean acreage has increased almost 6% and growing conditions for for the crop remain positive, both of which will help determine how well Monsanto performs against its production targets in 2015.
Still, at about $400 million in sales, soybeans account for just 13 percent of total revenue, less than half the share of the corn segment. 
In addition to generating as much as 40% of yearly sales, the corn business also delivers Monsanto's highest profit margins. So to heighten the appeal of its stock, Monsanto must offer an outlook that suggests performance will get better at some point in 2015 or early 2016. Complicating matters, the agriculture business, consisting of its Roundup weed-killing chemical, remains under public scrutiny over concerns about its potential cancerous effects and whether its hurts the environment. Monsanto has countered both claims. 
This article is commentary by an independent contributor. At the time of publication, the author held no position in the stocks mentioned.