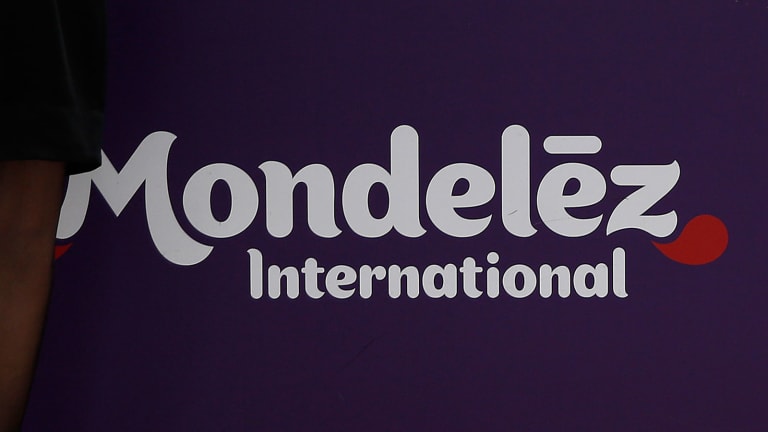 Mondelez Has a Rich Price, but a Sweeter Outlook
The snack food giant is trading at an expensive 31 times earnings, but investors who are waiting for a better entry point soon are likely to be disappointed.
Known for its Oreo cookies and Cadbury chocolates, Mondelez International (MDLZ) - Get Free Report -- shares of which are up 28% on the year and 36% in twelve months -- has delivered savory returns for its shareholders. And with the company projecting higher future profits based on an aggressive cost-cutting initiative, Mondelez should realize even higher margins in the quarters and years ahead. So, while its shares -- trading at 31 times earnings, compared to a P/E of 21 for the S&P 500undefined index -- aren't cheap today, investors who are waiting for a better entry point soon are likely to be disappointed.
Headquartered in Deerfiled, Ill., Mondelez reports third-quarter 2015 earnings results before the opening bell Wednesday. Like several of its competitors in the packaged food industry that have been hurt by weak sales, Mondelez is looking for ways to increase its profit margins that will allow it to make more money even amid periods of low revenue.
To that end, its plans to divest itself of its low-margin European cheese and grocery business, which will allow it to focus on its core snacks operations, makes sense. The company has hired investment banks Goldman Sachs (GS) - Get Free Report and JPMorgan (JPM) - Get Free Report to find buyers for the unit, according to a Reuters report. The report noted that Mondelez could generate as much as $3 billion from the sale.
And not only would this deal allow the company, which in July also divested itself of its coffee business, to focus more on its higher margin operations, the cash would strengthen Mondelez' capital position. Not to mention, the value Mondelez can potentially realize from cutting both overhead and supply chain costs. This would also align with the company's plan to reduce overhead as a percentage of revenue by at least 250 basis points between 2013 and 2016.
In that regard, though MDLZ stock is trading in the $46 to $47 range today -- only $2 below its all-time high -- there is yet untapped value. And investors would be well served to ignore the seemingly high P/E ratio and buy these shares ahead of Wednesday's results and hold them for the long term. Not only does the stock have a consensus buy rating, but its average analyst 12-month price target of $49.50 is some 6% above current levels.
True, a 6% gain isn't much to write home about. But with the company projecting higher adjusted operating margin for fiscal year 2015 and 2016, I expect analysts will be forced to raise both their earnings-per-share estimates and their price targets. Combined with its 17-cent quarterly dividend, which yields of 1.54% annually, the stock is worth the wait.
This article is commentary by an independent contributor. At the time of publication, the author held no positions in the stocks mentioned.