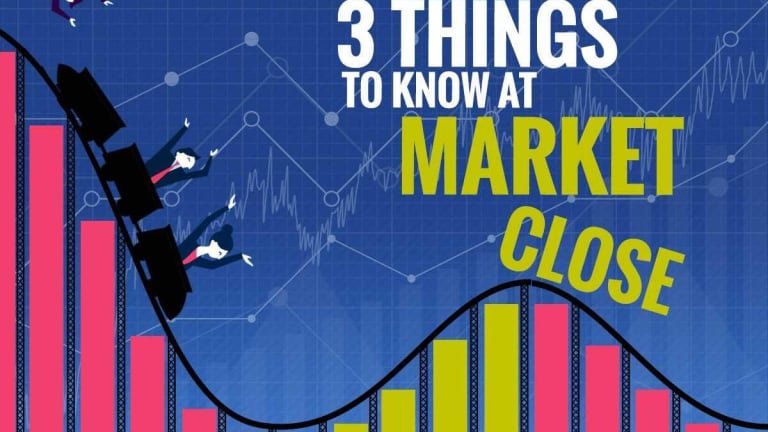 Monday Madness: Tesla's Making Headlines
Here's what you're missing on TheStreet.
Are you really surprised?
We can't go more than a couple of days without Tesla (TSLA) - Get Tesla Inc Report making headlines. I guess these headlines are just a welcome back from the weekend. Happy Monday?
Confused as to what I'm talking about? That's OK. Let's dive into what you're missing on TheStreet.
Tesla's Tanked
I feel like I'm bordering on over-using that phrase. Oh, well.
TheStreet's Martin Baccardax reported on the decline of Tesla shares on Monday. 
The stock was pressured by a comment from a key short-seller, the Greenlight Capital hedge fund, which compared Tesla's woes to the final days of Lehman Brothers. The stinging criticism followed shortly on the heels of yet another questionable decision from CEO Elon Musk, who appeared to mock the Securities and Exchange Commission on Twitter just hours after U.S. District Judge Alison Nathan asked both Musk and the SEC to justify their $40 million weekend settlement over Musk's infamous 'take private' Tweet from August 7. Greenlight's influential boss, David Einhorn, said Musk's conduct "suggests that he is doing his best to be relieved of his position as CEO to avoid accountability" for the group's underlying performance woes.
"Like Lehman, we think the deception is about to catch up to (Tesla)," Greenlight said in a quarterly investor letter first reported by Reuters. "Lehman threatened short sellers, refused to raise capital (it even bought back stock), and management publicly suggested it would go private. Months later, shareholders, creditors, employees and the global economy paid a big price when management's reckless behavior led to bankruptcy."
Yikes.
At least this decline isn't linked to CEO Elon Musk and his tweeting habits?
Oh. Wait.
Musk's SEC-mocking Tweet wasn't his only social media misstep of the week as the billionaire pressed the case that short-selling of stock should be illegal -- while hitting out at the investment giant BlackRock (BLK - Get Report) -- arguing there is "no rational basis for a long holder to lend their stock to shorts, as it dilutes the shareholder base & gives the short a strong incentive to attack the company by whatever means possible, including regulators."
Ugh. 
Does This News Warrant Selling Tesla Shares?
TheStreet contributor Bret Kenwell investigated.
A blown settlement between the SEC and CEO Elon Musk led to a one-day 14% bludgeoning of the stock in late-September. That's all it took, as a day later shares were 17% higher after the parties agreed to a similar settlement.
Since then though, it's been a rough ride for the bulls. It's forcing some investors to look elsewhere for their do-good, all-electric car investments. While companies like General Motors (GM - Get Report) , Daimler (DDAIF) , Toyota (TM - Get Report) and others have electric car offerings, none of them are quite like Tesla.
Chinese electric vehicle maker Nio went public last month and has been on a whirlwind of a ride since. Volatility must come with the all-electric territory.
The company priced its stock at the low end of the range, between $6.25 and $8.25, as SoftBank (SFTBY) decided to skip an investment in the company's IPO. That's notable, as TheStreet has previously pointed out that SoftBank is becoming a leader in the future of auto thanks to its many investments in the industry.
The valuation can be tough to swallow, even with Nio stock down at $6. For that matter, Tesla's valuation is tough too. For those that want to play the future of auto but don't want to pay a huge valuation, consider Alphabet (GOOGL - Get Report) (GOOG - Get Report) for Waymo, General Motors for Cruise (now valued at more than $14 billion!) and Nvidia (NVDA - Get Report) for its industry-leading hardware.
I'm going to leave you with that, since that's one tough cookie. 
Did Costco Bailers Overreact?
Apparently TheStreet's Jacob Sonenshine thinks so.
The Costco selloff Friday, Oct. 5, wasn't about the company's less-than-ideal earnings report -- it was about the paragraph in the report that said the company was experiencing an IT problem that was affecting its financial reporting. The report said the company was experiencing "material weakness" in its internal controls, which "relates to general information technology controls in the areas of user access and program change-management over certain information technology systems that support the Company's financial reporting processes." The stock fell after the earnings were released on Thursday, Oct. 4, and fell 5.5% on Friday.
Sonenshine writes: "It's certainly understandable why investors would want to de-risk and sell some of their positions in Costco. But it's a fixable problem, and the chances are slim that the financial reporting was so off-base that what we see on the financial statements will differ greatly. Maybe I'm naive. I know the company used the word "material," but it's obliged to disclose that info to the public and it doesn't want to downplay the issue. Hey, maybe the numbers are even incrementally better than we thought.
Now, let's take a scenario in which Costco's next earning report says the IT problem is fixed. The stock should at least be up 5.5% at that point from where it is now. I wouldn't be surprised if it rises more than that. Maybe the earnings report will be strong. Costco has beaten earnings expectations in seven out of its last nine quarters. The only risk? A price-to-earnings ratio of 32. But looking at the fundamentals, strong earnings ahead could justifiably keep that ratio high."
Is Sonenshine an optimist? 
I'll leave that one to you to figure out. 
That's a wrap for today. Is it Friday yet?