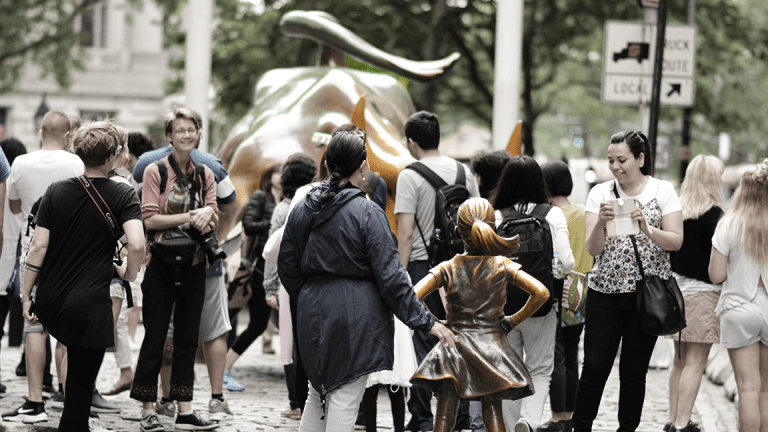 Monday Madness: Let's Talk Stock Picks
Let's go over the top stories from Monday.
Let's go over the top stories from Monday.
Let's start this cycle again.
It's Monday. I'm not going to bother with my countdown, maybe check back in on Hump Day.
Today has been a pretty mellow day for the market, which I'm sure is appreciated—I know I appreciate it. 
Seems like someone didn't give the notice to Tesla Inc. (TSLA) - Get Report , however. But we'll check in on that in a second. 
Apple's Worldwide Developer's Conference took place in San Jose, Calif., on Monday, June 4. The event was covered live by TheStreet's newest tech reporter, Annie Gaus, and RealMoney columnist Eric Jhonsa.
Seems like the Stocks app is getting a much needed makeover and Apple Inc. (AAPL) - Get Report users can finally Facetime with their 32 closest friends. But, hey, I'm not a tech reporter, so you should check out what our tech team has to say. 
Let's jump right into it, shall we?
Here's What the Chinese Government Just Said About Tesla's New Gigafactory
Jonas Elmerraji, contributor for TheStreet, tackles all things Tesla.
Apparently China is a go for the Gigafactory that Elon Musk, CEO of Tesla, has suggested. Which is probably a good thing, seeing as how Tesla's already hiring overseas. 
China has promised to cut back on the tariffs charged on car imports. 
"China also announced that it would allow foreign firms to build car factories without Chinese joint-venture partners for the first time. That policy shift is a major step for tech-first firms like Tesla concerned about the security of their intellectual property in factories that they don't have complete control over," said Elmerraji.
Apparently, Tesla also plans on bringing the cheaper Model 3 to China in 2019. The real question is, will that model be ready to go by then?
10 Stocks Goldman Sachs Thinks Will Crush the S&P 500's Performance in 2019
Brian Sozzi brings investors the top 10 stocks from Goldman Sachs. I mean, do I really need to say more?
"The 2.9% U.S. GDP growth our economists forecast for 2018 and 2.2% in 2019 should continue to benefit growth stocks," stresses Goldman Sachs strategist David Kostin. To take advantage, Kostin suggests wading through Goldman's basket of the 50 "VIP" stocks that appear most frequently among the top 10 holdings within hedge fund portfolios. The list has outpaced the S&P 500 I:GSPC by 180 basis points this year (4% vs. 2%).
Are you as curious as I am to find out what stocks are suggested?
You can find out here.

3 Great Stocks for Retirees to Own
One of TheStreet's summer interns, Alexander Nicoll, rounded up some of the best stocks for retirees to invest in. 
Okay, okay, I'll give you the stocks, but you should check out the story if you want to know why you should be investing in these picks.
Nicoll lists Johnson & Johnson (JNJ) - Get Report , Kraft Heinz (KHC) - Get Report , and Proctor & Gamble (PG) - Get Report as the three picks from experts.
That's it for today.
Are you ready for the weekend yet?
Apple is a holding in Jim Cramer's Action Alerts PLUS Charitable Trust Portfolio. Want to be alerted before Jim Cramer buys or sells AAPL? Learn more now.
Expert Advice for a Risky Market. We asked top experts from Bank of America, Fisher Investments, Invesco and Wells Fargo what smart investors should do right now. Click here and register for free to watch what these market watchers recommend.