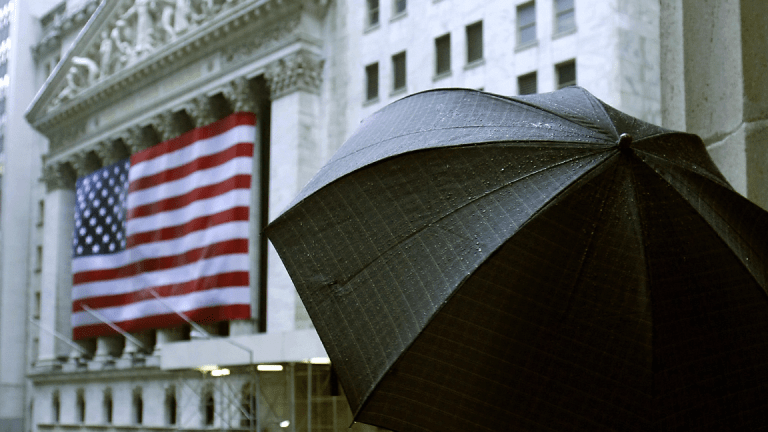 Monday Madness: Are We Headed for a Bear Market?
Here's what you missed on TheStreet Monday.
Is the mad dash over?
A rainy Monday has been filled with headlines—Amazon, Constellation, the S&P drop, to name a few—so let's go over the top stories on TheStreet.
S&P is Close to Forming a Bearish Chart Pattern
Yikes!
TheStreet's Brian Sozzi warns that investors should check themselves before they wreck themselves. 
There is a little bit to chew on for both the bulls and the bears with the market near a double-top formation. Widely followed Miller Tabak strategist Matt Maley says the current formation may not indicate a major decline in the markets.
Just a reminder: there is hope if the market gets bearish. 
Cramer's Take on Constellation
TheStreet's Tracy Byrnes broke down the Action Alerts Plus members call where TheStreet's founder, Jim Cramer, spoke. 
"Here's one of the few consumer product stocks that held up through the late spring assault on the group. We had a decent basis after buying it down, but we had no desire to unload it," said Cramer.
Worries about soft wine sales, and pot stealing sales from beer all came into play.
"Constellation (STZ) - Get Report reported weaker beer and wine figures. Subsequently the pot drumbeat has grown louder," he said.
Constellation's push into pot is something that investors have been enticed by.
Amazon's Advertising Business is Killing it
Piper Jaffray estimates that Amazon's (AMZN) - Get Report advertising business will haul in $8 billion in revenue this year, contributing about $3 billion to operating profit. By 2020, Piper expects Amazon ad revenue of $16 billion and by 2021 and beyond, the business' sales could exceed that of Amazon Web Services.
"Investors should be focused on Amazon advertising now; this is a major driver to results and valuation today and continuing in the coming quarters and years," senior analyst Michael J. Olson says.
And, to add to that, Olson said that Amazon's product search market share exceeds Google's. Whew.
That's a wrap for today. Stick with TheStreet for the rest of the week.