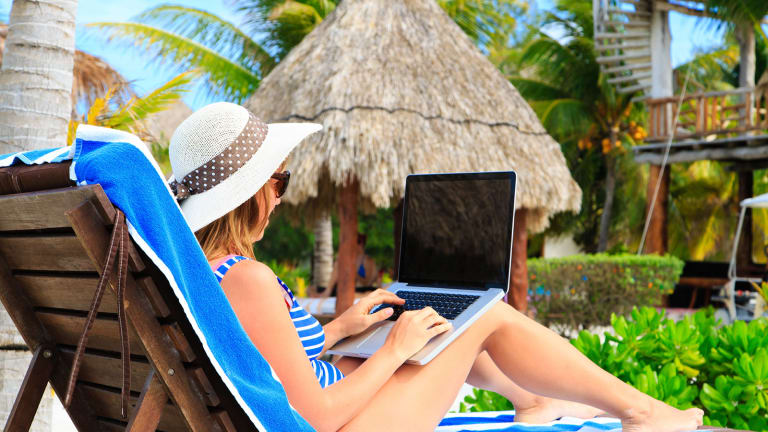 Monday Madness: Do You Want a Pepsi With That?
Pepsi's CEO is out, the Model 3 is smoking other cars and Jamie Dimon sees the future.
Let's go through the top stories from Monday.
Indra Nooyi Steps Down
The CEO of PepsiCo (PEP) - Get Report has decided to step down. She'll vacate the post on Oct. 3. In her absence, Ramon Laguarta will take over as CEO.
In his note Monday, Amit Sharma of BMO Capital Markets said, "We believe that the transition does not signal any changes in PEP's near-term strategic direction, particularly with respect to the likely separation of its snacks and beverages business in North America, given the timing of the announcement, PEP's recent share performance (+20% over last three months), and like-minded thinking of Mr. Laguarta."
During Nooyi's 22-year tenure at PepsiCo, she was instrumental in expanding the brand. In 2000 she helped engineer the purchase of Quaker Brands, which includes sports drink Gatorade. After becoming CEO in 2006 she made it a priority to include healthier foods in the Pepsi lineup.
Pepsi is Real Money's stock of the day. It is also an Action Alerts PLUS holding.
JP Morgan CEO, Jamie Dimon, Makes Treasury Yield Prediction
CEO Jamie Dimon of JPMorgan Chase (JPM - Get Report) said over the weekend that the U.S. 10-year Treasury yield "should be 4% today, [and] you better be prepared to deal with rates of 5% or higher -- it's a higher probability than most people think." Is America's most famous banker right ... and if so, how should smart investors play this?
Well, should Dimon turn out to be correct, then bank stocks will probably perform the best, while utilities, REITs and telecoms -- dividend-payers that are usually identified as bond proxies -- will suffer. After all, no one will clamor for a stock with a 3.6% dividend when the U.S. Treasury will pay you 5% for your money.
Tesla's Kicking Cars Makers Where it Hurts
While the quarter wasn't all that impressive from a financial perspective, the story around Tesla is improving.
It still burned through more than $700 million in free cash flow and saw its cash position decline from $2.8 billion to $2.2 billion in just three months. However, the cash burn was better than analysts had expected and revenue grew more than 40% year over year.
Plus, management is sticking to its outlook for GAAP profitability and positive free cash flow for its fiscal second half of 2018. That's largely being helped by the fact that Tesla plans to produce more than 50,000 Model 3 vehicles in the third quarter and likely more in the fourth. The fact that these are all high-end Model 3s should really help drive profitability.
Either way, the Model 3 will have an impact. The question is, though, just who will it hurt the most? We'll figure out the answer over the next few months as production ramps up. Longer term, the question will evolve into how well Tesla can hold off its competition, like General Motors (GM - Get Report) , Mercedes and Porsche -- the last of which has a real beauty on the way.
TheStreet's Bret Kenwell breaks down all things car and Tesla.