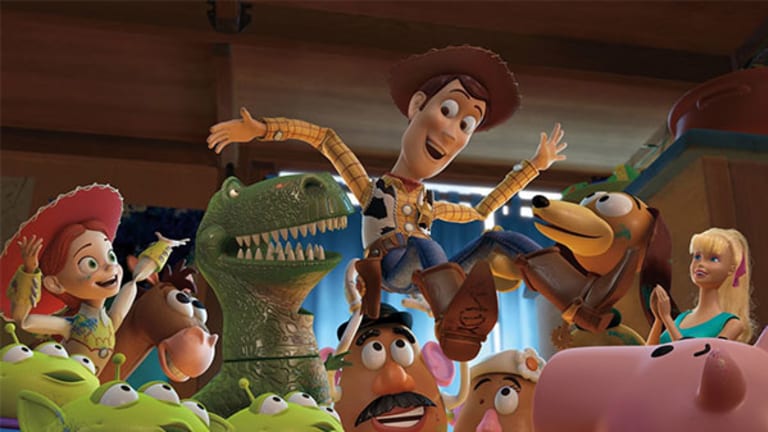 Mom's Attic and the Cost of Downsizing
When grown kids leave childhood memories behind, it's the parents who bear the costs of keeping them.
PORTLAND, Ore. (TheStreet) -- When I first visited my wife's parents' home just outside of Seattle a few years back, it was also the first time she'd been home since leaving for college and graduate school. With my wife and her sister in new homes of their own, their parents decided to invest in a whole-house remodel that would turn their rooms into guest rooms and the floor they lived on into what was functionally a guest suite and workspace.
For my wife, this meant cleaning 18 years of her life out of her old room in one long Sunday. Trophies, stuffed animals, photos, awards and toys all went into crates in what seemed like the emotional equivalent of cauterizing a wound or ripping a bandage of a hairy arm. I didn't envy her and listened to the stories behind each object filed away, hoping it would provide some catharsis and feeling fortunate that I'd already gone through the same process years ago.
Or so I'd thought. About two years later, as my wife and I were visiting my parents in New Jersey just a few weeks ahead of our move from Boston to Portland, my mom informed me that there were a few boxes in the attic that she wanted me to go through before I left. Inside were spelling bee ribbons, old journals, souvenirs from my long-gone grandparents' trips around the world and other items I'd thought my parents had parted with long ago.
Three large boxes made their way to the Belleville town recycling center, each containing the remnants of my last years as a full-time resident of my parents' house. As was the case with my wife's parents, mine just wanted to reclaim some space and move on from a part of their lives that was growing a bit more distant. My wife and I have discussed those last purges ever since and came to one very sobering conclusion: Keeping those items around was a lot tougher on our parents than it was on us.
Removing emotion from the discussion -- not a terribly easy thing to do when you're discussing the emptying of a family home and defeathering of a well-built nest -- it's a far greater financial obligation for those left holding the boxes of keepsakes than the ones stowing away a few dozen cubic feet of safety blanket. Boston College's Center for Retirement Research, for example, found that downsizing from a $250,000 house to one that costs $150,000 could increase yearly income by $3,000 and reduce annual expenses by $3,250, saving the homeowner $6,250 a year.
While that would fluctuate depending on the location of each home and might not be so easy if the local housing market isn't playing along, even moving from a three- to four-bedroom house to a one to two-bedroom apartment, condo, townhouse or small house would help homeowners bank some money from the sale and cut down on monthly utility expenses. Basically, heating or cooling vacant rooms and turning on the lights to sort through your stuff for something you hadn't thought about until recently isn't cheap.
Those belongings of yours aren't exactly helping to foot the bill either. At a storage facility near my parents' town, a five-by-five-foot space goes for $43 a month before taxes and fees. That's more than $500 a year my parents weren't getting from a closet full of belongings and, if we're being honest, is just a fraction of the $1,200 a year that I should have been paying for a space three times that size.
That's not just a tucked-away corner of memories: That's an anchor. It's a junkpile in the attic that's weighing down parents who might otherwise leave. As it is, 40% of Americans ages 50 to 64 plan to move within the next five years or so, according to the Demand Institute, a joint venture of the Conference Board and Nielsen. Among that crowd, roughly three out of four plan to downsize from their current home, while 60% of homeowners age 60 and over told a University of Michigan Health and Retirement Study that they have "more things than they need."
Much of that surplus isn't even theirs. Even Kobe Bryant discovered this the hard way earlier this year, when his mother Pamela decided to auction off jerseys, uniform shorts, trophies and championship rings Kobe left in the family's suburban Philadelphia home. Pamela's plan was to buy herself and Kobe's father Joe a new home in Las Vegas. When Kobe said no and sued auction house Goldin Auctions to stop the suit, Goldin countersued and revealed that Pamela had been after both Kobe and his wife Vanessa for years to get his stuff out of storage. The Los Angeles Lakers star and his parents eventually settled, but not after providing a public example of what awaits grown children who can't decide what to do with the stuff crowding their parents' cellars and crawlspaces.
The Bryants aren't the only family in the U.S. whose kids' stuff is keeping them from moving forward. According to the University of Michigan study, three-quarters of responding homeowner parents said the sheer volume of the possessions left behind has made them "somewhat" or "very" reluctant to move. This comes as the National Association of Realtors shows the price of existing homes across the U.S. rising and mortgage rates starting to rise right along with them. In the portions of the country fortunate enough to see their housing markets recover, home-owning empty nesters are finally seeing their window to sell open.
Even with the kids' stuff gone, however, downsizing doesn't come easy. As much as we'd love to paint this as a strictly economic decision or just a step in financial or retirement, there's a whole lot more weight to it than that. The old superstition says that if you know you'll want to return to a specific place one day, you'll leave something behind as an excuse to go back. If a grown child's memories of home are fond ones that they want to keep fresh, why wouldn't they try to cling to them as long as possible by tacking them down with some well-placed boxes of nostalgia. For parents who still want to see their kids come back every now and then, isn't holding some of their stuff for safe keeping the best way to do that?
No, to all of it. In both cases, people are being held as emotional hostages and aren't moving on to that next stage in life. Every moment parents are making repairs to that big house and keeping it up is a moment that they aren't out seeing people, doing other things or exploring their world. Every layer of stuff a grown adult leaves behind is just a safety net preventing them from taking any real leap or risk. As long as that stuff is there, they have somewhere to go back to.
The hours spent cleaning out childhood belongings aren't the greatest anyone will spend at their parents' house, but it's a sound investment. If you have things worth holding on to, take them to the place you now call home or take the adult step of paying to store them yourself. Don't make your parents chase you down: They have enough to occupy their thoughts now that you're gone.
-- Written by Jason Notte in Portland, Ore.
>To contact the writer of this article, click here:
Jason Notte
.
>To follow the writer on Twitter, go to
.
>To submit a news tip, send an email to:
.
RELATED STORIES:
>>Why Tampa Bay Bucked NFL Blackouts
>>Hip-Hop's Golden Age Is A Moving Target
>>The United Playlist Of America
Jason Notte is a reporter for TheStreet. His writing has appeared in The New York Times, The Huffington Post, Esquire.com, Time Out New York, the Boston Herald, the Boston Phoenix, the Metro newspaper and the Colorado Springs Independent. He previously served as the political and global affairs editor for Metro U.S., layout editor for Boston Now, assistant news editor for the Herald News of West Paterson, N.J., editor of Go Out! Magazine in Hoboken, N.J., and copy editor and lifestyle editor at the Jersey Journal in Jersey City, N.J.