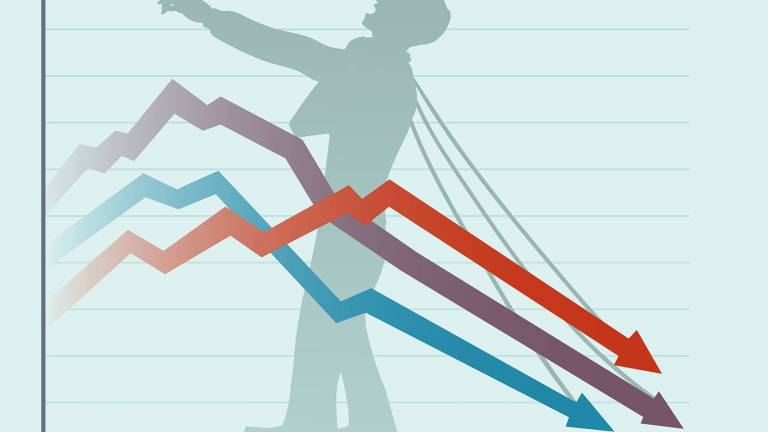 Mom and Pop Dumped $100 Billion From Stock Mutual Funds Starting Last April
When individual investors all redeem their stock holdings at once, it has historically been a bullish indicator. And individual investors are selling again.
Mom and Pop investors are dumping stocks in a way not seen in years. It's probably a bullish sign for the major market indices, if history is anything to go by.
Every month from April through Dec. 30 last year, mutual fund investors yanked money from mutual funds focused on foreign and domestic stocks, according to the latest estimates from the Investment Company Institute.
The total outflows over that period adds to a hefty $98.1 billion, a total which is unlikely to being meaningfully changed when the final day's trading (Dec. 31) is added in.
There hasn't been an outpouring of such magnitude since 2012, when more than $100 billion was withdrawn from similar funds in only the second half of the year.
Stock mutual funds are overwhelmingly owned by small investors, with the ICI estimating a share of around nine out of 10 dollars coming from households rather than from institutional investors such as pension funds.
The move out of stocks by small investors is often a great indicator of what not to do. Mom and Pop tend to sell when the market is down and buy when the market is rallying. In essence, they buy high and sell low, which is the opposite of the usual profit-maximizing maxim, "buy low -- sell high."
After the 2012 selling was over, the Standard & Poor's 500 Index, which is tracked by the SPDR S&P 500 (SPY) - Get Free Report exchange-traded fund, surged 41%, not including dividends.
It should be clear that selling stock holdings during 2012 was a dumb move. A better move would have been to do the opposite of what Mom and Pop were doing and buy stocks. After all, a rally of 41% is nothing to sneeze at.
Could it be different this time?
Perhaps. Exchange-traded funds, which also capture some small-investor capital, are increasingly popular. That means some of the outflows of cash from mutual funds may have simply been moved to ETFs, where annual expenses are often lower than for actively managed mutual funds.
When you see outflows from stock mutual funds, you also tend to see inflows at ETFs, explains Sean Collins, senior director for industry and financial analysis at the ICI. However, the ETF inflows are a fraction of the mutual fund outflows.
Inflows into domestic equity ETFs in 2012 were about half the level of the domestic stock mutual fund outflows, he says.
"There is some offset there; it wasn't one for one," says Collins.
He also says that the mutual fund redemptions represent a tiny percentage of the overall assets in stock mutual funds, which totaled $8.3 trillion at the end of 2014.
As Berkshire Hathaway's (BRK.A) - Get Free Report (BRK.B) - Get Free ReportWarren Buffett says, "Be greedy when others are fearful."
I'd say that the outflows point to some level of heightened fear. The news that China's economy isn't recovering and that North Korea claims to have test-detonated another atomic weapon may encourage more selling by small investors, who foresee drops in the major indices.
That's the key: the outflows are a contrary indicator of sentiment. At least they have been historically. My bet is the indicator continues to work, and that sooner rather than later we'll see stocks surge again.
This article is commentary by an independent contributor. At the time of publication, the author held no positions in the stocks mentioned.