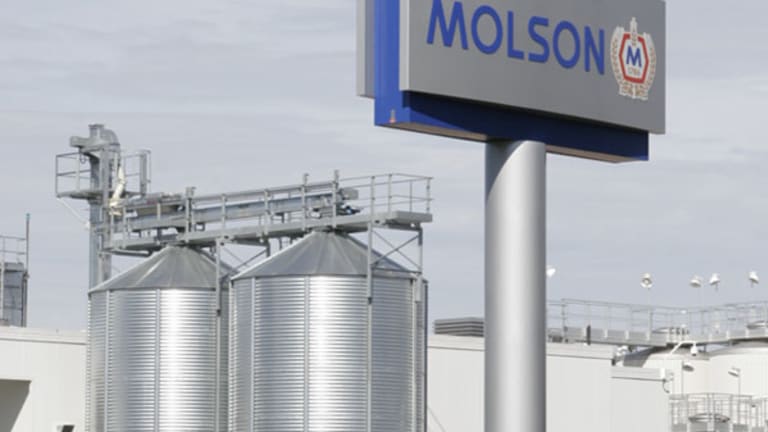 Molson Coors Pushes to New Highs Despite Everyone Drinking Wine
It's about time we understood the enigma that is Molson Coors.
NEW YORK (TheStreet) -- If you're familiar with Coors Light, Killian's Irish Red and Blue Moon, you know Molson Coors Brewing Co.  (TAP) . The product of the 2005 merger between Canada's Molson and Denver's Coors, the combined Molson Coors has been on a tear, reaching all-time highs through much of this year.
In addition to steadily rising revenue, Molson Coors has been bolstered by recent ratings upgrades from Bank of America Merrill Lynch, Zacks Investment Research and the ISI Group. Shares rose 0.9% to $73.13 on Thursday, extending its 12-month advance to 49%.
The beverage company's success is born of diversification and an improving global economy. While the Coors and Molson brands are the company's best known brands, the Blue Moon craft has given the beverage maker a comparatively new high-growth product, wrote BTIG-Equity Research, in a June 12 investor note by April Scee and Theo Brito.
Molson Coors has also built a formidable business in faster-growing economies, most notably, China, India, Ukraine and Central America. The 2012 acquisition of Starbev LP additionally positions the company to expand its reach in Central and Eastern Europe.
"TAP is poised to benefit from mainstream beer recovery, healthy net pricing/mix realization and am improved cost discipline," Goldman Sachs analysts Judy Hong, Ivan Holman and Jacob Feinstein in yet another position investor report, this one published on June 11. Goldman reiterated its 'buy' rating and increased its 12-month price target to $79.
Analysts Robert Ottenstein and Eric Serotta of ISI Group point out that Molson Coors has benefited from the success in the United Kingdom of lite-beers, traditionally not a big seller. "We can expect even more event-driven investors to purchase TAP as the calendar moves closer to 2015," wrote the ISI analysts. 
Molson Coors' success comes despite increased sales among purveyors of spirits, wine and craft beers. The nearly 20-year-old boom in craft beers is born of consumers, "supporting small, independent local businesses; close, personal connections and unique tastes and flavors," according to Bart Watson, an economist at the National Brewers Association, based in Boulder, Colorado.
Additionally, Molson has had to contend with slipping premium light beer market share in its home country. CEO Peter Swinburn noted the under-performance of Coors Light in Canada and attributed lower volumes in part to the termination of the company's arrangement for the Modelo brands, he said during a May investor conference call. Anheuser-Busch paid Molson over $60 million in compensation for the early termination of the Modelo Molson joint venture in Canada.
However, Swinburn said Molson hopes to reverse this trend with as summer-focused products. Additionally, despite slipping premium light market share, Molson Canadian Pale Lager has gained share for the third consecutive quarter.   
There's also the matter of uneven development in Central Europe and difficulties expanding Starbev beyond the Czech Republic. Goldman Sachs analysts suggest Molson Coors is seeing deteriorating volume trades and cross-cutting mis-execution as TAP's key risks. Ottenstein and Serotta of ISI Group suggest increased competition with Anheuser-Busch InBev (ABI) , the world's largest brewer or a poorly executed deal could harm Molson Coors' trajectory.
Aside from Molson Coors' larger selection of products, its 2012 acquisition of Starbev may represent untapped potential owing to its collection of more than 20 international brands and access to Central and Eastern Europe. And that doesn't even include Blue Moon.
So much for wine drinkers.