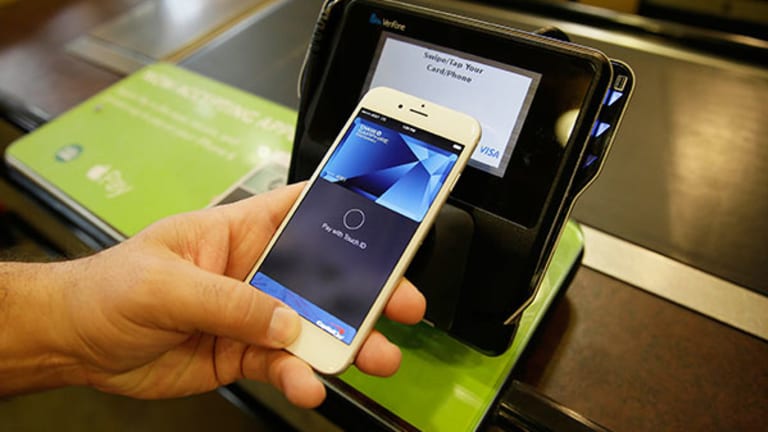 Mobile Wallet Wars Heat Up -- 'PayPal Had to Do Something'
First Apple debuted Apple Pay, then Google bought a piece of Softcard, and Samsung bought LoopPay. Naturally, PayPal had to act, and buying Paydiant was the deal it needed.
Call the $280 million PayPal (EBAY) - Get Report reportedly paid for Paydiant the price of reclaiming a spot in the battle over mobile payments.
"The wallet wars have begun and PayPal had to do something," said Ralph Dangelmaier, CEO of Waltham, Mass.-based international payments gateway company BlueSnap.
His point: Over the last year, as Apple (AAPL) - Get Report debuted Apple Pay, Google (GOOG) - Get Report bought many of the assets of the failing Softcard, and Samsung (SSNLF) bought LoopPay, PayPal had fallen out of the mobile payments conversation. "PayPal bought their way back to a place at the table," said Dangelmaier.
"This mobile payments market is still very fragmented," said Brian Billingsley, CEO of payments company Klarna North America. "Nothing has really taken off in mobile. But the feeling is that, soon, there will be winners and losers and companies are spending money to grab a spot in the front." That is what has fueled the recent buying spree, as well-moneyed heavyweights throw dollars around to shore up their positions.
Sources insisted that the fact that the Paydiant deal is the last to be announced shouldn't be taken to mean that Paydiant was passed over by Google or Samsung. It may have been, but sources insisted that Paydiant in particular brings benefits to PayPal that would not have been accrued in buying Softcard or LoopPay.
Wellesley, Mass.-based Paydiant is a well-known innovator in mobile payments at retail -- a PayPal weak spot. Paydiant provides the mobile commerce backbone to CurrentC, the payment tool developed by the MCX merchant consortium led by Wal-Mart (WMT) - Get Report, Target (TGT) - Get Report, and many other national retailers. That relationship probably is the crown jewel for PayPal because, through MCX, it gains an immediate relationship with most of the nation's leading retailers.
"PayPal bought Paydiant because of the MCX relationship," said Rob Stringer, executive vice president at Cortex MCP in Cambridge, Mass., a mobile commerce platform developer.
Paydiant also has a relationship with big financial technology company FIS and it has created mobile payments tools for the Subway sandwich chain and CU Wallet, an initiative intended to bring mobile payments to credit unions.
In that regard, Paul Fiore, CEO OF CU Wallet, said of the PayPal acquisition of Paydiant, "How could this not be good for us?" His point: Where before, CU Wallet was dependent on a small, privately held company to provide its backbone technology, that effort now will have the backing of an internationally recognized payments company that is set to be spun out of eBay.
For its part, in a written response to questions, PayPal elaborated on why it bought Paydiant: "With the addition of Paydiant, PayPal becomes an even stronger business partner for merchants. Using Paydiant's platform, our merchant partners can now create their own branded wallets to accelerate mobile-in-store payments and drive consumer engagement through mobile payments, loyalty, offers and the prioritization of preferred payment types, such as store branded credit cards and gift cards."
The other aspect of Paydiant's appeal to PayPal, said multiple sources, is that Paydiant has billed itself as device and technology agnostic. Its intent has been to build mobile payment tools that run on most smartphones. For now, it is primarily built around QR codes, not the Near Field Communication (NFC) channels that power Apple Pay. Paydiant has said on multiple occasions, however, that it is open to building around NFC upon client demand and, said sources, it has NFC pilots in the works.
PayPal went even further in a written comment to TheStreet: "Similar to PayPal, Paydiant's technology agnostic approach means that merchants can use any mobile payment technology – QR codes or NFC – that best suits their business."
PayPal declined to comment on the purchase price.
Don't think this game of musical chairs is over. "The buying spree has not come to an end," flatly predicted Stringer. Many other payments companies likely will be in play as now the opening shots in the wallet wars have been fired.
This article is commentary by an independent contributor. At the time of publication, the author held no positions in the stocks mentioned.