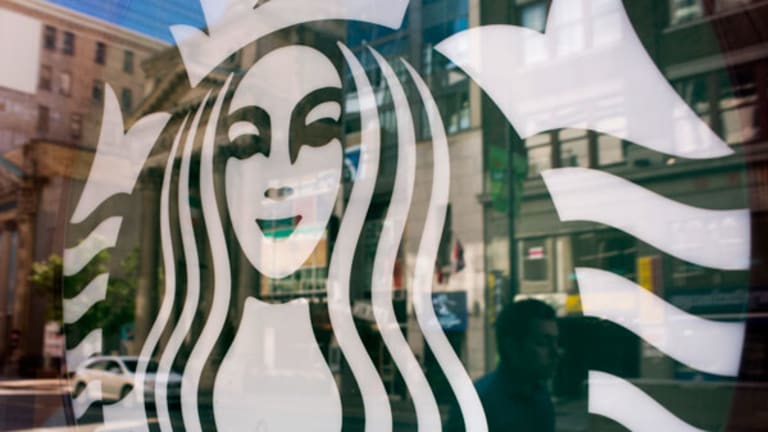 Mobile Payments Are Fast, Baristas Are Furious
With the advent of mobile payment technology, workers at Starbucks and other companies are finding customers are keeping the change.
NEW YORK (TheStreet) -- There has been a lot of talk within the business world recently about mobile finance. As the world has become increasingly mobile, there has been a push by both consumers and companies to integrate their offerings into a mobile platform.
Mobile payments have caused a stir in particular over the last year. A number of retailers have started to allow customers the option to check out using their mobile device, maybe for convenience, or maybe as just a neat offering. I've covered the mobile financial space quite heavily this year with articles about Monitise (MONIF) and Green Dot (GDOT) - Get Green Dot Corporation Class A Report as well as the underbanked population in general.
But while sitting in Starbucks a week ago working on a recent article, I started to think about the tips.
The little tip jars at my local Starbucks have been looking a little emptier recently. I started watching the transactions and I was able to confirm my suspicions. It appears that mobile payments, something Starbucks (SBUX) - Get Starbucks Corporation Report has truly pioneered, has started to take away from the tips of the baristas. No cash means no change, meaning nothing to put into the tip jar.
According to the very informal survey I conducted, not a single person using his or her mobile device for payment offered a tip to the employees. It makes sense: Most people in a place like Starbucks are in a rush in general, so why make the extra effort to add cash to a cashless transaction? I know since I downloaded the application the employees haven't been getting the leftover nickel from my $1.95 grande coffee transaction.
Today, 11% of the company's U.S. and Canada in-store transitions being paid for with a mobile device, CEO Howard Schultz said during the company's recent conference call. Moreover, management has said the company processes over four million mobile transactions per week with more than eight million customers using the mobile app. According to the fourth-quarter transcript, Schultz did hint at mobile tipping functionality in the future. However, he really didn't go into too much depth during the call.
Starbucks management has been extremely bullish when discussing its mobile application. Apparently the mobile focus has helped the company greatly with service times and dramatically increased customer engagement within its loyalty program.

At this time, I think it's safe to assume that barista tips have fallen as a result of the mobile phenomenon. This is significant for the employees because baristas at Starbucks make only $8.80 on average, according to Glassdoor. If you're not familiar with the Web site, it allows users to view the average wages and reviews for specific positions within different companies.
Other large companies including McDonald's (MCD) - Get McDonald's Corporation Report have started to embrace mobile payments as well. In September, McDonald's announced that some of its locations in Salt Lake City and Austin, Texas, were trying out a mobile payment app to accompany its new mobile ordering application. Bloomberg recently reported the company had in trials a mobile application similar Starbucks', in 1,000 of its McDonald's stores. In an effort to drive dwindling same-store growth, the company will be sending out special offerings to its customers via the application for mobile ordering.
With quick service restaurants including Starbucks, McDonald's, Chipotle (CMG) - Get Chipotle Mexican Grill, Inc. Report, Chick-fil-A and many more focusing on mobile payments and checkout, I would expect employee tip jars will weigh a little less for the time being.
Until mobile tipping functionality is installed in the app, consider tipping the employees who really deserve it a little more, if you can.
For the companies, mobile application and payment adoption is the growing trend. Companies that have already made the switch have reported better customer service times, higher engagement and higher revenue from these customers.
At the time of publication the author had no position in any of the stocks mentioned.
This article was written by an independent contributor, separate from TheStreet's regular news coverage.