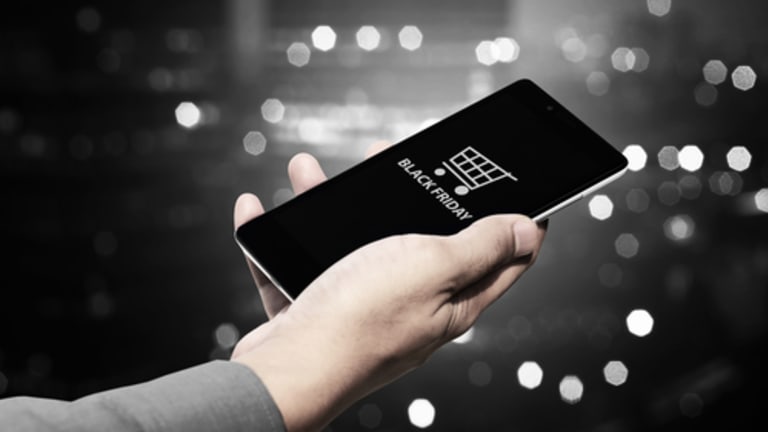 Mobile and Amazon Dominated Black Friday; Holiday Shopping Will Never Be the Same
Mobile purchases are way up this holiday shopping season. Here's what that means for more traditional retailers.
Holiday shopping will never be the same. This past Thanksgiving and Black Friday weekend, in-store sales were down 1.5%. However, as terrible as that initially sounds, it may be due to the fact that holiday shopping deals are going on for longer both before and after the Black Friday holiday online. More retailers are dubbing it Cyber-Week making it more convenient for shoppers to get deals on their own terms and making that 1.5% seem a lot less meaningful.
The real story of the season is mobile shopping (up 14.8% over 2014 and accounting for 60% of all online sales), which has come to the holiday shopping season's rescue in a big way. According to the National Retail Federation, 103 million people shopped online with 102 million doing their shopping in brick and mortar stores, pushing total Web-based sales up 21% over the last year.
While one particularly impressive stat shows Amazon (AMZN) - Get Free Report as a clear winner with 36% of all online Black Friday sales, that doesn't necessarily spell disaster for traditional retailer brands. The reasons for Amazon's dominance:
1. Great mobile user experience
2. Huge product selection
3. Trust that has built up over the years
4. Rise of mobile technology and usage 
data by
Amazon has taught consumers that shopping online through a mobile device is safe and convenient. That same lesson hasn't been lost on big box retailers and marketing agencies; they, too, are learning to cash in through mobile marketing.
Other retailers, like Best Buy, Wal-Mart, and even Target, are learning to be big winners online as well. HookLogic, which operates an ad network of online retail sites that claims it reaches more shoppers than Amazon, noted that on Cyber Monday more consumers shopped on major retail sites than ever before. Site traffic and conversions were up six and and nine times, respectively, when compared to the typical daily average.
There has been a clear call for mobile optimization on the part of retailers. Back in April, Google announced it was changing its page ranking system to favor sites that were optimized for mobile. At my digital marketing firm, we were vehemently pushing all clients to improve the mobile user and ecommerce experiences on their sites, and they are definitely waking up to the call.
Sure, Amazon has been showing impressive results, but I wouldn't run to invest, especially with its massive price-to-earnings ratio. Instead, try taking a second look at retailers with an expanding and improving e-commerce presence on mobile devices. Best Buy for example, came in second behind Amazon in overall ecommerce sales over Black Friday weekend, and Wal-Mart which, on the heels of its positive third-quarter earnings, announced plans to spend $1.1 billion next year into expanding its e-commerce and mobile presence in a bid to more directly compete with Amazon.
This article is commentary by an independent contributor. At the time of publication, the author held no positions in the stocks mentioned.