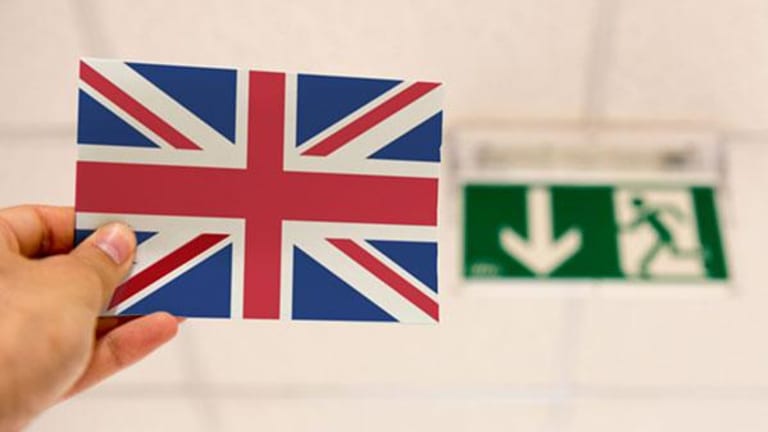 Mixed Signals from European Leaders on Brexit Timetable
German Chancellor Angela Merkel urges a 'calm and measured' response ahead of this week's regularly scheduled summit in Brussels.
German Chancellor Angela Merkel urges a 'calm and measured' response ahead of this week's regularly scheduled summit in Brussels.
Like the U.K. hit single that won the 1981 Eurovision Song Contest, European leaders have yet to make their minds up over whether to "speed it up" or "slow it down" on Britain's exit from the 28-country European Union.
While the presidents of the European Commission and the European Parliament are keen to get divorce proceedings started as quickly as possible, German Chancellor Angela Merkel is urging a "calm and measured" response from the EU-27 to Friday's referendum shocker.
The eternal pragmatist will host a meeting in Berlin this afternoon with EU President Donald Tusk, French President Francois Hollande and Italian Prime Minister Matteo Renzi, in an effort to get some clarity before going into a regularly scheduled EU summit taking place in Brussels this week.
After getting the regular business out of the way Tuesday evening -- the EU's migratory crisis, deepening the single market to boost growth and jobs, and closer cooperation with Nato on security -- the real drama begins with a working dinner on the outcome of the U.K. referendum and wider EU reforms.
That could prove somewhat uncomfortable for lame-duck British Prime Minister David Cameron, who will be called upon to explain the post-Brexit situation in the U.K. followed by a first formal exchange of views with EU colleagues.
Cameron can be expected to defend Britain holding off on formally starting exit negotiations, a process that would take two years - -at least -- under Article 50 of the Lisbon Treaty, the EU's governing legislation. At some point during the two-day summit Cameron will be asked to leave the room as his 27 peers talk post-Brexit business among themselves.
On Friday, Cameron said he would step down in October, leaving a new Conservative prime minister to invoke Article 50 and lead exit negotiations. That runs counter to his repeated campaign promise of starting divorce proceedings immediately should "leave" win.
Meanwhile at home, Cameron is dealing with divisions within his own party, as former Mayor of London and Brexit supporter Boris Johnson gushed about golden opportunities for a Britain "rebooted, reset and renewed" without a game plan for what happens next.
Internal divisions have also left the opposition Labour Party in shambles, with its leftist leader Jeremy Corbyn refusing to step down despite mass resignations in his shadow cabinet, while Scottish Nationalist Party Leader Nicola Sturgeon leads a Braveheart-like rebellion to keep her country in the EU as England bows out.
As European leaders figure out what happens next, the U.S. administration is keen to reassure British and continental allies that all is well in transatlantic relations.
U.S. President Barack Obama, who had urged Britons to stay in the EU or end up at the "back of the queue," assured Cameron in a Friday phone call that the U.K.-U.S. "special relationship", along with the U.K.'s membership in Nato, remain "vital cornerstones" of U.S. foreign, security and economic policy.
And in a Friday call with Berlin, he and Merkel affirmed that Germany and the EU will remain 'indispensable" partners of the United States, the White House said.
U.S. Secretary of State John Kerry carried the same message in person, in a Saturday meeting with Italian Foreign Minister Paolo Gentiloni. Kerry is scheduled to meet Monday with the EU's foreign policy chief Federica Mogherini in Brussels and with British Foreign Minister Philip Hammond in London.