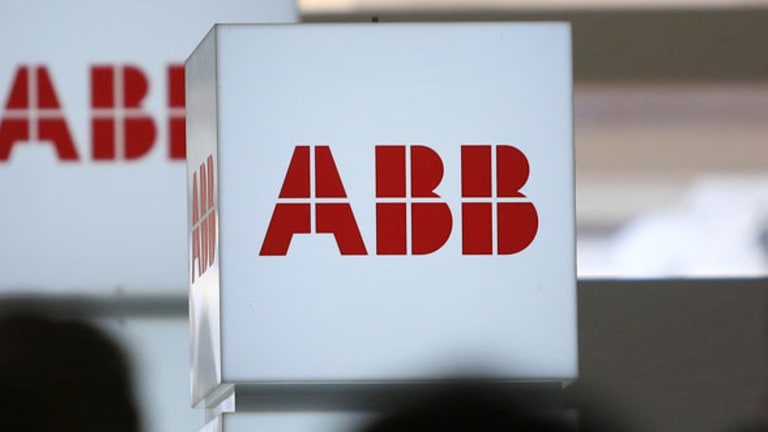 Missed Out on General Electric's Surge? Buy Eaton or ABB Ltd.
That GE quickly raised its status from a dog to a prince should also raise the profile of competing conglomerates Eaton and ABB.
NEW YORK (TheStreet) – Eaton Corp. (ETN) - Get Eaton Corp. Plc Report and ABB Limited (ABB) - Get ABB Ltd. Report may not immediately pack a punch such as the one delivered Friday by larger competitor General Electric (GE) - Get General Electric Company Report, but these two smaller industrial conglomerates are both cheap and pay great dividends.
Headquartered in Dublin, Eaton has been a longtime industrial-sector favorite of TheStreet founder Jim Cramer. Shares of the stock were trading at $68.64 at 1:49 p.m. EDT and the shares have gained just 1% so far in 2015. But over the past 12 months, the stock has lost roughly 3.35% of its value. 
As a diversified power-management company that competes with the likes of GE and Honeywell (HON) - Get Honeywell International Inc. Report, Eaton specializes in providing solutions that help customers manage electrical power more effectively. Among other things, Eaton makes electrical and hydraulics systems related to electricity, aerospace and autos. Eaton also knows how to make money.
The company reported a 21% year-over-year jump in fourth-quarter net income when Eaton reported in February. And Eaton has had to face the negative effects of the strong U.S. dollar. Some observers expect the company's momentum to continue when it reports quarterly results at the end of this month.
When CNN Money polled analysts, their median 12-month price target for the stock was $77, suggesting 13% gains from current levels, and investors can now own Eaton shares for a bargain. Shares of Eaton are trading at 18 times what the company earned per share over the past year as compared with the S&P 500 (SPX) index's P/E of 21. Add in Eaton's $2.20-per-share annual dividend, and that's excellent value.
For similar reasons, investors would do well by taking a position in Swiss industrial conglomerate ABB Limited. The stock closed Friday at $21.79 at 1:10 p.m. EDT are at  and the shares have gained just about 3% so far in 2015. And as with Eaton, ABB has struggled over the past 12 months, losing almost 15% of its value. But with its shares trading at just 19 times earnings, the stock is cheap. And when factoring its 57-cent dividend, these shares are worth a gamble.
Analysts polled by Yahoo! projected 2016 earnings per share to be $1.32, ABB stock is still discounted compared with the the broader market. Why is the company being overlooked? ABB has underwhelmed the market with its high[voltage business. And while the low-voltage segment continues to improve, the cumulative returns in the entire business have not been enough to please investors. But things may be starting to change. 
Last month ABB collaborated with network giant Cisco (CSCO) - Get Cisco Systems, Inc. Report in an international joint venture to provide smart home services. And in February the company won a major power contract in China.
All told, it remains to be seen how profitable these deals turn out. But purely from a risk-reward perspective, that the shares are cheap and the company pays a great dividend -- all making buying its shares a risk worth taking.
This article is commentary by an independent contributor. At the time of publication, the author held no position in the stocks mentioned.