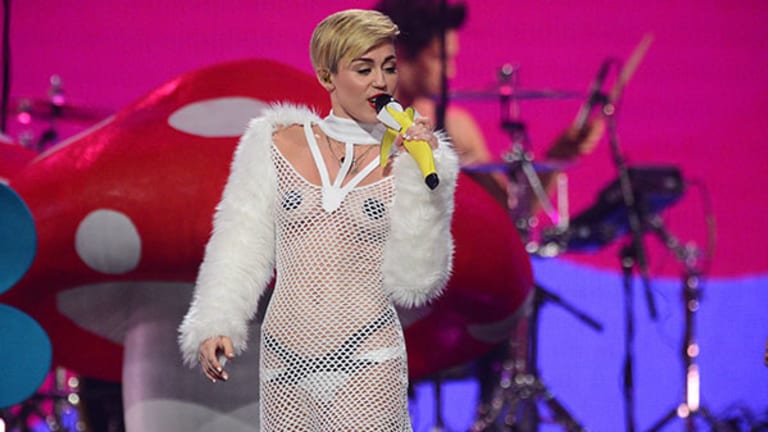 Miley Cyrus: A Child Star's Rite of Passage
By evolving and scaring the parents that once fed her career, Miley Cyrus grows along with her audience, on a well-trod path to artistic adulthood.
By evolving and scaring the parents that once fed her career, Miley Cyrus grows along with her audience, on a well-trod path to artistic adulthood.
PORTLAND, Ore. (TheStreet) -- Miley Cyrus doesn't care what the olds think. As business plans for former child stars go, it's about as sound as they come.
Within the last month, the world has watched Miley Cyrus strip to her underwear and
twerk up on Robin Thicke
at
MTV
's Video Music awards, swing naked from a
in a video for a song off her newly released album
Bangerz
, get in
a dustup with Sinead O'Connor on Twitter
and mock almost all of it in an appearance on
.
For just about anyone over 30 -- including our own
-- it was a desperate stab at attention by a brat whose concerts they'd spent hundreds of dollars taking their kids to, whose albums you bought each birthday or holiday season and whose songs were begged and pleaded for on road trips. Those who are younger know better.
At some point, a kid is going to rebel against parents -- necessarily -- to explore their own world and have their own experiences. It stands to reason that artists trying to hold that kid's attention through that transitional phase would have to do the same.
Cyrus is just following a well-referenced template drawn up by those who came before her. It's a concept that's somewhat lost on Gen X and above. The teen idols of their eras didn't tend to be so teen-y and even when they were, Tiffany, Debbie Gibson and New Kids On The Block tended to ingloriously fade into a muddled future of SyFy Network D-grade films and reunion tours with a different generation's boy bands. Even later incarnations like the Spice Girls and Backstreet Boys saw their bright star fizzle with age.
That all changed with Britney Spears. When she debuted in 1999 at age 18 with "...Baby, One More Time," she began scrubbing away her
Disney
(DIS) - Get Report
kid,
Mickey Mouse Club
past almost immediately. The kids who grew up watching her sing Whitney Houston songs on
Star Search
weren't going to come along for the ride with that same maudlin pap now that both they and Britney had grown. Spears and her handlers knew this all too well, which is why her first foray into the pop world came with a schoolgirl skirt, hair ties and some thigh slapping. For those who weren't getting the message, she reiterated it a year later in the title track to her second album
Oops, I Did It Again
: "I'm not that innocent."
Spears now appears in a guest spot on Cyrus' track
SMS (Bangerz)
, older and wiser. She showed just about every kid in the business how to pour kerosene on their child-star image and handed them a match. When fellow
Mickey Mouse Club
member Christina Aguilera grew frustrated with a label and an audience that, even after her entendre-filled debut single
Genie In A Bottle,
treated her like a children's act at age 20, she took creative control of her 2002 release
Stripped
and let loose. She got down to lingerie and chaps in the video for her debut single
Dirrty
, posed for
Maxim
and took the stage with the Pussycat Dolls -- the Hollywood burlesque incarnation, not the Nicole Scherzinger-led pop act.
Even ex-Mouseketeer Justin Timberlake, who wasn't exactly a shy little wallflower during his *NSYNC days, unkinked his curls, added some beats and put some actual human emotion into his debut album
Justified
right around the time he turned 21. Within the next two years, he'd join Aguilera on her
Stripped
tour and introduce "wardrobe malfunction" into the national lexicon by tearing off Janet Jackson's costume during the Super Bowl. He started acting, began putting in surprisingly funny guest turns on
SNL
and, in short, grew up right along with his fanbase.
Miley Cyrus followed the Mickey Mouse Club's footsteps to what appears like an extreme degree because she had to. Unlike the trio mentioned above, Cyrus was front-and-center in her own branded and highly marketed Disney vehicle. She was 13 when Hannah Montana went on the air in 2006 and an 18-year-old adult by the time the series, movies and concerts wrapped in 2011.
Along the way, she attempted to drop subtle hints about the person she was growing into. She had underwear and swimsuit photos leaked in 2008, when she was 15 and posing only in a bedsheet for
Vanity Fair
. A year later, she namechecked both Britney and Jay-Z, but did so within the safety of her family friendly pop hit "Party In The U.S.A." She dropped references to smoking weed and her publicists would insist she was only joking.
Meanwhile, as her audience grew out of their Hannah Montana backpacks and into MP3 players filled with Katy Perry, Nicki Minaj and Rihanna songs, each sign of Cyrus' own growth was met with the equivalent of "Oh, Hannah." She was always going to be that Disney girl, that childhood memory or Billy Ray's kid. For that to stop, Cyrus had to assure her fans that she was still one of them while alienating the parents who wanted her as well-preserved as a college kid's childhood bedroom.
That's why Cyrus used a diamond wire of increasingly forward public appearances to sever all ties to her lingering Disney alter ego and to the parents who bought into the marketing machine.
Those same parents will counter that they'll never buy a Cyrus or Hannah Montana item for their little Jayna again, but Jayna's already in high school and has been downloading her own music since getting that sweet gig at the local Kroger. She's off to college in a year, and the only way Miley gets to come along for that ride is if Miley's's singing the club banger that's playing at the house party/frat/bar she snuck into with her roommate's ID. If Cyrus isn't doing that, the only way she's making it onto campus is as nostalgic, late-night "Hannah Montana" episode or as an ironic joke in a party playlist.
The olds will bristle at the fact that Cyrus mixes it up with Sinead O'Connor and makes jokes about Amanda Bynes' mental health. Those are both great ways to help Cyrus' transition. Sinead is a dog whistle. If you know who she is and why she's famous, you're already over 30 and out of Cyrus' key demographic.
Cyrus and many of her fans weren't even born when O'Connor scored her biggest hit with
Nothing Compares 2 U
in 1990, was threatened with a kick to the posterior by Frank Sinatra for refusing to perform if
The Star-Spangled Banner
was played before her show that same year and tore up a picture of the pope on
SNL
in 1992.
Miley's fans don't know who O'Connor is, don't know Jan Hooks'
SNL
impression of her and, frankly, don't care. She's a tool in Miley's kit, as was Cyrus' own appearance on
SNL
-- you know, that late-night show her fans used to be too young to watch.
Her political skit and sendup of her own VMAs performance sent one very clear and important message to her fans: I'm not in trouble, I'm just this person that I've always been. That, combined with the hash jab at Bynes, suggest that Cyrus already knows how this could end badly for her. Spears' own well-documented stumbles and struggles with mental health, public image and adjustment to family life displayed just how hard it can be to navigate real life's intersection with stardom. Combined with Bynes' recent legal, mental health and substance abuse issues, as well as those of fellow Disney kid Demi Lovato, Spears' experience threw up a warning sign that Cyrus is heeding all too well.
Naturally, those are exactly the experiences that adults are wary of and that parents want to shield their kids from as much as possible. But that's the whole point of Miley Cyrus'
Bangerz
exercise: Nobody involved is a kid anymore. Hannah Montana is gone and Cyrus and her fans are young adults. She's going through the same experiences and problems as people her age -- albeit more publicly.
Exploring sexuality, trying on new identities, making stupid faces in hundreds of pictures and making some big mistakes along the way are all common steps toward forming an adult persona and hallmarks of young adulthood. Fans Cyrus' age know that, and the fact that her own metamorphosis is angering and frustrating her parents in the same way theirs is only bolsters Cyrus' credibility.
It'll pay off, too. Timberlake's
Justified
sold nearly 4 million copies in the U.S. alone. Aguilera's
Stripped
sold more copies in the U.S. than her two previous albums,
Mi Reflejo
and
My Kind Of Christmas
, combined. And Spears? Even her weakest albums go platinum in the U.S., though her latest, this year's
Femme Fatale
, hasn't quite made it yet.
As of Monday, Cyrus had three singles --
Wrecking Ball
,
Adore You
and
We Can't Stop
-- among the Top 10 downloads on
Apple's
(AAPL) - Get Report
iTunes.
Bangerz
was the No. 1 downloaded album overall. She's treading into new territory and has some new friends including Spears, will.i.am, Pharell Williams, Ludacris, Nelly, Big Sean and French Montana along for the ride. She's really into hip-hop and dance pop now and seems to be having a lot of fun with it.
She's different from the Miley her fans grew up with, but she now more likely resembles a person they hang out with -- or at least share space with. For parents and the other olds frightened, frustrated or just confused by it all, it may be time to just wish her the best and let her go. She's making her own business and life decisions now, and you just don't factor into them as much anymore.
-- Written by Jason Notte in Portland, Ore.
>To contact the writer of this article, click here:
Jason Notte
.
>To submit a news tip, send an email to:
.
RELATED STORIES:
>>Obamacare Countdown: Americans Still In The Dark About Health Insurance Exchanges
>>Hip-Hop's Golden Age Is A Moving Target
>>The United Playlist Of America
Jason Notte is a reporter for TheStreet. His writing has appeared in The New York Times, The Huffington Post, Esquire.com, Time Out New York, the Boston Herald, the Boston Phoenix, the Metro newspaper and the Colorado Springs Independent. He previously served as the political and global affairs editor for Metro U.S., layout editor for Boston Now, assistant news editor for the Herald News of West Paterson, N.J., editor of Go Out! Magazine in Hoboken, N.J., and copy editor and lifestyle editor at the Jersey Journal in Jersey City, N.J.