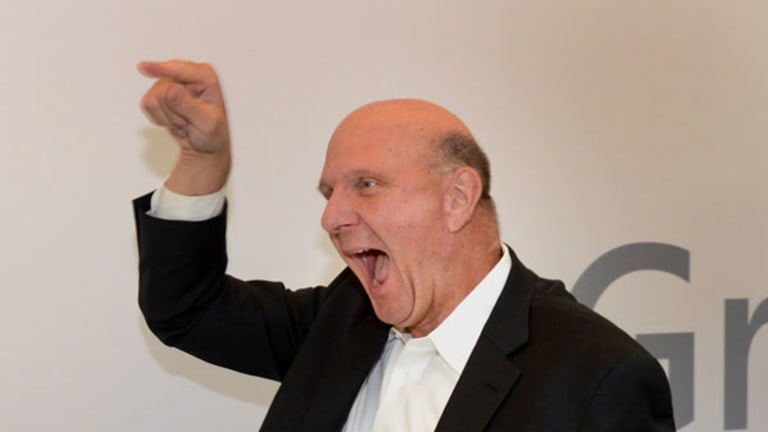 Microsoft's the Impostor, Not Amazon
Consider the trajectory of each company's core businesses and Amazon ends up the clear winner over Microsoft.
NEW YORK (TheStreet) -- We can classify two of the bigger earnings reports that hit last week as some form of surprise or spectacle.
There's
Microsoft
(MSFT)
, which
, prompting some investors to not only buy the stock but suggest the company might not be as bad off as some of us suspect.
Then there's
Amazon.com
(AMZN)
reporting a loss on strong revenue, triggering the same old knee-jerk landslide of reaction.
The smart money
doesn't question Jeff Bezos's 15-year long streak of success
, while the usual suspects
tell us the Amazon story rests on nothing other than hope
. They consider Amazon an "impostor," yet give the nod to Microsoft, a company so confused its CEO had to announce his retirement.
No circuitous bush-beating from me: Every word I wrote last week in
Apple's Plan to Destroy Microsoft
and
With Leadership Like This, Microsoft is Doomed
still stands.
If you think Microsoft's strong balance sheet (which is nothing new) and reported strength in enterprise software means anything, relative to what
Apple
(AAPL)
is up to, you likely suffer from the same syndrome of denial that plagued
BlackBerry
undefined
believers when the company was still
RIM
.
Don't use the stock market to gauge anything. It's a chaotic, psychotic and schizophrenic place. There's no way to make sense of how it values individual companies. It prices some on the basis of confidence borne out of history, while it knocks others down on concerns over the future. It attaches a low number to some stocks because of poor past performance, but a high number to others because it expects big things tomorrow. And everything in between.
All you really need to know is that, in the aggregate, over time, the stock market continues to go up.
In other words, you can't automatically form an opinion about a company and apply it to the stock -- or vice versa -- but that doesn't mean you shouldn't invest.
If we're going to set up a Microsoft/Amazon dichotomy, as some people did last week, we need to look at the potential for continued strength in each company's core businesses.
For Amazon, that's a quick assessment. The company's e-commerce ecosystem dominates and will continue to dominate brick-and-mortar retailers who have a) shifted some sales online a decade too late and b) struggle with overhead that bears very little fruit. Amazon spends money as part of a logical growth plan, as a means to the ends of seizing massive opportunity that never seems to go away. Most other retailers do little other than follow Amazon's lead and, relatively speaking, lose in the process.
At Microsoft, however, the combination of the PC's pending death, the company's ongoing tablet-PC confusion, Apple's now-obvious decision to crush Windows/Office with consumers and in the enterprise, not to mention
Google's
(GOOG)
emerging suite of software platforms, spells nothing other than death. The type of death most observers, particularly the ones who qualify last week's earnings as a vote of confidence, only see in their rearview mirrors.
You can read
on what Apple's about to do to Microsoft if you haven't already. However, as usual,
over at
does an equally-as-strong if-not-better job detailing the future before it happens.
That's what Bezos did in the 1990s when some of the same people pumping MSFT and dissing AMZN today were probably calling Amazon part of the dot-com bubble.
--
Written by Rocco Pendola in Santa Monica, Calif.
Rocco Pendola is a columnist and
TheStreet's
Director of Social Media. Pendola makes frequent appearances on national television networks such as
CNN
and
CNBC
as well as
TheStreet TV
. Whenever possible, Pendola uses hockey, Springsteen or Southern California references in his work. He lives in Santa Monica.