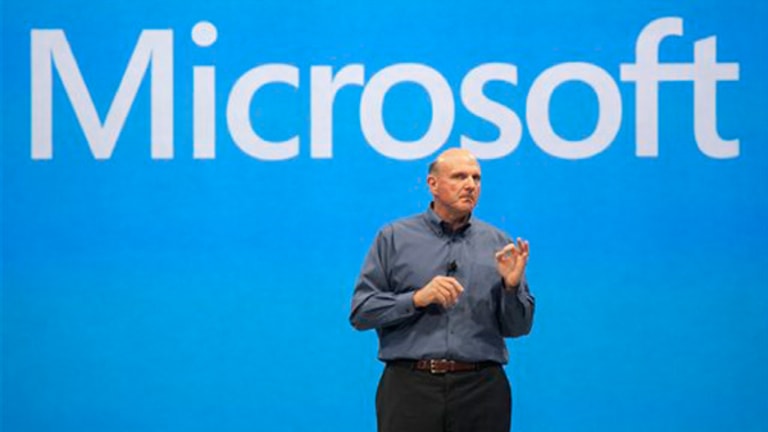 NEW YORK (TheStreet) -- Over the weekend on his Twitter feed the great Herb Greenberg of CNBC said:
I have always wondered why
Apple
(AAPL) - Get Apple Inc. (AAPL) Report
slums it by allowing
Walmart
(WMT) - Get Walmart Inc. Report
,
Target
(TGT) - Get Target Corporation Report
and
Best Buy
(BBY) - Get Best Buy Co., Inc. Report
to sell its premium products at all, let alone at a discount.
Amazon.com
(AMZN) - Get Amazon.com, Inc. Report
makes slightly more sense given its dominant online presence. Plus, despite the media-driven meme of fierce competition between the two companies, I reckon Apple and Amazon have a partnership, even if it's unspoken or merely the result of a Steve Jobs-Jeff Bezos handshake.
In any event, it would be most excellent to get your hands on the broken down numbers: Apple product sales at Apple Stores, at Apple.com, at Amazon.com and at Walmart, Target and Best Buy. Good luck getting that data. Apple will never release it. And if a partner did, there would be trouble.
That said, I bet the numbers flatter Apple. They would also help explain why
Microsoft's
(MSFT) - Get Microsoft Corporation (MSFT) Report
retail strategy stinks.
See my article,
Apple, Tesla Completely Embarrass Microsoft
, for part one on why it stinks.
But set aside the fact that Microsoft stores look like competitive spoofs designed by Apple itself. Even if Microsoft did something wholly original from a cosmetic standpoint, its retail strategy would still fail miserably.
It's worth paying an extra 5% or whatever to make your iPod, iPhone, iPad or Macbook purchase at an Apple Store. There's something to be said for paying for a trademark experience and excellent customer service before, during and after the sale.
People do this; in fact, I'm willing to bet that between physical and online, Apple sells, at minimum, 80% to 90% of its product by itself. Consumers no longer feel intimidated walking into an Apple Store; they feel welcome and, maybe more importantly, cool.
Over the weekend, I stopped by Microsoft's "pop-up" store in Times Square. There's nothing . . . good . . . to be said for that experience.
Relative to the Apple Store, this Microsoft outlet was void of bodies. At times, it got semi-crowded, however there was no steady flow. Mind you, it occupies a tiny space. Apple could never operate a store that small, pop-up or not, in a random city let alone Midtown Manhattan.
But, again, even though it's difficult, I need to suspend the comparisons between the two companies.
On its own, Microsoft -- as a brick-and-mortar retail proposition -- stinks.
Walk into one of its stores. The only thing that looks like it makes any actual sense (or money) is Xbox. Microsoft really doesn't feature its other success story, Office, much at all. So you're stuck with a bunch of these Surface tablets and random laptops.
Microsoft's mounting of a copycat of Apple's retail blueprint is embarrassing enough; it's even worse that it does so with a wholly unprepared product line.
When you're in a Microsoft store, read the expressions on the faces of people who stumble upon a Surface tablet. They're really not sure what the darn thing is. That's Microsoft's fault. The company has done a horrendous job marketing the product.
Creepy commercials featuring young ladies in schoolgirl outfits with this half tablet/half laptop thing flopping across the screen doesn't cut it. What's it for? Why does it matter? Why should I spend my money on this thing instead of an iPad?
Microsoft can't answer these questions. Steve Ballmer does not have suitable answers. Microsoft is unprepared because he's unprepared. As such, the customer comes into contact with the Surface tablet unprepared.
Microsoft marketing -- in the media, in stores and on billboards should focus on Microsoft's few strengths. Instead, the advertisement outside of the above-pictured pop-up store says "Click In," a reference to the keyboard you can take on and off of a Surface tablet.
If that catches your attention, Microsoft loses you the second you play with what is, stated kindly, a flimsy feeling device.
Microsoft has two differentiators it should use to set the Surface tablet apart -- Xbox and Office. For some strange reason, Ballmer takes the opposite approach.
If you didn't follow these things, you might not even know that Xbox is a Microsoft product. You sure as heck wouldn't know that
it kicks the crap out of everybody in the living room
, including Apple.
There's no connection made between Microsoft SmartGlass (that does still exist, right?) and the Surface tablet. It's the one cool thing Microsoft could have going for it -- Xbox integration -- and it doesn't exercise the option to promo it aggressively vis-a-vis its new hardware.
And then there's Office. When you walk into a Microsoft store and fiddle with Surface, you should immediately be compelled to fire up Word or Excel or Power Point to determine if a Surface tablet can work for you from a productivity standpoint. Microsoft's ad campaigns should cue the user to do check this out.
They should send the message, loud and clear, that we have this great new tablet that leverages the two things you love about us -- Xbox and Office. We've got the entire family covered, whether they're playing, watching television, doing homework or at the office.
Without this type of logical and seemingly no-brainer marketing plan in place it's a waste of money, time and real estate for Microsoft to open retail stores. From the word go, they have no chance at being successful.
--Written by Rocco Pendola in Santa Monica, Calif.
Rocco Pendola is
TheStreet's
Director of Social Media. Pendola's daily contributions to
TheStreet
frequently appear on
CNBC
and at various top online properties, such as
Forbes
.