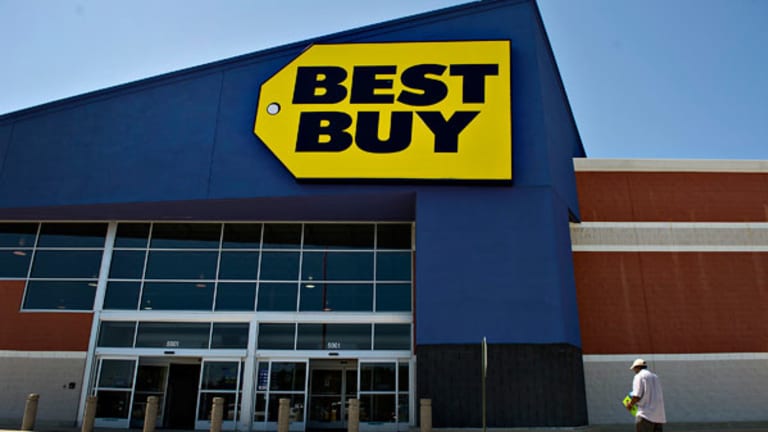 Microsoft's Nokia Bet Could Aid Best Buy Turnaround
Why Microsoft's acquisition of Nokia is good for Best Buy.
NEW YORK (
) -- Many tech enthusiasts expected
Best Buy
(BBY) - Get Report
to die at the hands of online competition from
Amazon
(AMZN) - Get Report
and the dominance of iPhone and iPad maker
Apple
(AAPL) - Get Report
.
But Best Buy stands poised to see its "Renew Blue" turnaround strategy gain traction after
Microsoft
(MSFT) - Get Report
doubled down on its push into the smartphone market with deal to acquire
Nokia's
(NOK) - Get Report
handset business for $7.1 billion.
Best Buy is uniquely positioned to benefit from what could be a growing rivalry between Microsoft and
Google
(GOOG) - Get Report
, as those firms seek to cut into the mobile industry profits that Apple has achieved by integrating its operating system with its mobile hardware. Google and Microsoft will now own large handset manufacturers that put them in direct running with Apple, and both companies are likely to rely on Best Buy as a crucial selling channel.
In the past year, Google and Microsoft have both opened their own stores within Best Buy stores nationally, in a move that is helping the big box electronics retailer improve its appeal to customers and its profit margins. While Best Buy's store-in-store concept with Google and Microsoft is just starting to be reflected in quarterly earnings reports, Microsoft's further commitment to hardware indicates Best Buy's strategy could take hold.
Put simply, Microsoft and Google are giving no signs of slowing their spending in the smartphone market. In the medium-term, Best Buy seems to be the biggest beneficiary.
At this time last year, Best Buy was fighting a seemingly hostile takeover bid by its founder Richard Schulze that put its credit ratings in junk bond territory. However, Microsoft's dedication to the consumer hardware and software business may change the narrative surrounding the company, heading into an all-important holiday season and hardware upgrade cycle.
The company has returned to profitability and its operations are beginning to generate cash again. The "Renew Blue" strategy under new CEO Hubert Joly and three quarters of better-than-forecast earnings that culminated in a return to profitability in the second quarter beg the question of whether the business has stabilized.
Best Buy's gross profit at domestic stores fell only 0.3% in the second quarter, even as the company implemented a price matching program with Amazon. The firm's 26.5% gross profit margin was up more than 2% from a year earlier and the margin for the first half of the year was up slightly. While some of Best Buy's margin stabilization is attributable to one-time factors such as legal settlements, the margins have been far better than many had expected.
The firm's same-store sales declines appear to be ending. During the second quarter, Best Buy saw comparable-store sales fall just 0.4%, a significant improvement from the 3% plus declines the company reported a year ago. Overall revenues at Best Buy were flat in the second quarter at $9.3 billion, driven by a 10%-plus increase in online sales.
Best Buy's stock had been a top performer among components of the
S&P 500
(SPX.X)
this year. Recent developments from Microsoft only increase the odds that Best Buy's turnaround strategy pans out for investors.
Prior to Microsoft's Labor Day acquisition of Nokia's handset business, the strategy seemed far more risky.
RELATED STORIES:
Does Best Buy Deserve Its Junk Rating?
Best Buy's New Like After Takeover Trauma