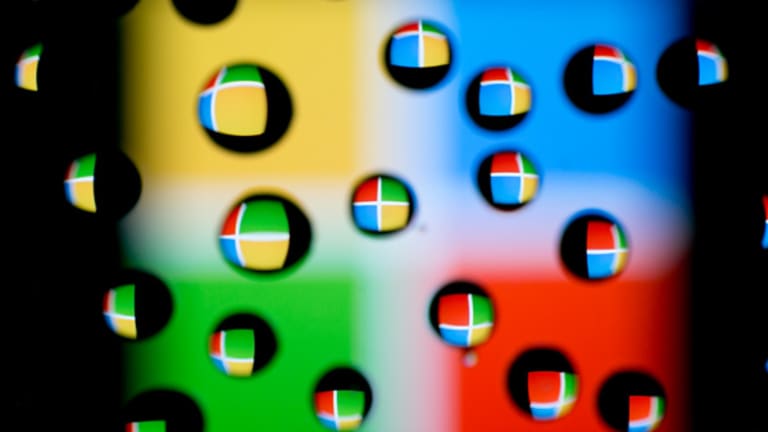 Microsoft's Job Cuts Are Finally Getting the Company to Think Straight
Ahead of the earnings release later Tuesday, here's what technology experts think on Microsoft's bigger picture.
NEW YORK (TheStreet) -- After months of speculation, Microsoft (MSFT) - Get Microsoft Corporation Reportannounced unprecedented job cuts last week, targeting its recently bought Nokia division. Two top analysts say this move will give the world's biggest software vendor a renewed focus, allowing it to double down on new expanding businesses such information management, the cloud, or security.
While the job cuts appear to be driven primarily by the Nokia phone division acquisition, Mark Bowker, senior analyst at the Enterprise Strategy Group, has said that Microsoft's restructuring efforts are pivoted toward its vision for the future, as opposed to the macro trends in the industry where technology giants have often resorted to layoffs to revive their flagging growth. Merv Adrian, Gartner's lead analyst on Microsoft, has predicted that Microsoft will continue growing in areas where it is seeing momentum.
Why Satya Nadella's Vision Is More Important Than Microsoft's Earnings
Jim Cramer's Stop Trading: Microsoft Is a 'Completely Up' Stock
3 Takeaways From Netflix's Second Quarter
What to Expect When Microsoft Reports Fourth-Quarter Earnings Tuesday
Microsoft is due to release its quarterly results Tuesday after the close, in which the company will likely give additional details about the layoffs, mainly on cost savings, and Nokia's growth prospects. The company's shares are up 20.2% for the year to date, currently around $45.
Back in 2009, Microsoft eliminated 5,800 jobs as part of a restructuring plan aimed at cutting down its annual costs by $1.5 billion. This time, Microsoft is slashing 18,000 jobs, or 14% of its total workforce, which will come with pre-tax charges of between $1.1 billion and $1.6 billion.
The job cuts have been on the cards since Microsoft acquired Nokia's phone unit back in September last year. Back then, the company promised to deliver cost savings of $600 million, a target that could be revised up given the scale of the staff cuts. Details will be likely available during the earnings conference call on Tuesday.
Microsoft's Nokia phone division will bear the brunt of the job cuts, with around 12,500 people, or 40% of Nokia's workforce. Despite the sharp staff reduction, it is difficult to measure whether the layoffs will have any adverse impact on the growth of the smartphone maker because under Microsoft, Nokia is a different company whose "target is to support the broader Microsoft strategy," as Adrian explained in an email to TheStreet. Microsoft's executives "may be asked during the earnings call whether they choose to offer guidance on their targets, but I suspect it's fair to say they are not about measuring themselves against Nokia's prior performance."
Current layoffs are not solely driven by the Nokia phone unit acquisition. The "rotation toward a renewed strategy," a new fiscal year and a new CEO are three good elements that give Microsoft an "ideal opportunity to make a change and refocus on innovation and customer success," said Bowker in an email to TheStreet.
The layoffs have come with the backdrop of a larger trend in the industry in which struggling PC-focused companies, such as Hewlett-Packard (HPQ) - Get HP Inc. Report, have been cutting down costs in order to boost profits amid a lack of top-line growth. But Bowker, has said that when it comes to Microsoft, the layoffs are largely driven by "bigger internal events" and not by macro trends. Similarly, Adrian believes that "Microsoft's restructuring is addressed at its view of a changing market opportunity that demands it invest and staff according to that vision."
The job cuts can make Microsoft more efficient. In fiscal 2013, Microsoft was behindGoogle (GOOG) - Get Alphabet Inc. Class C Report and Apple (AAPL) - Get Apple Inc. Report in terms of revenue and profits per employee, a metric which is often used to measure efficiency.
The layoffs will bring down the size of its workforce, giving a boost to the company's revenue and profit per employee. Microsoft's revenue and profits are expected to increase by 18.2% and 6.32%, respectively, for the fiscal year ending June 2015, as per analysts' estimates compiled by Thomson Reuters.
Microsoft has not given any details on annual cost savings that will be generated by the 18,000 job cuts. Analysts' estimates on the company's profits might change once this information is available.
Following the cuts, Adrian has said Microsoft will double down on sectors where it is seeing momentum, such as information management and security.
Microsoft is facing increasing competition from Oracle (ORCL) - Get Oracle Corporation Report in cloud computing.
According to Gartner's estimates, last year, the software giant was the biggest global software vendor, ahead of Oracle, which has risen quickly in cloud computing, dislodging IBM (IBM) - Get International Business Machines Corporation Report from the second spot. But under CEO Satya Nadella's leadership Microsoft's "cloud growth should also continue, even with the added competition," Adrian predicted.
At the time of publication, the author held no positions in any of the stocks mentioned.
This article represents the opinion of a contributor and not necessarily that of TheStreet or its editorial staff.