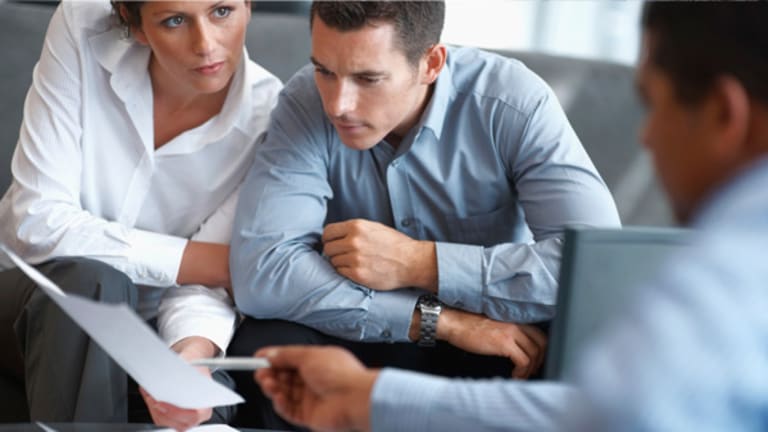 Microsoft's Impressive Product Still Needs Perfect Execution
We don't know what it costs, or when we can buy it, but we do know it could impact more companies than just Apple.
NEW YORK (TheStreet) -- Microsoft's (MSFT) - Get Microsoft Corporation Report highly anticipated press release Monday proves the Seattle company knows how to gain millions of dollars in free marketing. The Twitter feed during the press release was moving faster than Nascar crew changing tires on a hot North Carolina track. Ironically, some of the Tweets included pictures of seated bloggers at the event with Apple (AAPL) - Get Apple Inc. Report laptops.
Microsoft appears to have an exceptionally cool and innovative laptop/tablet on their hands. The real question is will the advancement into the tablet space result in greater shareholder value, or become the butt end of more Apple commercials?
Surface, the new Microsoft tablet, was introduced by CEO Steve Ballmer during an invite-only press event. Microsoft could have made the event bigger with a video feed for the world to see, but when you're short on details like price and availability, a video may do more harm than good.
Microsoft already has a Surface product made by
Samsung
. The Samsung product looks like a tabletop. (Read my article
Should Apple Fear Microsoft's Coming Tablet Assault?
)
Microsoft is currently unwilling to disclose pricing information or the timing of a Surface release date. The lack of answers to obvious questions raises red flags. Does Microsoft know the details and if so, why would you not publish it during the press release announcing the product? Or does Microsoft not even know when the product will hit the stores and at what retail prices?
The Surface includes a lot of wow factor, but to what end? Is Microsoft going to turn its back on
Dell
(DELL) - Get Dell Technologies Inc Class C Report
,
Hewlett-Packard
, and others? Granted Microsoft isn't only a software company and has produced many winning hardware products. Microsoft's Kinect, Xbox, keyboard and mouse are just some of the great products.
The difference between selling a Kinect or mouse and Surface is this: Kinect and mice don't compete against Microsoft's best customers. Apple is an all-in-one solution. While Apple doesn't directly make hardware, the vendors are OEM producers and Apple doesn't have to cannibalize vendors when adding new products. (Read my article
Will Apple's Shot at Google Hit RIM and Nokia Instead?
)
Hewlett-Packard gave up on the tablet game; however, HP is still a powerhouse in laptops and netbooks. After a dismal last quarter, Dell is faced with directly competing with Microsoft, a company about 10 times larger by market cap.
Microsoft may find in two or three quarters, customers like Dell and HP are offering products on
Google's
(GOOG) - Get Alphabet Inc. Class C Report
Android platform. Maybe Dell was already moving toward an Android device and this was Microsoft's only hope of keeping a strong name in tablets.
Microsoft's move certainly makes a lot more sense if they know Dell was about to leave the Windows family of tablets for Android. With an estimated cost of $45 to $50 per unit for Windows 8 RT operating system vs. free for Android, the cost difference is substantial for an OEM producing hundreds of thousands of tablets. Microsoft does include office with RT, raising the value of Windows significantly. Also, most manufacturers are claiming RT costs closer to $85, but either way the retail price of a tablet with RT is going to cost more than the same with Android.
The Surface introduction video sounds like it was produced by Nine Inch Nails and falls short of providing much in terms of technical information beyond the built-in kickstand is included. Surface comes in several colors including black, white pink, blue, orange, and pink.
Netflix
(NFLX) - Get Netflix, Inc. Report
received positive attention today from the press release as well. The Surface will include a Netflix app to play movies. I would have guessed that playing Netflix movies was a given, but Microsoft believed the point was noteworthy enough to include the feature today.
More technical specifications include a
Nvidia
(NVDA) - Get NVIDIA Corporation Report
ARM chip, or
Intel
(INTC) - Get Intel Corporation Report
chip in the pro model. The Surface will weigh about 1.5 pounds and sport an ultra-slender Parris Hilton summer bikini size of 9.3 mm. The pro version with an Intel processor will weigh in at 2 pounds and still be respectably thin at 14mm. Consumers can add a keyboard/cover only 3 millimeters thick, and the pro version has perimeter venting.
Don't expect to find the Surface in
Wal-Mart
(WMT) - Get Walmart Inc. Report
,
Best Buy
(BBY) - Get Best Buy Co., Inc. Report
or
Amazon
(AMZN) - Get Amazon.com, Inc. Report
anytime soon. Microsoft stated sales will begin in Microsoft stores and Microsoft online. It's hard to know if this is to control the product or lack of production ability (at least in the beginning). I assume the ability to stock retailers and the financial exposure leaves Microsoft with only the one choice.
The feeling is probably mutual with Amazon. I imagine another product competing with Kindle is the last thing Amazon wants to promote right now. Amazon continues to edge closer to the iPad in baby steps, now Amazon has one more significant competitor in the space.
Does Microsoft have another Xbox type of product on their hands? No one knows for sure, but Surface will require perfect execution to justify what must have taken a lot of time, money and resources to produce so far. Without knowing the price, margins, or even the expected release date, we really haven't seen much more than a wish list item.
This article is commentary by an independent contributor, separate from TheStreet's regular news coverage.
Author does not hold a position in any stock mentioned.