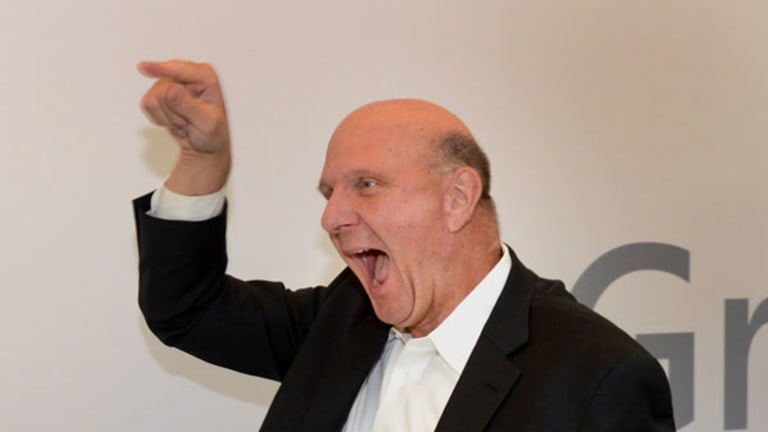 Microsoft's BlackBerry-Like Collapse Is Already Happening
Google's push into consumer and enterprise software and services will send Microsoft into a death spiral.
NEW YORK (TheStreet) -- Generally, I avoid comments sections on the Internet. They tend to be terribly depressing places to spend your time. However, on occasion, instructive sentiment pops up in the comments.
The latest verbal specimen comes from reaction to Tuesday's With Or Without Apple, Google Will Crush Microsoft:
That's from March 2014 in reference to Google (GOOG) - Get Alphabet Inc. Class C Report -- and quite possibly Apple (AAPL) - Get Apple Inc. Report -- crushing Microsoft (MSFT) - Get Microsoft Corporation Report in the consumer and enterprise software and services business.
Consider that comment in association with the wild and crazy things BlackBerryundefined ardents spewed from their misguided mouths in June 2011:
And, of course, throughout 2011 and, for the hyper-tortured soul, into 2012, we saw supporters of the artist formerly known as RIM tout the company's apparent security advantage over Android and iOS -- just like the dude at the outset of this article did with respect to Google decimating Microsoft's software and services dominance.
This was my general response to the 2011 BlackBerry feeble defenses:
Most people, even corporate executives, could care less what ... geeks from the IT department have to say about security. Most CEOs and VPs will respond with "just fix it." ... Employees want to be able to run their entire lives -- personal and business -- on one smartphone and/or tablet that they prefer. Because this is usually an Apple or Anroid-based product, it doesn't mesh seamlessly with corporate activities conducted on BlackBerrys ...
Or, as I put in in late 2012, on TheStreet:
I recall with laughter the debates I had with RIMM bulls last year. They sheepishly ceded failure in the consumer market, but refused to give even a little vis-a-vis the enterprise. Their main point: IT departments would never allow Bring-Your-Own-Device to take hold because of security concerns.
My retort: IT geeks are nobodies within most companies, particularly big ones with lots of employees and SVPs, presidents and CEOs who are millionaires and billionaires. They have no say. They are told what to do and when to do it. Their job is to get it done. Be seen, not heard.
But I must reaffirm something I probably didn't stress enough in 2011 and 2012 vis-a-vis RIM's collapse: It's not like companies compromised security or quality when they dumped BlackBerry for iOS or Android. Same goes for what the Johnny-come-lately tech media will eventually refer to as "the exodus from Microsoft products to Google's suite of offerings."
They'll say it like they knew it was happening all along, even though they neglected to cover it.
Anyhow, to the point -- it's not like you're sacrificing a thing if you opt for Google over Microsoft as a consumer or a business. I tend not to get into this type of minutia all that often because it bores the hell out of me and a majority of readers, but Google's not screwing around:

Everybody ought to be scared. Not just Microsoft. Google has come to play. It's taking the lead in a changing game.
Google has real products with real security features built in (go read about them; in fact, "Google" some of the products mentioned in this article). At better prices.
But, more importantly, stepping away from the minutia -- Google dominates Microsoft as a brand with the people who matter. In consumer mindshare. And that's a phenomenon that's only going to continue to move in Google's favor.
So we have a variation of the BYOD (Bring Your Own Device) dynamic that helped Apple crush BlackBerry.
It's a thing that's happening right now.
As regular people use Google products -- from Gmail to Google Drive to Google Docs -- in their everyday lives and the geek crowd hears more about, gets pitched on and starts using services such as BigQuery and Compute Engine, an energy coalesces around Google. 
Don't get caught up in the minutia the tech geeks will saturate you with. You might make a mistake and take it seriously. Many of these guys exist to show you how smart they are, but they have difficulty keeping things simple sometimes. You don't need to breakdown every type of service and who specializes in what -- all you need to know is that Google's coming for just about everything. And, if anybody's caught in the consumer dictates what happens in the enterprise crosshairs the way BlackBerry was it's Microsoft.
BlackBerry started to unwind long before 2011. It only became evident to most people in '11 and virtually everybody in 2012 that they were finished. Wall Street, of course, was the last group to fully accept and appropriately relay reality.
When you read notes on Microsoft from Wall Street analysts, understand that these guys can't see beyond their noses. As anybody who reads me knows, I love TheStreet's tech editor Chris Ciaccia, but there's a fatal flaw in Tuesday's Why Microsoft Really Is Different This Time. Ciaccia relies on the "wisdom" of a Wall Street guy. An analyst who speaks of what's happening now with limited vision.
The path Google's putting Microsoft on is best compared to where BlackBerry was in like 2008, 2009, 2010 ... not 2011 and 2012 when the writing on the wall turned obvious. The trajectory Microsoft follows to collapse will likely be longer than the one BlackBerry straddled simply because the former is more deeply entrenched. But, you never know, among many folks who feel forced to use Microsoft software, they're as despised as the cable company. Who really gets excited using anything with Microsoft's name on it outside of Xbox? Given viable options, individuals and businesses -- at scale -- will happily do the work that needs to be done to shed themselves of unwieldy and expensive Microsoft. 
And there's not much Microsoft can do. It has to protect its core streams of revenue. It doesn't have much wiggle room unless it's willing to implode in the near-term for the sake of salvaging its future. It doesn't work that way at Google.
Google's core revenue stream is solid and stable; it gives Google the ability to position itself against Microsoft (and others) in ways it's difficult, if not impossible, to defend against.
Laugh. Tell me I'm "misleading." Tell me I don't know what I'm talking about. That I'm unsophisticated and simply don't understand the alleged nuances the tech geeks like to circle jerk about. That's fine. But you'll be letting ego, ignorance and loyalty, not history and common sense be your guide.
--Written by Rocco Pendola in Santa Monica, Calif.
Disclosure: TheStreet's editorial policy prohibits staff editors, reporters and analysts from holding positions in any individual stocks. Rocco Pendola is a columnist for
TheStreet
. Whenever possible, Pendola uses hockey, Springsteen or Southern California references in his work. He lives in Santa Monica.