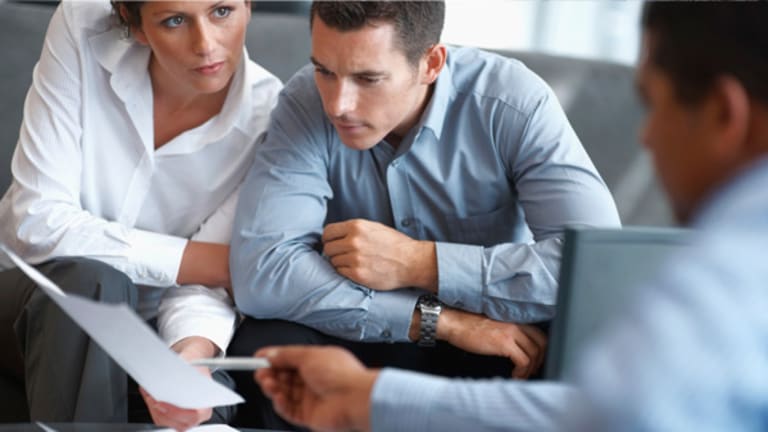 Microsoft to Surpass Apple in Smartphone Wars? Not So Fast
Investors need to cut through headlines and hype to get the real story.
NEW YORK (TheStreet) -- I have high hopes for Microsoft's (MSFT) - Get Microsoft Corporation (MSFT) Report forthcoming Windows 8 operating system. In fact, working in concert with Xbox SmartGlass, I truly believe it could be an Apple (AAPL) - Get Apple Inc. (AAPL) Report and Android killer.
That said, the bold prediction IDC released this week even made me pause. The well-respected research firm
thinks
Windows Phone will surpass Apple's iOS and become the number two smartphone operating system in the world by 2016 behind a somewhat stalled-out, but still dominant, Android.
If I was the biased Apple hater so many of the company's permabulls make me out to be, I would have taken the IDC report without a second thought and ran with it. But if nothing else, pat me on the back for being objective and digging deeper.
I've never been a fan of precise predictions. In my mind it's one thing to make the qualitative statement that Microsoft will challenge and maybe even put the hurt on Apple and
Google
(GOOG) - Get Alphabet Inc. Class C Report
with Windows 8, but it's a whole 'nother proposition to claim it will command
X-point-X percent
of the market come 2016. While I respect the power of quantitative models, I refuse to submit to them.
Too many variables come into play. So many things can and probably will change that I'm not sure I even see the sense in using perfectly good resources to make such predictions. But that's at least part of what IDC does. If it does it well, I guess it does not waste time, money and manpower to get it done. Maybe the smartphone projections the firm makes can actually be useful, if not prescient.
I decided to look to recent history to see how similar IDC projections, made by some of the same analysts, have held up.
In September 2010, IDC
a report a bit like the one that prompted the positive headlines for Microsoft. It produced a mix bag.
On one hand, IDC notes that Android and iOS "have taken away both mindshare and market share from the old regime" of
Research in Motion's
(RIMM)
BlackBerry and
Nokia's
(NOK) - Get Nokia Oyj Sponsored ADR Report
Symbian OS. However, the firm went on to argue:
Symbian will maintain its number one standing throughout the forecast period with 32.9% share in 2014. However, it will lose share, primarily to Android, which is expected to grow its share fastest over the forecast period, rising from 16.3% to 24.6%. Meanwhile, Windows Mobile is expected to regain some of the share it has lost over the past two years and BlackBerry's share will remain relatively constant while that of iOS will decline gradually.
IDC completely missed the mark in the first sentence. Symbian equals dead and Ryan Seacrest hasn't even started planning for 2014 yet. While IDC was correct that Android would grow, it woefully underestimated the intensity of its move up.
Quite frankly, with hindsight as our guide, using the words "BlackBerry" and "constant" or "iOS" and "decline" in the same sentence was almost as absurd in 2010 as it is today.
Roughly one year later, in August 2011, IDC
a bit, noting, "The smartphone market crowned a new leader in 2Q11, and its name is Apple." The report goes on to state:
However, Apple has yet to top Nokia's single-quarter volume record of 28.1 million units. But given Apple's momentum in the smartphone market, it may not be a question of whether Apple will beat that milestone, but when.
And now, in the report that triggered
IDC thinks Android will peak and stall, iOS will decline (there's that word again) and Windows Phone will make the most progress.
Endpoint: This stuff is all over the board. For all intents and purposes, IDC has been wrong more than it has been right, particularly in coming late to BlackBerry and Symbian's joint funeral.
I do not go through this exercise to chide the folks at IDC. I appreciate the difficult nature of the business they're in. In fairness, the most recent report does pin the Microsoft prediction on Nokia's ability to continue its emerging markets dominance.
Additionally, IDC does not write the provocative headlines. Media outlets read the firm's research and create their own spectacles.
As an investor, you'll do damage to your portfolio if you rely on this type of research or the headlines it generates.
I am bullish on Windows Phone over the next several years, and I was before IDC released its numbers. Its report does nothing to increase my level of optimism. A negative outlook on Microsoft and Nokia would not have affected me in the opposite direction.
This illustration provides another example of why it often makes sense to set aside quantitative guesswork and dig into
the qualitative aspects of a story
. With surprising frequency it can often be more rational and reliable.
At the time of publication, the author was long MSFT and NOK.
At the time of publication, the author was long MSFT and NOK.