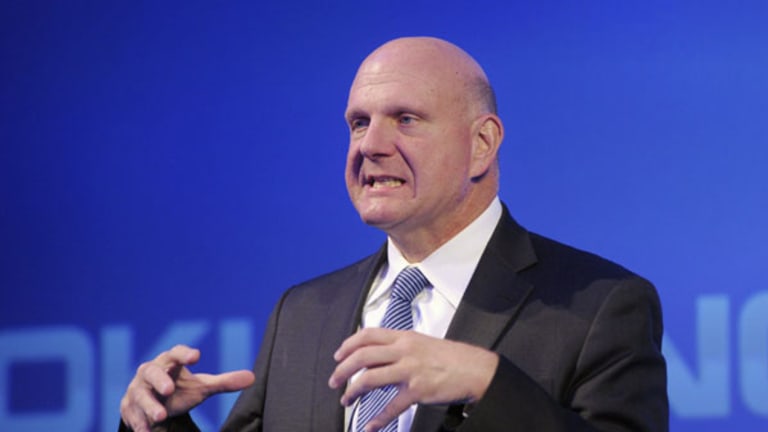 Microsoft Stinks So Bad It Hurts
Steve Ballmer and company could have a found a better way to blow $7.2 billion.
NEW YORK (TheStreet) -- While there's been a lot said about Microsoft's (MSFT) - Get Microsoft Corporation Report$7.2 billion acquisition of Nokia's (NOK) - Get Nokia Oyj Report mobile phone business, I haven't seen the most obvious and human response.
Pardon me as I introduce that "most obvious and human response" with a personal story.
I spent roughly 18 months of my life -- by day and sometimes night -- hanging out in Downtown Los Angeles's Skid Row neighborhood. It's the largest concentration of homelessness in the western world.
When my attempts at finding an agent to sell a book about the experience failed, I published a couple chapters as an e-book,
available for a mere 99 cents at Amazon.com
.
Many things about the experience in Skid Row moved me. One that, for some reason, sticks in my mind occurred on a hot summer afternoon when a popular television show (I forget which one) was shooting a scene at the corner of 5th and San Julian. That's pretty much the heart of Skid Row.
On the set, the main prop was a Cadillac -- probably a $65,000 model -- that was smashed. Front end a mess. Couple windows shattered. Maybe it was salvaged from a wreck or junkyard or something. Or, quite possibly, the production bought it new and crashed it on purpose. I don't know. And it doesn't really matter because all of the passersby assumed it was the latter.
And, to a person, the folks who witnessed this scene -- ranging from the homeless who reside in Skid Row to social workers and the many young Black men who populate the neighborhood -- reacted to the totaled Caddy with almost speechless disbelief.
The most common comments articulated the shock that somebody could take such an expensive item and destroy it for a TV show. People were dumbfounded.
Man, I would've taken that car!
I can't believe they could do that to a $50,000 Caddy!
.
It was simply beyond comprehension that Hollywood could willingly, though purposefully, sacrifice something out of the reach of, yet so attractive and aspirational to, a majority of Skid Row dwellers right there in front of them! You could read that sentiment on the faces of people too stunned to speak.
That made me understand something. If it hadn't been for the reaction I witnessed in Skid Row, I just would have walked by with a standard
oh-ah
and gone on with my life. Most of us have become desensitized to waste at any level. I mean I live near neighborhoods where people routinely spend seven figures on a home only to tear it down and build a bigger place. Talk about excess.
So when I see articles such as
Microsoft is Getting Nokia's Phone Business for a Song
, I laugh because ...
Spot on.
But also because a few years from now we'll look back and report on the $7 billion write-down Microsoft had to take because of what will, without doubt, end up a failed acquisition.
We'll casually add that write-down to the $6.2 billion one Ballmer had to take subsequent to the
aQuantive
debacle. And
the nearly $1 billion write-down Ballmer had to take on unsold Surface tablets
. Another incredibly expensive failure.
We'll treat $7.2 billion like it's not a lot of money because, relatively speaking in tech and big business, I guess it isn't. Just like the rendered-useless $65,000 Caddy, relatively speaking, doesn't disrupt my sense of money's value like it does a homeless and/or poor person in Skid Row.
And Steve Ballmer will just roll over and order another piña colada or whatever he plans to do in retirement. Same with everybody involved in this absolutely mindless decision.
Nokia brings nothing to the table except tens of thousands more employees to add even more bloat to an already overcrowded and aimless organization.
Apple
(AAPL) - Get Apple Inc. Report
sealed the fate of both companies when it moved on mobile devices as
Blackberry
undefined
was fading. This deal amounts to little more than a gathering of losers. It's not as if Microsoft purchased a division in a company that has done anything different, better or more innovative than Microsoft has.
I could continue, but others have exposed this deal for the hollow joke it is.
Personally, at the risk of being naive, idealistic or whatever, I just can't get past the fact that one man and one company can blow so much cash -- irrespective of the fact that they both have plenty more -- and we chalk it up as the cost of doing business.
Wasn't there a better way for Microsoft to spend $7.2 billion of its hoard? From
Apple's inane capital return to shareholders
to this certifiably insane decision by Microsoft, it's clear that all of this money is merely burning holes in tech companies' pockets. They're wasting it. Spending on the hope that something good might come of it. That things just might work out.
At this point, Ballmer has set himself up to end up in the same category as James Balsillie. Maybe worse. At least the RIM co-founder can take credit for starting the smartphone craze. There's nothing Ballmer can -- or should have the nerve to -- take credit for at Microsoft other than its sad decline.
--
Written by Rocco Pendola in Santa Monica, Calif.
Rocco Pendola is a columnist and
TheStreet's
Director of Social Media. Pendola makes frequent appearances on national television networks such as
CNN
and
CNBC
as well as
TheStreet TV
. Whenever possible, Pendola uses hockey, Springsteen or Southern California references in his work. He lives in Santa Monica.