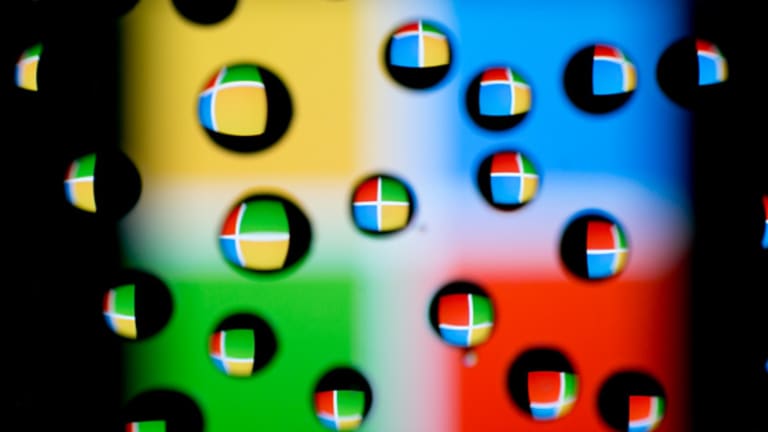 Microsoft Still Has a Lot to Prove
Management must show what it can do against the competition if it wants to win back Wall Street's respect.
Management must show what it can do against the competition if it wants to win back Wall Street's respect.
NEW YORK (TheStreet) -- In the eyes of many investors, software giant Microsoft (MSFT) - Get Report has been a disappointment. The company just hasn't been showing growth in sufficient quantities.
But that doesn't mean the company lacks value. While Microsoft may fail to register on the scale of sex appeal, today's version of the company is more about steady streams of cash flow, which present solid reward potential for minimal risk. On that basis alone the stock is worth buying.
However, its recent earnings report did little to inspire confidence for a market already packed with pessimism.
In the company's fiscal year 2013 first quarter, Microsoft disappointed the Street by reporting net income of $4.47 billion, or 53 cents per share, on revenue of $16.01 billion. The company missed both top- and bottom-line estimates of $18.11 billion and 65 cents per share, respectively. The drop of 8% in revenue ended its streak of revenue growth, which spanned four quarters, while EPS also declined by 22%.
As disappointing as these numbers were, they could have been much worse.
Likewise, investors have to remember Microsoft is one quarter removed from having reported its first loss ($5.11 billion) as a public company in one quarter.
Nonetheless, for a company with much to prove, this wasn't the start investors were expecting, especially with the company being so close to its launch of Windows 8 and its Surface tablet -- of which, Steve Ballmer, the company's CEO, said the following:
"The launch of Windows 8 is the beginning of a new era at Microsoft. Investments we've made over a number of years are now coming together to create a future of exceptional devices and services, with tremendous opportunity for our customers, developers, and partners."
The market hopes the launch proves to be a tremendous opportunity for investors as well. Microsoft has found it especially challenging to convince investors it can compete effectively against
Apple
(AAPL) - Get Report
and
Google
(GOOG) - Get Report
, both of which have, or are in the process of releasing, their own products. With Apple's mini iPad rumored to be at a price point of $250 to $350, where it might significantly undercut Surface, Microsoft may find it difficult for Surface to have the level of impact that it expects.
What's more,
Amazon's
(AMZN) - Get Report
new Kindle Fire continues to be a top seller on the market at an attractive $199 price point. This only increases the pressure on Microsoft for Surface to be more than advertised. Likewise, this makes the success of Windows 8 equally pressure-packed (if not) burdensome to Microsoft's hopes.
Moving Forward
The good news is Microsoft understands what it is up against and seems eager to morph out of what it is traditionally known for doing. Sales of Windows dropped 33% during the quarter, and Microsoft sees the writing on the wall. It reads, "Adjust or die."
As result, the company is now doing its part to secure its brand as well as its future, a future outside the realm of the traditional PC and into mobility.
To that end, the company has invested its resources and R&D towards a renewed commitment to giving consumers what they want and less about what Microsoft wants to be. Likewise, Microsoft must also prove it can maintain its footprint in the enterprise.
So aside from the threat it receives from Apple and Google, it must continue to find ways to also fight off
Oracle
(ORCL) - Get Report
,
Salesforce.com
(CRM) - Get Report
and
Red Hat
(RHT) - Get Report
, which are all making tremendous strides in the cloud and the Software as a Service (SaaS) market.
Bottom Line
As disappointing as Microsoft earnings were, it was far from a disaster. However, this will only take the company so far. Management must prove that it can execute in the face of intense competitive pressure if it wants to win back Wall Street and regain its status as a consistent performer. Though doubt remains, I think better times are ahead for Microsoft. But the company can't expect to get a pass if its product launches disappoint.
Nonetheless, I would be a buyer of the stock at current levels. As noted above, this is a company that is still generating a significant amount of cash flow and that also pays a respectable yield.
At the time of publication the author had a position in APPL.
This article was written by an independent contributor, separate from TheStreet's regular news coverage.
Richard Saintvilus is a private investor with an information technology and engineering background and has been investing and trading for over 15 years. He employs conservative strategies in assessing equities and appraising value while minimizing downside risk. His decisions are based in part on management, growth prospects, return on equity and price-to-earnings as well as macroeconomic factors. He is an investor who seeks opportunities whether on the long or short side and believes in changing positions as information changes.