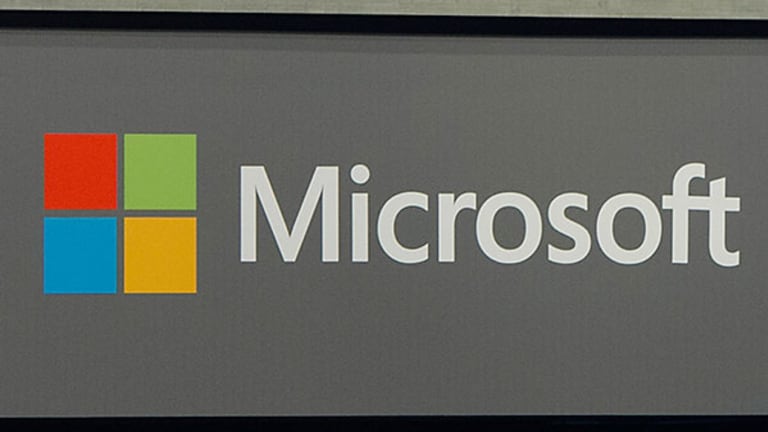 Microsoft Stalls in Post-Earnings Trading: What Wall Street's Saying
Analysts are largely bullish on Microsoft despite the stock remaining relatively flat after reporting its quarterly earnings yesterday.
NEW YORK (TheStreet) –– Microsoft (MSFT) - Get Report shares closed flat on Wednesday after Tuesday's quarterly report beat revenue expectations but missed on the bottom line.
In its fiscal fourth quarter, Microsoft reported 55 cents per share on revenue of $23.4 billion, an 18% increase from a year earlier. Analysts polled by Thomson Reuters expected earnings of 60 cents per share on $22.99 billion in revenue. Two billion dollars in revenue came from the company's Nokia acquisition. Revenue from Microsoft's Bing search engine, which now holds a 19% US market share, grew 40% year-over-year. In commercial cloud computing, one of the most important parts of CEO Satya Nadella's turnaround plan, revenue grew 147%.
Wall Street, however, was largely unmoved by the numbers: Microsoft stock rose only 0.1% on Wednesday, closing at $44.87. Analysts were bullish going into the report; for example, Goldman Sachs analyst Heather Bellini wrote that Nadella was planning "exactly the type of reimagining that must occur for Microsoft to thrive in the mobile-first world."
Why Satya Nadella's Vision Is More Important Than Microsoft's Earnings
Microsoft's Job Cuts Are Finally Getting the Company to Think Straight
Apple, Microsoft Earnings Solid: Tech Winners & Losers
Microsoft is at a turning point, with Nadella planning to reposition the company to become a leader in cloud computing. "Beyond back-end cloud infrastructure, our cloud will also enable richer employee experiences," Nadella wrote in a recent email to all Microsoft employees. The company's passion, he wrote, is to "enable people to thrive in this mobile-first and cloud-first world." This vision for Microsoft required a massive layoff of 18,000 employees, the largest in the company's history.
Here's what a few analysts on Wall Street had to say about the results.
Deutsche Bank analyst Karl Keirstead (Hold, PT $44)
"Bottom line, Nokia tainted what was otherwise a solid quarter and the bull case now needs to be rooted in a Nokia turnaround in addition to a belief that the PC-centric businesses can hold up as the XP lift wanes. Adjusted EPS growth is on pace to be flat in FY15 for the second year in a row and hence in our view the FY15 P/E multiple of 16x looks full. Upside risks include better than expected NOK margins. Downside risks include a continued decline in the PC market."
Bank of America analyst Kash Rangan (Neutral, PT $47)
"MSFT stock reaction, as we have come to puzzlingly and painfully conclude and concede, has been and will be driven in the short-term by 1) directional comments on cost cuts – in that regard, the cost containments leading to F15 opex of ~$34 bn on today's earnings call is better than we had expected; 2) Nokia accretion in F16 versus fears that MSFT will engage in price competition is a relief despite the fact that Street F15 EPS estimates will come down for Nokia dilution and 3) Bing will break even in F16. Accordingly, we raise our PO from $35 to $47."
Credit Suisse analyst Philip Winslow (Outperform, PT $50)
"We believe that Outperform-rated Microsoft can return to double-digit EPS growth and that multiple nearer-term financial/strategic options exist for Satya Nadella and Amy Hood to unlock shareholder value. If Microsoft were to enact the financial/strategic changes detailed on the following page of this note, we believe that Microsoft's stock could be biased at least into the $50s."
Sterne Agee analyst Robert Breza (Neutral, PT $46)
"MSFT delivered a solid normalized y/y revenue growth of 10% for its F4/14 quarter. However, as the honeymoon period evaporates for the new CEO and restructuring initiatives are now in motion, growth will be the focus as we move through the cloud transition period. This transition state, likely hindering growth, could plague the company for several quarters. We reiterate our Neutral rating."
Pacific Crest analyst Brendan Barnicle (Outperform, PT $54)
"Microsoft is demonstrating unprecedented financial discipline that it is applying to all of its businesses, especially Nokia. But Microsoft is doing more than derisking Nokia; Microsoft is controlling its own expenses, even as it makes a massive move to the cloud. Most companies have seen margins decline from the move to the cloud, but Microsoft should start to see some margin improvement in its core business even as it is moving to the cloud, because Microsoft is seeing growth in both its on-premise and its cloud products."
--Written by Laura Berman in New York
>Contact by Email.