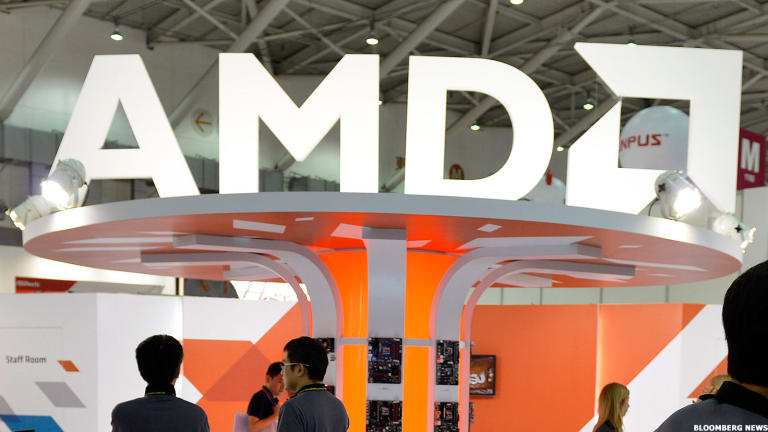 Microsoft and Sony's Rumored Game Console Plans Bode Well for AMD
Recent reports indicate new Xbox and PlayStation consoles will arrive in 2020. Analyst estimates for AMD don't seem to account for their impact.
Recent reports indicate new Xbox and PlayStation consoles will arrive in 2020. Analyst estimates for AMD don't seem to account for their impact.
Though its PC and server efforts have been getting more coverage, AMD's (AMD) - Get Report console processor business also deserves some attention in light of recent news.
This week, as the gaming industry's giant E3 conference has been underway in Los Angeles, reports have emerged that Sony's (SNE) - Get Report PlayStation 5 and a family of next-gen Xbox devices will launch in 2020. In addition, Microsoft, though not giving a date for when the Xbox will be refreshed, has said it's "deep into architecturing the next Xbox consoles."
Considering the speed at which PC gaming hardware continues to evolve, and how much spending on this hardware is growing, it makes sense for Sony and Microsoft to speed up the pace at which they roll out new consoles. 2020 PlayStation and Xbox launches would come just four and three years after the arrival of the 4K-capable PlayStation 4 Pro and Xbox One X, respectively.
There haven't been any reports yet on who Microsoft's processor supplier will be for its next-gen Xboxes. However, AMD, currently the supplier for Sony's (SNE) - Get Report PlayStation 4 and Microsoft's (MSFT) - Get Report Xbox One, would be a logical choice given both its existing relationship with Microsoft and the performance gains a CPU relying on AMD's newer Zen CPU core architecture could deliver relative to the CPUs inside of the Xbox One and One X.
Meanwhile, Forbes just reported that AMD, will be Sony's PS5 processor supplier. The PS5 will reportedly contain an AMD Zen CPU along with a GPU based on the company's next-gen Navi architecture, which is expected to debut in the PC market next year.
Microsoft and Nvidia are holdings in Jim Cramer's Action Alerts PLUS member club. Want to be alerted before Jim Cramer buys or sells MSFT or NVDA? Learn more now.
Forbes's Jason Evangelho says it isn't clear yet whether the CPU and GPU will be discrete components or -- as is the case for the PS4 and Xbox One -- placed on a common system-on-chip (SoC). Interestingly, he adds that Navi was created with Sony's needs in mind (were Microsoft's needs also a factor?). Given the power, space and cooling constraints console GPUs have to deal with, this meshes with recent reports indicating Navi PC GPUs will be power-efficient mid-range products, rather than high-end chips going against Nvidia's (NVDA) - Get Report most powerful offerings.
Either way, the 2020 arrival of new AMD-powered Sony and Microsoft consoles would be a boon for AMD's Enterprise, Embedded & Semi-Custom (EESC) reporting segment, which covers (among other things) the company's console and server chip sales. Though EESC should get a large boost from the sales ramp for AMD's recently-launched Epyc server CPUs, 2020 analyst sales expectations for the segment are still pretty restrained, due to an expected decline in PS4 and Xbox One processor sales.
For now, the consensus is for EESC revenue, which totaled $2.3 billion in 2017, to grow 8% in 2018, 14% in 2019 and 10% in 2020. If Sony and Microsoft launch new AMD-powered consoles in 2020, and if (as looks increasingly likely) Epyc takes a meaningful amount of server CPU share from Intel's (INTC) - Get Report dominant Xeon line, EESC's growth will probably be much better than 10% in 2020, and perhaps also 2021.
And while AMD's stock has definitely priced in some good news over the last couple of months, the impact of such a revenue surge for EESC might not yet be fully appreciated.