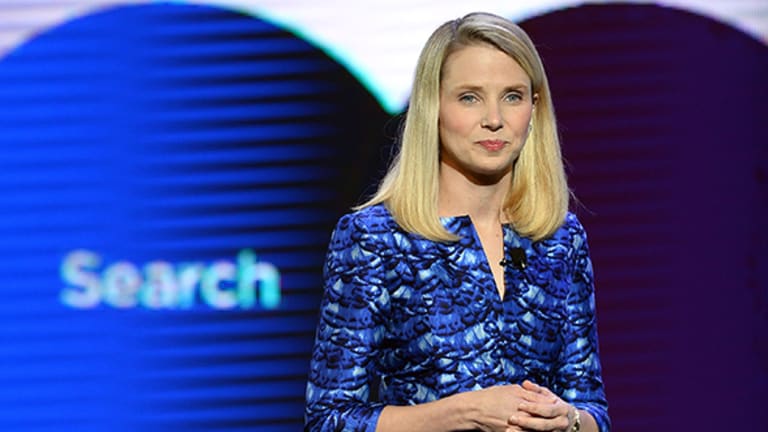 Microsoft's Previous Bid for Yahoo! Would Have Made Steve Ballmer Look Like a Genius
As Microsoft reportedly considers supporting a bid for Yahoo!, it's worth looking at how its failed 2008 effort to buy the company would have worked out.
As Yahoo! (YHOO) has reportedly given potential buyers two weeks to submit bids for its core business and holdings in Asia, according to the Wall Street Journal, a familiar bidder has re-emerged.
Re/Code's Kara Swisher recently reported that Microsoft (MSFT) - Get Microsoft Corporation Report had renewed interest in supporting a bid for the beleaguered Internet company. According to the Swisher report, at this point, the Microsoft interest in Yahoo! is potentially in financially supporting a private equity firm or strategic partner who might make a bid for the company. It's also not inconceivable that Microsoft might look at Yahoo!'s core business itself, especially if things fall through with these other bidders.
Microsoft sees value in maintaining the partnership with Yahoo! The search volume which they are getting from Yahoo! isn't huge in the grand scheme of things, but still helpful to them for their overall search product and -- more importantly -- the continued development of its digital personal assistant, Cortana.
Of course, seeing Microsoft's name mentioned as part of a sale process for Yahoo! harkens back to early 2008, when Microsoft under the leadership of Steve Ballmer made a hostile bid for Yahoo! for $31/share which was worth $44.6 billion.
After Microsoft walked away from the negotiating table four months later when Yahoo! reportedly asked for $40 a share, many criticized Microsoft and Steve Ballmer for making the bid in the first place. And even though Yahoo!'s stock price is higher than $31/share today, it has bought back a lot of its own shares so its overall market capitalization is still far below that $44 billion number at $33 billion currently.
Microsoft expert Ed Bott and many others called the botched Yahoo! deal "the biggest bullet Microsoft ever dodged."
Except that's wrong. Microsoft would have made a brilliant move had they been able to get all of Yahoo! for $31/share (or even if they'd gone up to $40/share as Yahoo!'s board had reportedly asked for, which would have valued Yahoo! at $57 billion).
Let's assume Microsoft had been successful in its attempt to buy Yahoo! back then. They would have received Yahoo!'s core business which is currently up for sale and is worth something between $4 billion to $15 billion (so let's pencil in $8 billion), $2.5 billion in cash, 40% of Alibaba (BABA) - Get Alibaba Group Holding Ltd. Report and 35% of Yahoo! Japan. The YJ stake is worth about $9 billion pre-tax currently. The Alibaba stake would be worth about $76 billion currently.
Yahoo! didn't keep hold of its full 40% stake of Alibaba. It sold back half that stake to Alibaba for $7 billion in 2012 (unfortunately for Yahoo! shareholders). But there's no reason to believe that Microsoft would have been so eager to sell it back at such a low price.
If Microsoft had monetized the Asian assets in a tax-efficient manner (like a cash-rich split), their potential $44 billion purchase of Yahoo! in 2008 would be worth $95 billion today. Even if you imagine they paid the most in taxes possible, their investment would still be worth $63 billion.
So, even in the scenario where Microsoft had met Yahoo!'s board's demands to come up to $40/share, Microsoft would still be ahead of the game today. But the $31/share bid for Yahoo! back in early 2008 was hardly extravagant. Had it gone through, Steve Ballmer would look like a genius today.
And Yahoo!'s board probably also wishes it had taken the $31/share offer it had in hand. That bid was half cash and half stock. Microsoft's stock traded around $29/share in the days after the bid. Today, Microsoft's stock is at $53/share.
That means the original bid for Yahoo! at $44.6 billion would be worth over $60 billion today with the Microsoft stock appreciation today. That's higher than the extra premium Yahoo!'s board was holding out for.
Of course, the genius of Steve Ballmer's 2008 bid was in knowing the future value of Alibaba. It's not clear he knew completely. I've talked with several people around that bid back then who claim Microsoft was well aware of how special Alibaba was as a company.
Sometimes it's better to be lucky than good.
But it is clear that the Yahoo! bid by Microsoft was grounded in financial reality.
Will Microsoft find some more value hidden in Yahoo! today and see a bid through this time? As a shareholder, I'm wary of private equity bids for Yahoo!, which it appears Microsoft wants to be a part of, because I worry they'll be at lowball prices.
However, Microsoft certainly has the resources to make a bid themselves if they wanted to, and I don't think they can be discounted. But at this point, I'd still put Verizon (VZ) - Get Verizon Communications Inc. Report in the driver's seat if they want to own Yahoo!
This article is commentary by an independent contributor. At the time of publication, the author held a long position in Yahoo!