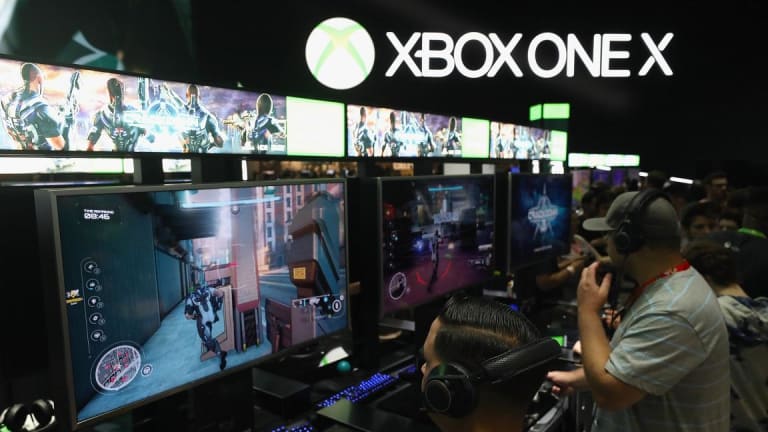 Microsoft's New Xbox Service Could Pave the Way for Bigger Things
Though it's unlikely to see huge sign-ups in the near-term, Microsoft's Xbox All Access service opens up a lot of possibilities as new hardware and services launch.
Microsoft's (MSFT) - Get Report  new Xbox All Access promotion might just be the first step towards a bigger overhaul of the company's gaming business model.
Xbox All Access, officially unveiled on Monday morning, works much like traditional phone subsidy plans from mobile carriers. A user is given an Xbox console in exchange for a 2-year commitment to the service, which comes with the Xbox Live Gold and Xbox Game Pass services. After those two years are up, the user gets to keep the console, and can choose whether to keep subscribing to Xbox Live Gold and Game Pass.
A version of the service that comes with an Xbox One S console -- it supports 4K video playback, but not 4K gaming -- and sports a 1TB hard drive costs $22 per month, or $528 over two years. A version that comes with a 1TB Xbox One X, which packs a more powerful AMD (AMD) - Get Report  processor and supports 4K gaming, costs $35 per month, or $840 over two years.
Notably, Microsoft says Xbox All Access is only available "for a limited time." Moreover, consumers can only sign up for the service at a bricks-and-mortar Microsoft Store (here's a list of them, for those curious).
For someone who's in the market for a game console, doesn't need 4K gaming support and lives close to a Microsoft Store, the One S version of All Access might be worth a look. 1TB Xbox One S console bundles -- they come with one or more popular games -- go for $299, while the Xbox Live Gold and Game Pass services respectively cost $120 and $240 over two years, assuming one pays for Live Gold via the $60 annual plan.
Thus the One S All Access plan yields a 20% discount to individually buying a One S console bundle and signing up for Live Gold and Game Pass. The One X plan isn't as much of a bargain: With One X console bundles going for $499, the plan provides just a $19 (2%) discount relative to paying for everything piecemeal...and without a 2-year contract. However, for those whom the One X's up-front price represents a major expense, the plan could have some appeal.
Still, it's best to keep expectations in check. In addition to the fact that users can only sign up "for a limited time" at a Microsoft Store, the fact that the current console cycle is now nearly five years old -- both the original Xbox One and Sony's (SNE) - Get Report PlayStation 4 were launched in the fall of 2013 -- is likely to keep a lid on All Access sign-ups. Lifetime PS4 sales have topped 80 million, and (while Microsoft no longer shares Xbox sales figures) research firm IHS Markit has estimated lifetime Xbox One sales were at 39.1 million as of March.
Also: While One S and One X bundles respectively go for $299 and $499, the consoles are cheaper on a standalone basis. A standalone One S featuring a 500GB hard drive costs just $230 at Microsoft's online and physical stores. Walmart  (WMT) - Get Report charges $465 for a standalone 1TB One X.
Chances are that most PS4 users who have built up a substantial library of PS4 games are unlikely to be interested in All Access. And among consumers who have previously bought an Xbox One, interest could be limited outside of those who have a faulty console and/or want to upgrade to a 4K-capable system.
However, considering what Microsoft's gaming unit has in its pipeline, All Access could very well pave the way for more popular and widely-available subscription plans that feature bundled hardware.
During June's E3 gaming conference, Microsoft confirmed it plans to launch a new gaming service that -- unlike Game Pass, which works only on Xboxes and relies on game downloads -- will rely on cloud-based streaming and work across Xboxes, PCs and phones. And multiple reports have indicated Microsoft will refresh the Xbox in 2020. Some reports indicate that two Xboxes will launch: A traditional high-performance console and a cheaper device focused on game and video streaming.
If Microsoft's next-gen Xbox launches are accompanied by the launch of All Access plans that provide one of the new consoles plus access to Xbox Live Gold and the game-streaming service, and should Microsoft let users sign up online rather than only through its physical stores, those plans could be quite popular with gamers looking to obtain a next-gen console. That could include,  potentially, some PS4 owners.
In addition, if Microsoft does indeed launch a cheap streaming-focused Xbox, it could price an All Access plan that bundles the cheaper Xbox at less than $20 per month, if not around $15 per month. While gaming enthusiasts are more likely to prefer a plan featuring a traditional console that can run demanding games locally, plans featuring the cheaper Xbox and the game-streaming service could be popular with more casual gamers, including some who don't yet own a console.
A general trend among consumers (particularly younger ones) to swap traditional physical goods purchases with subscription services would also work in Microsoft's favor here. Likewise, the accelerating pace of console launches -- driven in part by the pace of innovation in the PC gaming industry -- might increase the appeal of services that let users upgrade to a new box every two years or so.
Sony and Microsoft launched 4K gaming-capable consoles just 3 and 4 years, respectively, after launching the original PS4 and Xbox One. And if the rumor mill is right, Microsoft's next-gen Xbox will launch just 3 years after the One X. As Nvidia (NVDA) - Get Report and others in the PC gaming ecosystem keep pushing the envelope regrading what PCs containing high-end GPUs can do, console makers have a strong incentive to refresh their hardware more frequently. And -- in what's a positive for AMD -- console gamers seeking cutting-edge local gaming experiences have an incentive to upgrade their hardware more often.
Microsoft has made no secret of the fact that it's revamping its gaming strategy to place less of an emphasis on traditional Xbox sales and game royalties, and more of one on subscription services and cross-platform experiences. In that context, the software giant's current All Access promotion could serve as a trial balloon of sorts, ahead of product and service launches that between them are capable of both dramatically changing Microsoft's gaming revenue mix and expanding its addressable market.
Microsoft and Nvidia are holdings in Jim Cramer's Action Alerts PLUS member club. Want to be alerted before Jim Cramer buys or sells MSFT or NVDA? Learn more now.