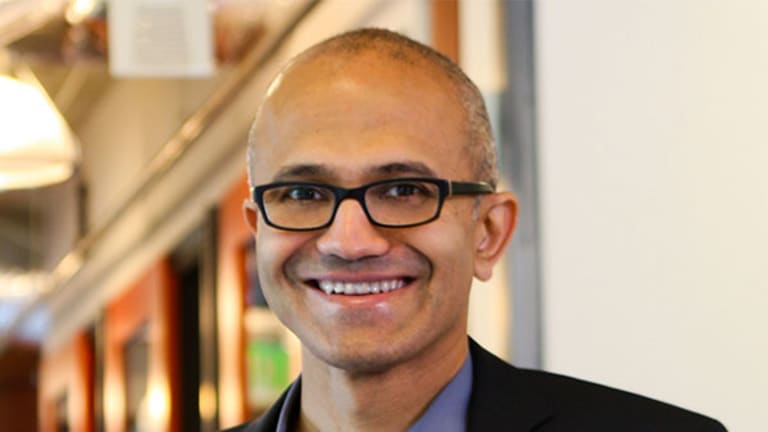 Microsoft Reality Distortion Field Set to Crack
Microsoft is unlikely to turn in a second quarter as good as its first, as Nokia's troubles get reflected in its books.
NEW YORK (TheStreet) -- Since taking over as Microsoft (MSFT) - Get Free Report CEO on Feb. 4 Satya Nadella has booked a 12% rise in the stock price, worth about $37 billion to shareholders, and won huge praise for a first quarter where sales and earnings were down from a year earlier.
If Steve Ballmer had turned in those numbers the corporate knives would be out. But Nadella is trim and can rock a black T-shirt and pants like no one since Steve Jobs.
So analysts forgive. They want something new from Microsoft. Satya Nadella is new. But a new face, and a trimmer look, will only go so far. What analysts really want are better numbers. And right now it's hard to see where those will come from.
A lot of the recent praise for Microsoft came for its cloud efforts. But putting its own business on its cloud, and those of its customers, is a trick that only works once.
The closing of the Nokia acquisition drew more admiring press, with its former CEO, now Microsoft head of devices Stephen Elop, given another chance to shine. 
What did Elop have to show? Colors. Lots of colors. Bright colors, blinding colors. Colorful plastic cases and a commercial based on the film Pleasantville in which the Microsoft user is the only character in color.
But didn't Apple (AAPL) - Get Free Report try plastic cases last year for its iPhone 5c, and didn't that fail?
The cases are the start of a new campaign in which Microsoft will pitch itself to young consumers as a daring choice, but the only new technology Elop teased was a bigger front-side camera, for bigger selfies.
Can bigger selfies save Microsoft?
And can Microsoft really sell a pitch of individuality, based on a song by the Kinks, a band formed more than 50 years ago, while the company is, in fact, becoming just like everybody else?
Microsoft has all the pieces of its rivals, but it has leadership in none of the new markets of our time. Its Azure cloud trails that of Amazon (AMZN) - Get Free Report so badly that company can't even see it in its rearview mirror. Nokia (or as it's likely to be known soon, Lumia) has less than 10% of the phone market, and that seems unlikely to change quickly.
What Microsoft needs is something its rivals don't have. The company is teasing new phones with Bond-ish code names that support the use of gestures around the screen, based loosely on its Kinect technology.
Too bad Samsung already has that.
There will also be a personal assistant with voice activation. You know, like Apple's Siri. Or Google Voice.
Nadella will need all his charms to explain what happens to Microsoft's numbers for the current quarter, when the problems of Nokia become fully reflected in the books of parent company.
We know what to expect from what happened with Google (GOOG) - Get Free Report after it put Motorola's numbers onto its books a year ago. There was a positive hit to revenue, and a negative hit to income. It was so attractive Google sold Motorola to Lenovo as fast as it could. Nadella does not seem to have that option with Nokia.
All this illustrates the problem. Microsoft seems to have nothing unique to offer. It has a stodgy brand that plastic won't change. Its devices and cloud products are market laggards with lots of "me-too" in them.
But Nadella does look good in that black T-shirt.
At the time of publication the author owned shares of AAPL, GOOG and AMZN.
This article represents the opinion of a contributor and not necessarily that of TheStreet or its editorial staff.