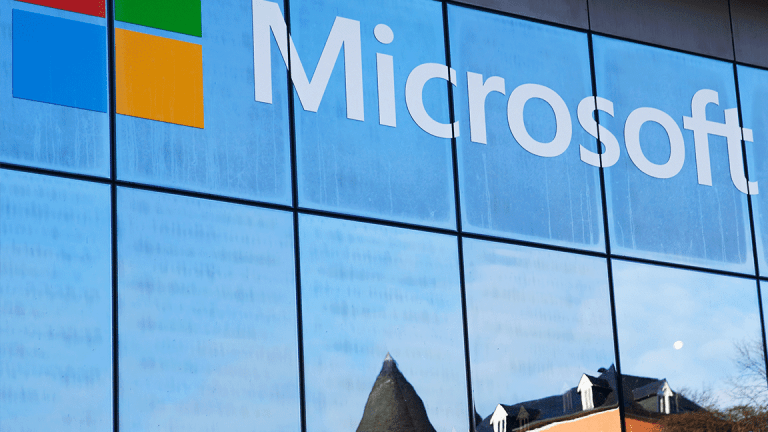 Microsoft Pops on Strong Earnings and Guidance: 8 Key Takeaways
With the help of healthy Windows, Azure and server software trends, Microsoft topped estimates and issued better-than-expected guidance.
Microsoft's (MSFT) - Get Microsoft Corporation Report latest results and guidance provide bulls with very little to complain about.
After the bell on Thursday, the software giant reported June quarter revenue of $30.09 billion (up 17% annually) and GAAP EPS of $1.14, topping consensus analyst estimates of $29.21 billion and $1.07.
And on its earnings call, Microsoft guided for its three reporting segments to collectively produce September quarter revenue of $27.35 billion to $28.05 billion, which (in spite of Microsoft's penchant for guiding conservatively) is largely above a $27.4 billion consensus.
Shares touched new highs on Friday's session. The gains come even though Microsoft went into earnings up 22% in 2018 and 42% over the prior 12 months.
Microsoft is a holding in Jim Cramer's Action Alerts PLUS member club. Want to be alerted before Jim Cramer buys or sells AAPL? Learn more now.
Here are some takeaways from Microsoft's report and earnings call.
1. The "Intelligent Cloud" segment was a standout.
This segment, which the Azure cloud platform as well as traditional server software and enterprise services, saw revenue rise 23% annually to $9.61 billion, easily topping a $9.09 billion consensus. In constant currency (CC), growth improved to 23% from the March quarter's 15%.
Azure revenue, which grew 89% a quarter after growing 93% in the previous quarter, had much to do with this. But -- with hybrid cloud deployments providing a boost to on-premise revenue -- it also helped that server software revenue grew 8% (better than the March quarter's 3%), and that enterprise services revenue rose 8% for the second straight quarter. That contrasts sharply with the declines many peers are seeing in on-premise software and services revenue streams.
For now, Microsoft is forecasting its total server products and cloud services revenue, which grew 26% last quarter, will grow a high-teens clip in fiscal 2019 (ends in June 2019).

Microsoft's Intelligent Cloud segment had a pretty good quarter.
2. Windows did pretty well.
Microsoft's Windows OEM revenue (driven by license fees from PC OEMs) rose 7%, with a 14% increase in OEM Pro revenue (business-driven) more than offsetting a 3% drop in non-Pro revenue (consumer-driven). And its Windows commercial revenue, which stems from deals with corporate clients, rose 23%.
The numbers mesh with recent data from research firms IDC and Gartner indicating business PC demand was strong in Q2, amid a healthy IT spending environment. On the call, CFO Amy Hood noted Microsoft saw an "accelerating pace" of enterprise Windows 10 deployments during the quarter.
3. So did LinkedIn and Xbox.
LinkedIn revenue rose 37% annually for the second straight quarter -- that's well above the 23% growth LinkedIn saw in its last full quarter before being acquired by Microsoft in late 2016 -- with the help of record job postings and a 41% increase in user sessions. Microsoft also reported that LinkedIn now has over 575 million registered users (not the same as active users), which is up from 467 million shortly before the acquisition's closing.
Surface revenue rose 25% to $1.19 billion with the help of easy comps (the Surface Pro was refreshed towards the end of the year-ago quarter). And a strong game title slate helped gaming revenue rise 39% to $2.29 billion. Mid-teens gaming growth is expected in the September quarter.
4. Office and Dynamics growth slowed...but Microsoft has an explanation.
Microsoft's commercial and consumer Office revenue respectively grew 10% and 8%, after having grown 14% and 12% in the March quarter. And though revenue for its Dynamics 365 cloud business apps grew 61%, total Dynamics revenue growth slowed to 11% from 17%.
However, on the call, Hood suggested this slowdown only happened because a mix shift towards Office 365 and Dynamics 365 relative to traditional license sales weighed on recognized revenue, while boosting billings and the unearned revenue balance. Backing her up: Microsoft's Office 365 commercial seat growth accelerated slightly to 29% last quarter, and the company forecasts double-digit fiscal 2019 growth for its Productivity and Business Processes segment, which covers Office, Dynamics and LinkedIn.
5. Margins continue to improve.
Helping Microsoft's operating income rise 30% annually: The company's R&D, sales/marketing and G&A spend collectively rose 9%, less than revenue growth of 17% and enabling margin expansion. Also helping: The gross margin (GM) for Microsoft's various commercial cloud offerings (Azure, Office 365, etc.) rose to 58% from 52% a year ago.
With cloud subscriptions and services carrying lower GMs than traditional software sales, Microsoft's mix shift towards cloud offerings has been weighing on margins. But the impact is now less than what it used to be. The company expects commercial cloud GMs to continue rising in fiscal 2019, albeit at a slower pace.
6. Capex remains high.
Like other cloud giants, Microsoft is still making massive data center-related investments. Total capex rose by $800 million annually last quarter to $4.1 billion. Capex is expected to continue growing in fiscal 2019, but (in what's a positive for gross margins) the rate of growth is expected to slow.
7. A strong dollar is starting to make itself felt.
After providing a 3-percentage-point boost to revenue growth in the March quarter, currency swings provided a 2-point boost in the June quarter. And if exchange rates were to remain where they are today, forex would have a neutral impact on fiscal 2019 revenue growth, with a slight first-half tailwind offset by a slight second-half headwind.
Still, this is a little better than what many peers are seeing. IBM (IBM) - Get International Business Machines Corporation Report , Oracle (ORCL) - Get Oracle Corporation Report and others have indicated forex will be a headwind during the second half of 2018.
8. Azure usage is evolving.
On the call, CEO Satya Nadella stated he's increasingly seeing mission-critical "tier-1" workloads move to Azure. He also noted app modernization projects are driving demand for "higher-level" Azure services (data services, AI/machine learning offerings, etc.).
And Nadella and Hood both suggested Microsoft still has a lot of headroom to use Azure's hybrid cloud strengths -- enabled by Azure's integration with on-premise Microsoft software, as well as the Azure Stack hardware platform it has developed with server OEMs -- to gain more converts. "I actually think that these hybrid use benefits [for Azure] have been sort of the best kept secrets," Nadella insisted, while adding he hopes Microsoft does "a much better job" in fiscal 2019 of selling businesses on them.
TheStreet's Eric Jhonsa previously covered Microsoft's earnings report and call through a live blog.