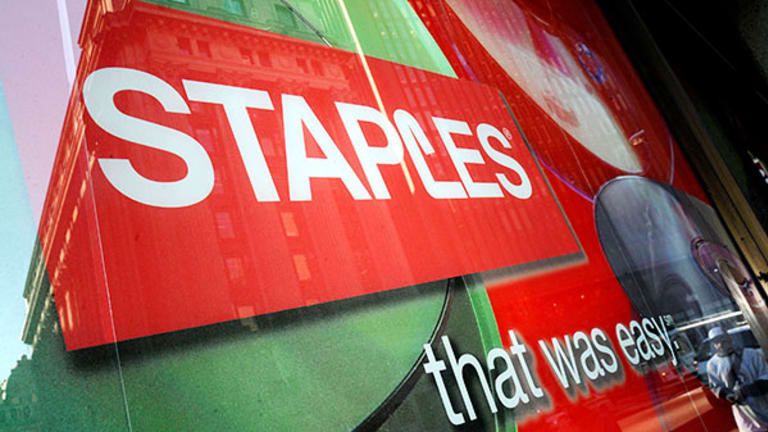 Microsoft Leaves Staples to Drown
Microsoft's turnaround plan is leaving many companies that once prospered around it, like Staples, to drown.
NEW YORK (TheStreet) -- A lot of people are talking about the turnaround at Microsoft (MSFT) - Get Free Report. Some believe in it, while others, such as our own Richard Saintvilus, don't. 
But whether you believe the change will be profitable, change is underway. Microsoft is becoming a devices-and-cloud company, and is leaving PCs behind. Its latest quarter was boosted by the end of Windows XP, which brought paid support revenue, while next quarter will be hit as the acquisition of Nokia's devices and services business closes Friday.
What few people are discussing, however, is how Microsoft's turn, whatever its merits or results, is leaving other big companies to drown in its wake.
Companies such as Staples (SPLS) .
Staples used to be a good business. You may have last heard of it in 2012, when Mitt Romney claimed credit for its success. His Bain Capital had been an early investor in the company.
While nominally an office supplies superstore, Staples was mainly in the business of selling computer hardware, software and peripherals -- mostly Windows-based hardware, software and peripherals.
Staples was like a passenger on the Microsoft cruise ship. When Microsoft hit an iceberg, Staples went down with it.
Since fiscal 2012, Staples has been shrinking. It hasn't been losing share to rival chains. The company's two main rivals, Office Depot (ODP) - Get Free Report and OfficeMax, completed their merger in November, but the resulting company's value is falling just as Staples' is.
People no longer go to stores for hardware, software and peripherals. Even printer sales are declining, along with ink sales.
Staples, which had $24.66 billion in sales and $984.6 million in net income, or $1.38 per share, in the year ending Feb. 1, 2012, saw sales of just $23.11 billion and $620.1 million in net income, or $1.14 per share, for all of 2014.
The Christmas quarter, when I used to do my capital spending by getting a new laptop or printer, told the tale. Sales were down nearly 11% year over year.
The company responded in part by announcing it was closing 225 stores. Our rating on the stock fell from a buy to a hold.
Staples said by way of explanation that it was emphasizing its online sales, which to many analysts meant steering directly into the Amazon (AMZN) - Get Free Report buzzsaw. It had once tried putting Amazon lockers in stores, but that didn't work out.
So now it's trying something else. Staples is turning some of its stores into post offices. Unions are protesting, but at least some people are outside Staples' stores.
Staples also has a deal with 3D Systems (DDD) - Get Free Report, to stock its Cube printers and accessories online, and to start offering 3-D printing services in stores, which goes alongside increased revenues from copying.
None of this yet counts as a turnaround. None of this makes Staples a buy. But at least Staples is trying to swim toward safety. It's not going down without a fight.
At the time of publication the author owned shares of AMZN.
This article represents the opinion of a contributor and not necessarily that of TheStreet or its editorial staff.