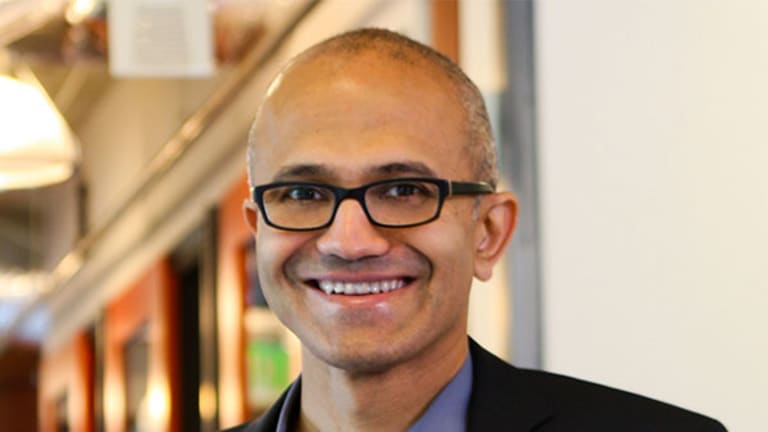 Microsoft Knows Where It Is Going, but Who Will Follow?
Microsoft is still losing money in devices, but it still has a niche among office workers that CEO Satya Nadella hopes to widen.
NEW YORK (TheStreet) -- Microsoft (MSFT) - Get Microsoft Corporation (MSFT) Report shares are up more than 10% since Satya Nadella became CEO in February, but as Microsoft released its new Surface 3 Wednesday one of our most prominent analysts insisted the company is "an embarrassment."
That may prove to be true, but at least Nadella's company knows where it's going. It is recarving for itself a niche among business buyers whose loyalty it once took for granted.
Its first earnings release under the Nadella regime gave it a little breathing room. 
Revenue fell slightly from the year before, and net income fell 6.5%, but the dividend of 28 cents was 5 cents higher than in the previous March. So as fashions among traders changed, from growth to yield, Microsoft was in a sweet spot.
But it's a trick the company may be hard-pressed to repeat, as Nokia's (NOK) - Get Nokia Oyj Sponsored ADR Report device business hits Microsoft's books for the first time this quarter. Nokia's latest numbers look good, but that was because the networks business, which it's keeping, did well.
The devices business, by contrast, is a money pit. So, for that matter, is the Surface business, which has lost an estimated $2 billion so far while generating $2.64 billion in sales, one-third of what the Apple (AAPL) - Get Apple Inc. (AAPL) Report iPad does in a single quarter.
Yet Nadella made clear that he is not for turning with Wednesday's Surface 3 launch. Here is why.
The new tablet-PC hybrid has everything office workers have been demanding from devices. It's thin, light, with a big screen and a real keyboard. It costs $799, plus another $129 for the keyboard. The hope is it will break even, and eliminate the "conflict" that Microsoft sees between laptops and tablets. 
Its best feature may be a "connected standby" mode, which keeps the unit connected to incoming mail and other messages even while powered down. 
The hope is it will free Microsoft users from their current deep attachment to electric cords, as well as the need to wait for the machine to launch.
At the recent OpenStack Summit in Atlanta, I was surprised to see that nearly everyone had laptops, not iPads. If you write for a living, whether that is code or words or business plans, you are still willing to wait for Microsoft to come around, as was true in the late 1980s, when MS-DOS stayed viable for years in the face of the Macintosh, before Microsoft got Windows right.
Office remains a money-making machine, Xbox is contributing to profits, and the Azure cloud is growing as customers bring more of their Office work to it.
Microsoft thus has time to fix Windows 8, and that product's death is somewhat exaggerated. The latest American Consumer Satisfaction Index gives Microsoft a score of 75, six points higher than in 2008, during the launch of Windows Vista, and just a few points away from its record high. 
The fact is Microsoft has a niche, office workers, and Nadella is aiming to keep as much of that loyalty as he can.
If that means competing with its former OEMs, companies such as Hewlett-Packard (HPQ) - Get HP Inc. (HPQ) Report that were abandoning it anyway, then Microsoft will do that.
If that means having Office work on Apple (AAPL) - Get Apple Inc. (AAPL) Report and Google (GOOG) - Get Alphabet Inc. Class C Report Android phones, Microsoft will do that. 
If that means matching prices and working alongside Amazon's (AMZN) - Get Amazon.com, Inc. Report EC2 cloud, Microsoft will do that.
This is a sea change for the company, which tried to hold all of its market within its grasp under former CEO Steve Ballmer, and seemed to have a "take it or leave it" attitude where you were either "in" Microsoft's world or "out" of it.
It's not a guarantee of success, but it's not a death rattle either.
At the time of publication the author owned shares of GOOG, AMZN, and AAPL.
This article represents the opinion of a contributor and not necessarily that of TheStreet or its editorial staff.