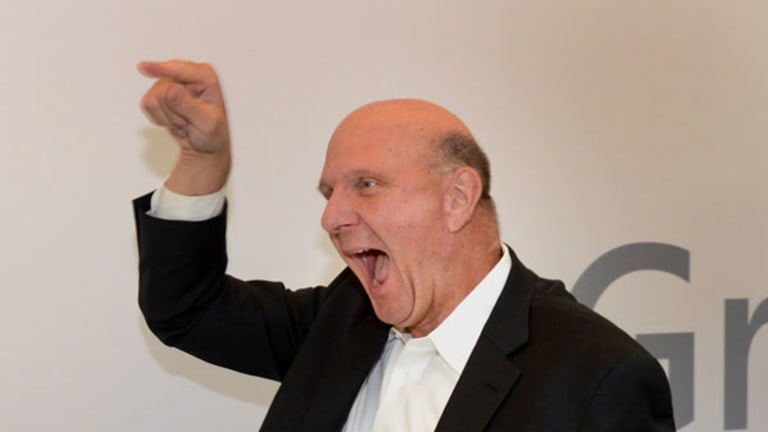 NEW YORK (TheStreet) -- So now there's word thatMicrosoft (MSFT) - Get Microsoft Corporation (MSFT) Report wants to find a way to let customers buy a device and then choose between Windows Phone and Google's (GOOG) - Get Alphabet Inc. Class C ReportAndroid operating system.
If this doesn't highlight what's wrong with tech -- outside of the hundreds of innovative startups saturating pockets of the country and a handful of major players -- I'm not sure what does.
As I noted earlier Monday at TheStreet, Apple (AAPL) - Get Apple Inc. (AAPL) Reportcontinues to crush the competition and, meantime, Microsoft barely runs in place with Windows Phone.
Is this the only solution to its inability to execute the maker of the excellent Xbox platform and apparent hub of Pacific Northwest innovation can come up with? To, for all intents and purposes, grab cheap marketshare in hardware by admitting the experiment to merge Windows desktop with Windows Mobile failed so it can do no better than offer an Android option?
See, look, we did something, we sold a few devices, but it really had nothing to do with anything we did other than poach off of an already existing idea because, well, we basically suck and have run out of original ideas. We have NO way forward!
Harsh, I know. Maybe even a tad unprofessional. But, I don't like to mess around. I prefer cutting straight to what they call #truth on Twitter (TWTR) - Get Twitter, Inc. Report!
But here's the rub -- this, quite possibly, wouldn't give a meaningful number of consumers any reason to buy a Windows Phone. It's not like there's pent-up demand to run both Windows Mobile and Android or choose between the two or whatever the outcome this train wreck of thought might produce. Outside of a handful of super geeks there's likely exactly zero demand. If somebody wants a Windows device they have already picked up a Nokia (NOK) - Get Nokia Oyj Sponsored ADR Report. And if they want to run Android, they have Samsung and about six million other random OEMs to choose from.
Steve Ballmer needs to write up a press release, clean out his office and officially leave Microsoft. Bill Gates needs to follow up with a statement that Ballmer is, indeed, gone and the new CEO has complete control to do whatever he or she desires. That means Gates would need to leave the Board as well. With all due respect to both men, they're holding Microsoft back. If they stick around, they'll end up responsible for a death that will make what happened at the artist formerly known as RIM look tame.
There's always a rub with Microsoft though. Because, even in a situation without the Ballmer-Gates overhang, we have to count on MSFT's board to not hire a loser and make the type of gutsy decision Yahoo! (YHOO) made when it named Marissa Mayer CEO.
--Written by Rocco Pendola in Santa Monica, Calif.
Rocco Pendola is a columnist for
TheStreet
. Pendola makes frequent appearances on national television networks such as
CNN
and
CNBC
as well as
TheStreet TV
. Whenever possible, Pendola uses hockey, Springsteen or Southern California references in his work. He lives in Santa Monica.