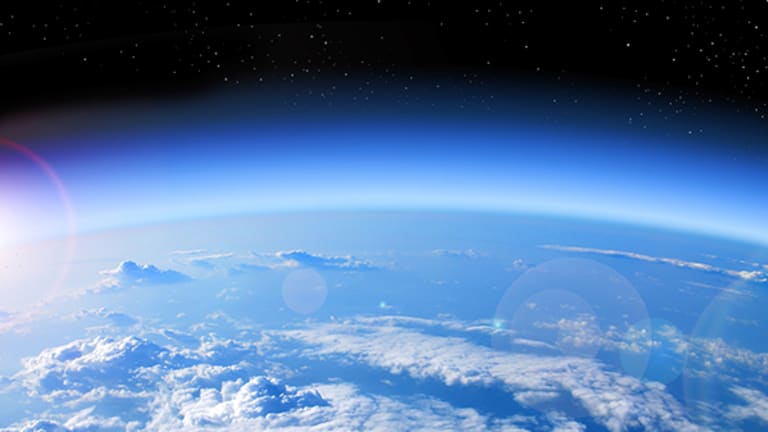 Microsoft Is Making Major Moves in the Cloud
Here comes MSFT.
Last week, Microsoft Corp. (MSFT) announced a major restructuring meant to put its sales and marketing efforts on better footing for an era where cloud software and services sales take top priority, at least in the corporate realm. This week, the company has unveiled the other half of its shakeup, revamping its enterprise offerings to further boost cloud sales and enlisting its Windows cash cow to aid the effort.
This column originally appeared on Real Money, our premium site for active traders. Click here to get great columns like this.
On Monday, as his company's Inspire partner conference kicked off, CEO Satya Nadella announced his company is now selling subscription bundles that provide access to both Windows 10 and the Office 365 suite, each of which was already being sold via standalone subscriptions. The bundles, Microsoft 365 E3 and E5, target enterprises and feature negotiable prices. A third bundle meant for companies with 300 or fewer employees, known as Microsoft 365 Business, costs $20 per month and pairs Office 365 with Windows 10 "upgrade rights."
The enterprise bundles mainly differ in terms of the version of Office 365 attached to them. The E5 bundle comes with the expansive Office 365 Enterprise E5 suite, which costs $35 per month prior to discounts, and the E3 bundle with the Enterprise E3 Suite, which lacks some of the E3 suite's analytics and security tools and is officially priced at $20 per month. Microsoft 365 Business comes with Office 365 Business Premium, which normally goes for $12.50 per month.
Notably, the E3 and E5 bundles come with Microsoft's Enterprise Mobility + Security package, which among other things includes software for managing mobile devices and apps, running virtual desktops across multiple devices, protecting users from malware attacks and letting users easily access various apps and services with a common login (single sign-on). Different parts of the package compete with products from the likes of BlackBerry Ltd.undefined, Citrix Systems Inc. (CTXS) and Okta Inc. (OKTA) , and gives Microsoft another means of undercutting them. Some, but not all, of the package's features are included in the 365 Business bundle.
Though the 365 bundles are getting the most attention, Microsoft made a few other moves to strengthen its cloud push. The biggest ones:
Finally launching the delayed Azure Stack, a powerful server/storage appliance -- offered by OEM partners such as Dell Technologies Inc. (DVMT) , Hewlett-Packard Enterprise Co. (HPE) and Lenovo -- that lets companies run Azure cloud services within their own data centers, and move workloads to and from Microsoft's public Azure cloud as they wish. Notably, Microsoft isn't charging license fees for the software and services built into Azure Stack, but will instead charge on a pay-as-you-go basis, just as it does for public cloud services. The Azure Stack strengthens what's arguably a leadership position among top-tier public cloud players -- made possible by a Microsoft server software lineup that includes products such as Windows Server, the SQL Server database, Hyper-V virtualization software and Systems Center management software -- in enabling deployments of hybrid clouds that feature jointly-managed on-premise and public cloud deployments. Whereas Amazon.com Inc. (AMZN) and Alphabet Inc./Google (GOOGL) have had to form software alliances to advance their hybrid cloud strategies -- Amazon has teamed with VMware Inc. (VMW) , and Google with Nutanix Inc. (NTNX) -- Microsoft can deliver an integrated solution relying on its own software/services and no one else's.
Rolling out three new Office 365 apps for business clients: An e-mail marketing app called Connections, an app for publishing business information called Listings and an invoice-creation app called (drumroll...) Invoicing. The products join an ever-expanding stable of Office 365 apps and services that (depending on the package) includes products such as Yammer (enterprise social networking), Skype for Business (unified communications), Power BI (business intelligence) and Teams (enterprise chat/collaboration), as well as OneDrive storage.
Creating ISV Cloud Embed, a platform that lets independent software vendors (ISVs) embed products such as Power BI and Dynamics 365 cloud business apps within their own products, and offer the integrated solution to customers. The embedded products will be sold at a discount of up to 50% relative to what they cost on a standalone basis.
All of these moves come just after Microsoft announced a giant restructuring of its sales, marketing and reseller partner teams, one meant to optimize these teams for selling cloud apps and services rather than on-premise software. Not long afterwards, Microsoft said it's laying off thousands of workers, mostly in sales, as part of the restructuring.
Recent earnings reports drive home how rapidly Microsoft's business sales mix has been shifting towards cloud apps and services. The company's "commercial cloud" annual revenue run rate -- it covers Office 365, Azure and Dynamics 365, among other things -- rose by $1.2 billion sequentially in the June quarter to $15.2 billion. Along the way, Azure revenue rose 93% annually and Office 365 commercial revenue grew by 45% on the back of 35% seat growth and higher average selling prices (ASPs).
More impressive than those numbers, however, is how cloud sales have lifted Microsoft's total Office and server products/services revenue growth. Total Office commercial revenue grew 7% annually. Total server products and cloud services revenue, boosted by both Azure and well-received Windows Server and SQL Server updates, grew 15%.
Though -- like enterprise software peers making similar transitions -- Microsoft's revenue mix shift towards cloud offerings has had a negative gross margin impact (all those cloud data centers don't come cheap), the last few quarters have made clear that this should be more than offset by the extra revenue the cloud shift is adding to Microsoft's top line. This partly stems from how businesses are willing to pay more over the long run for expansive cloud software suites than they were for relatively limited on-premise suites (just ask Adobe), and also how certain cloud offerings -- for example, Azure's Linux and IoT services -- are expanding Microsoft's addressable market.
Microsoft, quite aware of all of this, seems eager to double down on what's working. Even if it means disrupting how major business units operate, and how products responsible for billions in annual sales are sold.
Alphabet is a holding in Jim Cramer's Action Alerts PLUS Charitable Trust Portfolio. Want to be alerted before Cramer buys or sells GOOGL? Learn more now.
Visit here for the latest business headlines.