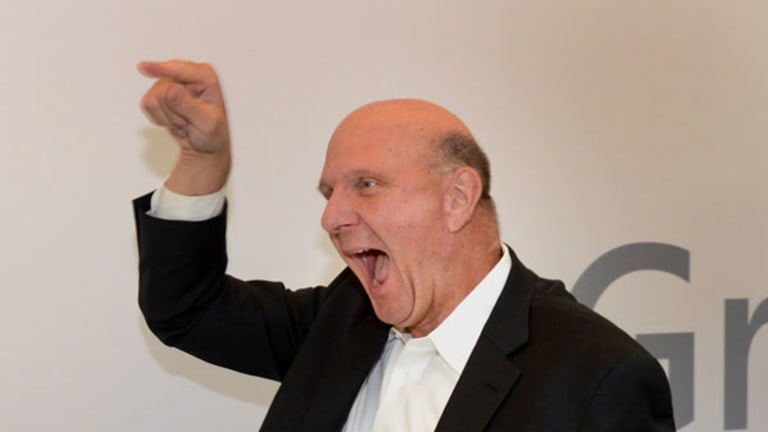 NEW YORK (TheStreet) -- Microsoft (MSFT) - Get Microsoft Corporation (MSFT) Report has become an embarrassment. Not that it wasn't already under Steve Ballmer, but Satya Nadella seems determined to imprint that sentiment on Microsoft's consumer-facing grave. He might has well start walking around the Pacific Northwest with a can of spray paint spewing Microsoft's an embarrassment on the sidewalls of every underpass he can find. Don't worry, S, the gangsters won't mind.
It's probably best to bullet point the trajectory of thought I tunnel for the sake of optimal clarity:
One -- stop already with the you don't know Microsoft's business ... they're doing this and that in the enterprise argument. That's a loser thesis set to go the way of BlackBerry

undefined

. For companies like Microsoft, BlackBerry and Apple (AAPL) - Get Apple Inc. (AAPL) Report, success with the consumer dictates success in the enterprise. If the butt-kicking Apple gave BlackBerry didn't prove that, I don't know what will. Microsoft clearly can't make it with the consumer on hardware. And it's days are numbered with respect to what many of us barely tolerate -- Windows and Office. Once that abusive relationship ends, employees will demand their IT departments get rid of Microsoft enterprise products and replace them with more attractive solutions.
Two -- the tech media, followed like sheep by the regurgitators in the financial media, continue to perform a dog and pony show around Nadella and Microsoft. They're so desperate for something exciting in the space they uncritically latched onto Nadella as the second coming of Steve Jobs. So they turned an obvious failure into success when Microsoft put its Office apps in Apple's App Store. Tim Cook's a sharp guy. Even cunning. His welcoming of Microsoft to iOS was a backhanded way of saying We won. You lost. Make no mistake -- Microsoft went all the way into Apple's ecosystem because it failed on hardware and had no other choice. Total failure no matter what anybody tries to tell you.
Three -- if Microsoft holds a big event it should be to announce it has decided to exit consumer hardware to focus on the enterprise, not to feebly introduce the third iteration of the failed Surface tablet. The thing's a piece of junk. It has failed. It'll never catch on as a laptop replacement, a tablet replacement, as anything. And Microsoft should know this. It can't even define what Surface is. It's just hoping the "device" catches on somewhere somehow and, when it does (though it won't), that's what it will be. #weak
Four -- no, bullet point three did not contradict bullet point one. Here's why ... on Page Two ...
Microsoft needs to learn from BlackBerry. It needs to understand consumer psychology. If you're going to face the consumer you better be good at it. Because, if you stink, the consumer will eventually push you out of the enterprise all together. You do remember when we were told large organizations would never drop BlackBerries for iPhones, right?
If Microsoft exits the consumer business, it can focus solely on fighting Google (GOOG) - Get Alphabet Inc. Class C Report and others in the enterprise. But it will do it -- and this is key -- without that BlackBerry-like overhang.
It won't have to worry quite as much about being uncool and unwieldy with consumers, who will then urge IT departments to dump both the enterprise versions of Microsoft's consumer products and Microsoft's more hardcore enterprise-only products. You don't see people running around demanding that their company stop using IBM (IBM) - Get International Business Machines (IBM) Report stuff. Not at all. Because when they think of IBM they don't think of it as a consumer company. There's no need for IBM to be cool. It performs critical functions -- nobody outside of IT knows or cares exactly what -- so it stays. Microsoft needs to become IBM.
Make a few acquisitions to pump up and diversify the Xbox business. Spin that off and, as Microsoft, exit the consumer business entirely. Make the message -- we failed horribly with the consumer. That's Apple's thing. They own it. And they own it well. But the enterprise is our thing and Google's nothing but a poser. We're the new Microsoft and we hope it will end up that you've never heard of us.
The tech geeks will hammer me for not knowing what I'm talking about. That -- just like it was with BlackBerry throughout 2011 and 2012 -- reaffirms that I'm 110% right. Tech geeks are losers. As I was writing geeks, I started to misspell it so the spellcheck (in Pages!) suggested "germs." Fine. They're germs as well. Bottom line -- if Microsoft's enterprise business is so good and so sustainable, it can and will stand on its own. And that's how it should stand.
Satya Nadella should be ashamed of himself for even going along with the introduction of yet another Surface tablet. He should be discredited for lame attempts at making it appear relevant. It's not. Microsoft knows this. If anything Nadella should blow up Surface and voluntarily report his company to the SEC for its past transgressions with previous failed iterations of this tablet (or is it a laptop ... or is it both!?).
To Nadella's credit, he reportedly scrapped plans for a smaller Surface tablet because it wasn't different enough. But he didn't go far enough. The thing he trotted out Monday isn't different enough either. Never was. Never will be. And on its present course, that's exactly what Microsoft's about to become -- a never was (unless you're still living in the 1980s and 1990s) and never will be.
--Written by Rocco Pendola in Santa Monica, Calif.
>>Read More:
Here's How Much Microsoft's Surface Pro 3 Will Cost
Cisco Must Buy Rackspace Right Now
Warren Buffett Should Invest in Home Depot
Rocco Pendola is a full-time columnist for
TheStreet
. He lives in Santa Monica. Disclosure: TheStreet's editorial policy prohibits staff editors, reporters and analysts from holding positions in any individual stocks.