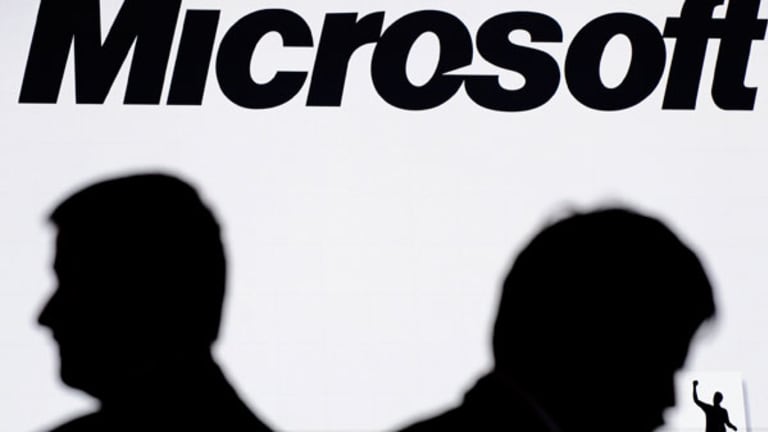 Microsoft Hits 52-Week High, Set to Crush $50
California earthquakes must have shaken Rocco Pendola's brain for him to think that Microsoft isn't the one to own.
California earthquakes must have shaken Rocco Pendola's brain for him to think that Microsoft isn't the one to own.
NEW YORK (TheStreet) -- You probably can't find a dissatisfied Microsoft shareholder right now after Microsoft (MSFT) - Get Report delivered its third 52-week high in as many weeks Monday.
The Seattle software maker is now trading at 14-year highs. That means a trip back in time to the dot-com boom days. In the meantime, even with the multi-year highs, this one still remains almost a 3% yield. I'm not surprised, and six months ago my confidence in "'Softie" gave me the conviction to declare it a must-have.
When I wrote "Microsoft Is a Must-Have for Your Portfolio," the shares were trading for about $33 a share. Adjusted for dividends, that's a gain of more than 25% in about six months. However, that wasn't the first time in 2013 I called it a buy. About a year ago, in April 2013, I wrote "Microsoft Is a Buy Before Earnings Release." Your gains increase to about 50% if you believed in the bull thesis then.
Since the start of 2014, between Microsoft, Apple (AAPL) - Get Report, Google (GOOG) - Get Report, Yahoo (YHOO) , and Amazon (AMZN) - Get Report, only Microsoft continues to appreciate. Despite growing revenue and earnings per share, you could be forgiven for not knowing Microsoft is the best performer among them since this year.
Many are claiming Microsoft is finished, and all that's left is for Apple and Google to divide up what remains. The evidence doesn't support such crazy assertions, and I have to admit I'm taken aback by my good friend Rocco Pendola's pessimistic outlook for Microsoft.
In "Microsoft Didn't Win Last Week, But Apple and Google Did," a response to "Google Can't Crush Microsoft," Pendola continues his folly that Microsoft is becoming irrelevant while producing record revenue and profits. Let's be honest here; the stock is making shareholders rich.
Pendola claims Microsoft's mobile strategy failed, and it's dead. I will give credit: Pendola almost has this one right, except the part about the strategy failed and is dead. Mobile is evolving, and today's winners and losers may reverse position in a heartbeat. If you don't believe me, ask BlackBerry and Google's Android how quickly prospects change in the alternative universe known as mobile.
After Microsoft reportedly lowered the cost of Windows 8 for low-cost tablets and other sub-$250 devices, the company is believed to be attacking Google at the root. Microsoft is expected to begin offering Windows Mobile free of charge to manufacturers in India, one of the largest smartphone markets in the world.
Pendola characterizes the move as more desperation than aggression. I'll happily concede and offer a suggestion that a management finding complacency will have a difficult time finding profits. Once again, I point to BlackBerry as exhibit A of what not to do when you're the leader.
With a 3.2% mobile platform market share, Microsoft has the desperation or luxury to shift from monetizing because there isn't another choice, to monetizing smartly based on real competitors that will take market share quickly. Pendola quotes an article that depicts margins getting squeezed, but as popular the conjecture may be, it's difficult to actually find evidence to support it. A glance at the profit margin chart illustrates why.
Keep in mind that my bullish Microsoft stance doesn't necessarily mean I'm bearish on Apple or Google. It simply means that given a choice of where to place my money, Microsoft is my first choice. For long-term value investors, Microsoft continues to offer one of the most attractive investments available.
At the time of publication, Weinstein had no positions in securities mentioned.
This article represents the opinion of a contributor and not necessarily that of TheStreet or its editorial staff.