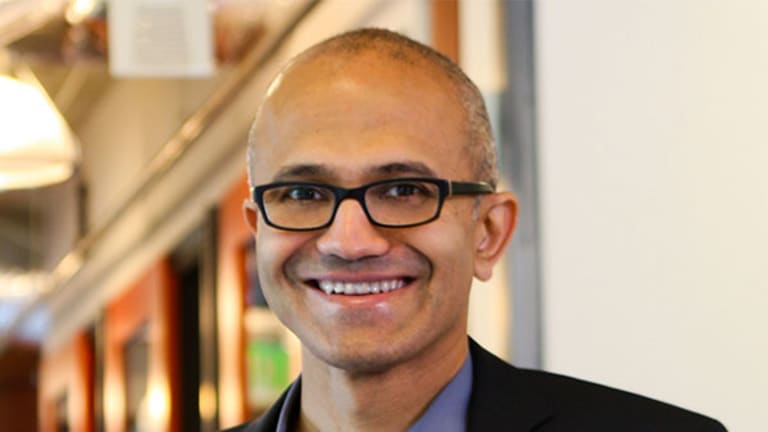 Microsoft Didn't Win Last Week, But Apple and Google Did
Despite the media hype surrounding Satya Nadella, Apple and Google continue to put the beat down on Microsoft.
NEW YORK (TheStreet) -- In one respect, you have to give Microsoft (MSFT) - Get Microsoft Corporation (MSFT) Report credit. The company has rightfully crapped on Steve Ballmer's legacy.
At last week's Office for iPad event, Satya Nadella told us, even if indirectly, that everything Ballmer did at Microsoft in recent years was wrong. Yet, for some reason, the tech and financial media opts to portray Microsoft's new direction as a victory, that it's somehow doing Apple (AAPL) - Get Apple Inc. (AAPL) Report a favor.
We miss Steve Jobs so much. We're so desperate to replace him that the first cerebral, reasonably attractive and well-spoken guy to come along gets to third base with us on the first date. We're so smitten we have lose sight of reality.
It's all really quite pathetic (quick MSFT loyalists, scamper to the comments section on Page Three and type ... "Your article is what's pathetic").
Nadella's on a search and rescue mission. Admirable, but it will produce the same sad ending had Ballmer remained in charge.
Microsoft's shift in strategy -- really the only way forward -- will render it as irrelevant asBlackBerryundefined. It's a win-win for Apple as well as Google (GOOG) - Get Alphabet Inc. Class C Report.
Nobody has an inside explanation of what happened under Ballmer. Or technical reasons for why it took so long for Office for iPad to happen. Ballmer failed. Miserably. And, despite the obvious fact that he has a clue (evident even if he didn't follow Ballmer), Nadella will as well. Because there's no way to succeed in the environment Ballmer placed Microsoft in. Nadella can't win playing the cards he was dealt. (It's no wonder nobody else wanted the job). 
I'll explain by responding -- point-by-point -- to an article TheStreet and Real Money Pro contributor Robert Weinstein wrote last week titled Google Can't Crush Microsoft.
Long-time readers know I love Weinstein. We're friends. And, on numerous occasions, I have praisedhis work. However, with respect to Microsoft (and Google), I have to wonder if Weinstein has lost his mind.
Weinstein writes:
To recapture the mobile platform, Microsoft originally partnered with Nokia (NOK) - Get Nokia Oyj Sponsored ADR Report to ensure at least one hardware manufacturer produced a Windows-based phone. Now there's a growing list of smartphone makers producing or about to produce Windows Mobile phones. Without the cost advantage of free software, I think Google may find an exodus of vendors supporting Android phones.
There's nothing to say about Microsoft's mobile strategy other than it failed. It's dead. Office for iPad drives that point home. If you had any faith in your ability to get Windows smartphones and tablets in the hands of current iOS and Android users, you would keep the one differentiator you have to yourself.
Consider the thought trajectory I was on way back in October 2012 in Office Will Determine Whether Microsoft Can Beat Apple:
Microsoft CEO Steve Ballmer can hallucinate all he wants about the Surface tablet, but he knows as well as the next geek that there's only one thing that sets Surface apart from the competition (particularly the iPad): Office.
If Microsoft releases Office for iOS and Android anytime soon, it's obvious Ballmer has no faith in his company's ability to to steal meaningful mobile market share from Apple, Google and Amazon.com (AMZN) - Get Amazon.com, Inc. Report.
But what we saw was Ballmer hold out hope at the same time as he, IMHO, misled people about the strength and potential of Surface tablet sales. He held back on Office for iPad not because of technical issues, but for competitve reasons. If he could get enough of the world to buy Windows mobile devices, there would be less of a need to extend Microsoft's software to the iOS platform.
I closed that 2012 article with this ...
It's a tall order when the only thing you really have going for you, other than a horribly marketed Xbox, are productivity tools. Office might be big, but, just like the CrackBerry habit, its hold on consumers can be broken.
... which segues nicely into the next excerpt from Weinstein's more recent article:
Microsoft is becoming so aggressive that it's reportedly started or about to begin giving Windows Mobile software away for free in some large markets. Windows can make money off of App sales, so while not as ideal as selling the operating system and then selling generating revenue from Apps, the strategy is superior to Google's encroachment of market share.
... Microsoft has lowered the cost for low-cost hardware producers and may be nearing a free Windows 8 release if recent rumors are accurate ...
Aggressive? Or desperate. I guess it depends on your take.
A dude in the comments section of Robert's article said it best:
The fact is that Google is forcing Microsoft to cut their prices from everything from Windows OS to Windows Mobile. Not to mention more and more people adopting google docs, which are close to free, replacing Office to some degree.
These were the MAJOR profit centers MSFT had. Their margins were ridiculously high. The trend in software now- it's FREE.
Microsoft looks a lot like dying physical retailers who have backed themselves into such unfavorable corners that they have few options left other than to compete on price. That can't be good for the business and, unlike the situation at Google, it's not setting up anything positive or lucrative for the future.
It's easy to criticize Google for its strategy of giving everything away at low or no cost, but the criticism misses the point.
Google's otherworldly advertising business affords it the opportunity to aggressively -- not desperately -- go after other companies' core businesses. It has built a wall around ad dollars so, relatively speaking, they provide an ultra-reliable revenue stream. Google can afford to keep Android open, test out several strategies at once and tinker around with hobbies all the while keeping itself as healthy as ever as a company.
That's not the case at Microsoft where it has to sacrifice so much of what brought it to the dance to remain competitive in the eyes of consumers and businesses who -- suddenly -- have so much choice.
Google's the disruptor here. It's in the ideal position, operating from a positon of strength. It's not backtracking on price because it never set some absurd bar -- thanks to a near monopoly in some respects -- in the first place. In the shell of nut, it's turning the screws on Microsoft.
And how it all plays out reemphasizes the brilliance of Apple's ongoing strategy and just as solid situation.
Tim Cook can welcome Satya Nadella to Apple's ecosystem:

He can follow the new Microsoft CEO on Twitter (right after, in an odd 12-hour turn of events, he follows and unfollows me) ...
... but it's all Tim Cook's version of that Steve Jobs' showmanship we miss so much.
As I have argued consistently, Apple doesn't require somebody else's content or headline-grabbing M&A to remain the greatest company in the world. It simply needs to provide Mac and iOS users with the best software and services ecosystem out there. And it can do that, effectively and profitably, by welcoming and placing high-quality content and applications front and center in its iTunes and App Stores.
That's Apple's strategy. We have outlined Google's strategy. Both flow from a position of strength. Microsoft's extends from a position of weakness created by Ballmer and placed into the hands of a guy the media desperately wants to anoint the next Steve Jobs.
--Written by Rocco Pendola in Santa Monica, Calif.
Rocco Pendola is a full-time columnist for
TheStreet
. He lives in Santa Monica. Disclosure: TheStreet's editorial policy prohibits staff editors, reporters and analysts from holding positions in any individual stocks.