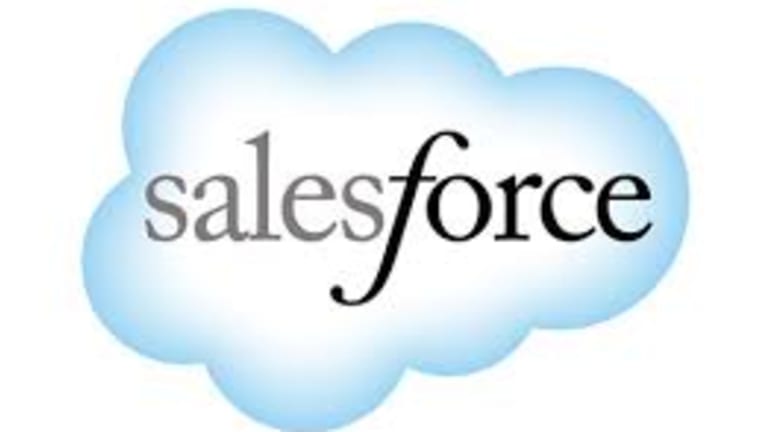 Microsoft and Salesforce Merge? So You're Saying There's a Chance
A CNBC report says Microsoft and Salesforce broke off talks sometime earlier this spring. But the market sniffs out a deal to be had.
A CNBC report says Microsoft and Salesforce broke off talks sometime earlier this spring. But the market sniffs out a deal to be had.
NEW YORK (TheStreet) -- CNBC has a new report about substantive talks between Microsoft (MSFT) - Get Report and Salesforce (CRM) - Get Report having taken place earlier this spring. According to the report, however, the two sides couldn't agree on price and the talks ended.
But the most shocking part of the report is that Microsoft was willing to offer $55 billion for the company. Salesforce wanted $70 billion.
This would amount to a big-ticket purchase for any company -- even one the size of Microsoft. A $55 billion price tag for Salesforce would have been even higher than the $44.6 billion Microsoft offeredYahoo (YHOO) in 2008.
A deal that size would most certainly put the mark of the new CEO, Satya Nadella, on Microsoft. It would be a signal about the importance of the enterprise arena to the new Microsoft. It would also be a signal about the importance of the cloud.
Here's what The Street's Jim Cramer had to say about the latest developments:
"We know that Marc and Satya respect each other. But Marc has steadfastly declined to comment on any talks of any deals. I do think that if Microsoft wants to get bigger in the cloud fast, it should bite the bullet and pay up. Not an easy task after the most recent rally off the better than expected earnings. Where there was once smoke, there was once fire, though, and that can certainly be reignited."
Nadella rose to prominence at Microsoft -- and arguably got the top job there -- because he built Microsoft's cloud offering into a super-strong offering able to compete with Amazon's (AMZN) - Get Report Amazon Web Services.
This move, in some ways, would cement his cloud legacy at the company.
Does this report mean the end of the discussions between the two companies? Not in the least. The report shows there's obviously mutual interest there at the right price.
Salesforce's stock is now trading such that its market cap is about $50 billion. But Microsoft would argue that it was about $45 billion before the rumors leaked out about the discussions. Salesforce wants Microsoft to pay as much as $105 per share. That's a long way from $75 where the stock is today.
I wouldn't rule a deal out, however. Microsoft could see this as a means to much more effectively compete in the enterprise arena against Oracle (ORCL) - Get Report and SAP (SAP) - Get Report.
And the jump in CRM stock on a Friday after the report came out on the eve of a holiday weekend demonstrates that investors believe a deal could be had. Salesforce's share price on Friday at 3:19 p.m. EDT was $74.22, a rise of 1.77% for the day. 
Microsoft shares were priced around that time $47.08, a decline of .72% for the day.
Such a deal would be a bold and pricey move for Nadella that would reshape his company. Steve Ballmer probably would have had no trouble pulling the trigger. It remains to be seen what's the case for Nadella.
This article is commentary by an independent contributor. At the time of publication, Jackson was long Yahoo.