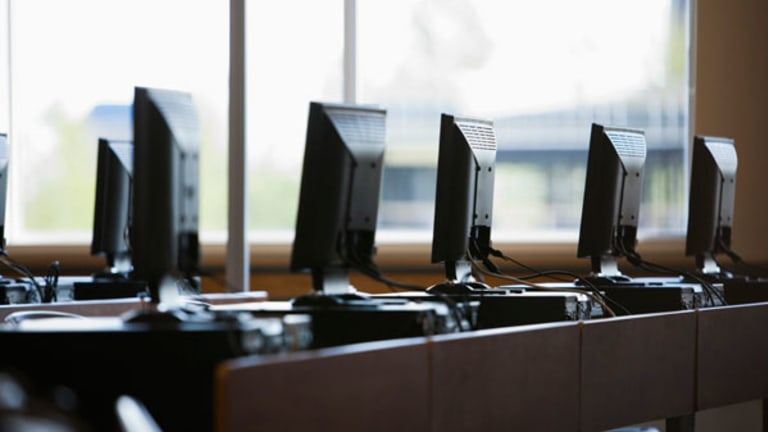 Micron's Heading to $22: Opinion
With improving margins and stronger pricing power, Richard Saintvilus says Micron stock can certainly reach $22.
NEW YORK (TheStreet) -- I've never thought it was possible a company can have its stock triple in value in less than a year without analysts going berserk, revising their estimates and clamoring for more coverage.
Yet, somehow
Micron
(MU) - Get Micron Technology, Inc. Report
, whose stock is up 160% year to date and has soared 220% in the trailing 11 months, still remains a mystery. So it goes the nature of the semiconductor sector
Even though Micron has outperformed virtually every other name in the chip group, it is
Qualcomm
(QCOM) - Get Qualcomm Inc Report
,
Broadcom
undefined
and
Intel
(INTC) - Get Intel Corporation Report
that garners the lion's share of the market's attention. I can go into many reasons to explain this, but it won't matter. However, Micron, which has shown a strategic shift to higher growth markets like network enterprise, server and mobile, had always remained on my radar.
With shares now resting near its 52-week high of $17, I don't believe Micron can remain anonymous much longer, especially with the company due to report fiscal fourth-quarter earnings on Thursday. The Street will be looking for 23 cents in earnings per share on revenue of $2.7 billion, representing year-over-year growth of 37.4%.
Read: BlackBerry Finds Buyer of Its 'Prosumer' Strategy at $4.7 Billion
To the extent Micron can beat these estimates while demonstrating improved cash flow and margin expansion, I believe the stock will make its way to $20 per share before the end of the year. I will grant that $20 does seem an aggressive target for a stock that's already more than doubled on the year. But it's not the first time that I've been right about Micron and how its management team continues to be underestimated.
If you recall,
, amid much disagreement, I told you the stock was heading to $15. This is even though there were still uncertainties about bankrupt chipmaker Elipida, which Micron acquired last year. Given that the stock (at the time) had more-than doubled -- posting gains of 116%, it seemed like a tall order.
It was clear, though, that investors were unable to reconcile what Micron is. There was also some confusion regarding the company's market direction. This is a sentiment that I don't believe has been sufficiently resolved, although management has been (in my opinion) clear about what it wants to do.
Micron, whose business is based on flash memory, consists of NOR and NAND, non-volatile storage technologies that requires no power to retain data. NOR and NAND are two separate memory standards that go into products like MP3 players and mobile phones. The only difference between the two standards and in which device they are used, is the storage capacity the device would require.
Unfortunately for Micron, while the memory market has (as expected) been highly volatile, it has been anything but "memorable." Over time, formidable rival like
Applied Materials
(AMAT) - Get Applied Materials, Inc. Report
and
SanDisk
(SNDK)
have chipped away at Micron's lead. This is even though Micron (arguably) perfected market. When
Samsung
entered the market and began growing share on the strength on its smartphones, Micron's margins and pricing power began to get squeezed.
Read: Cut Your Cellphone Bill in Half By Doing This
Making matters worse, the personal computer industry, on which Micron relies for its DRAM business (dynamic random access memory), began to decline. It was at that point management took additional risks to turn the company's fortunes around. One of these bets was on Elipida, an acquisition that is expected to close at some point during this quarter.
There were many who disagreed, but even though Elipida had entered bankruptcy, I believe it was a worthwhile gamble fro Micron, especially since
Apple
(AAPL) - Get Apple Inc. Report
was using roughly 80% to Elipida's memory capacity. With the stock on a perpetual decline with no end to the bleeding in sight, Micron had nothing to lose and everything to gain. That's exactly what the stock has done over the past the year, helped by revenue that rose almost 12% sequentially and rose 7% year-over-year in the June quarter.
Micron is certainly not out of the woods yet. But what I do see is a company that is doing everything possible to return value to shareholders. In that regard, I don't believe there is another company that has done so (relatively) better over the past year. With evidence of improving margins and stronger pricing power, this stock can certainly reach $22 by the end of the year.
At the time of publication, the author held shares of Apple
.
Follow @saintssense
This article was written by an independent contributor, separate from TheStreet's regular news coverage.
Richard Saintvilus is a co-founder of
where he serves as CEO and editor-in-chief. After 20 years in the IT industry, including 5 years as a high school computer teacher, Saintvilus decided his second act would be as a stock analyst - bringing logic from an investor's point of view. His goal is to remove the complicated aspect of investing and present it to readers in a way that makes sense.
His background in engineering has provided him with strong analytical skills. That, along with 15 years of trading and investing, has given him the tools needed to assess equities and appraise value. Richard is a Warren Buffett disciple who bases investment decisions on the quality of a company's management, growth aspects, return on equity, and price-to-earnings ratio.
His work has been featured on CNBC, Yahoo! Finance, MSN Money, Forbes, Motley Fool and numerous other outlets.
Follow @saintssense