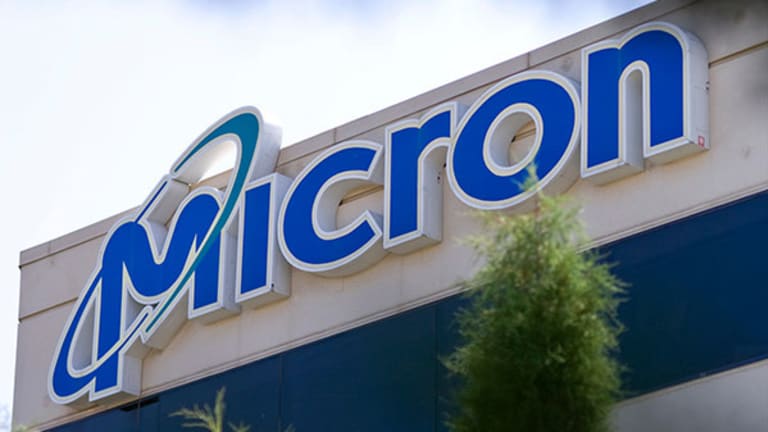 Micron Technology Has Had a Rough 2016
There is an oversupply of semiconductor chips, and the Boise, Idaho company's financial performance lately has been dismal.
Memory chip maker Micron Technology (MU) - Get Micron Technology, Inc. Report has had a rough ride since tasting success from 2014 through 2015.
A cyclical business governed by the constant churn of demand and supply, Micron is currently in a down cycle and appears to be a dangerous stock poised for steep declines.
While some may take this cyclical downturn as a cue to enter, despite it ramping up its storage offerings, Micron might still not have reached bottom.
Here are several reasons why we think the Boise, Idaho-based company is a toxic investment that you should avoid.
Micron Technology operates in the semiconductors space across four segments: Computer and Networking Business Unit, Mobile Business Unit, Storage Business Unit and Embedded Business Unit.
Micron's main products are DRAM (dynamic random-access memory) and NAND (negative-AND gate) memory chips, which are mainly used in personal computers (PCs). Apart from Micron, Samsung and SK Hynix are the other two companies who make DRAM and NAND chips.
However, with the advent of tablet computers and smartphones, the PC market has taken a hit. Mobile computing is now more important as consumers rely increasingly on these devices. Tablets and smartphones also require these chips, but after a period of prolific growth, this market has slowed.
According to IDC, global smartphone shipments will increase this year only by a single-digit percentage, a trend that contrasts to previous periods of exponential growth.
These demand trends have led to a glut of DRAM chips.
The oversupply has started eating into Micron's mobile business. The mobile segment posted a $21 million operating loss in the second quarter, compared to a $262 million operating profit a year ago.
Overall, Micron reported a net loss in the second quarter of $97 million compared to a net gain of $934 million in the same period a year ago. Red ink of this magnitude makes Micron a fundamentally weak equity.
When compared to the industry average, Micron's returns and margins are nothing short disappointing. Although its three-year average revenue growth stands at 25.3% compared to the industry's 15.5%, the company's margins have eroded its profitability. On a trailing 12-month basis, Micron's operating and net margins are less than half the industry's, and its return on equity and return on assets are also a fraction of the industry average.
Over the last one year alone, shares of Micron have fallen to $11.5, down over 60% from a year ago. It has reversed its gains from 2014-2015.
The last time Micron's share price was hovering at such low levels was in the first half of 2013, and it followed nearly two years of the stock's sluggish performance. 
While the low stock price has sunk the valuation of the company, Micron doesn't qualify as a bargain stock. Even before the crash of 2011-12, Micron in 2010 had a price earnings ratio of 4.7 times. That was lower than the current trailing 12-month figure of 6.11 times for the company and 6.63 times for the industry.
There is still room for a correction in the price before things start looking up again. Some Thomson consensus analysts expect the oversupply to continue which will push prices lower by about 30% this year.
It's best for investors to stay away.
As we've just explained, Micron Technology is a terrible investment. If you want to see a list of the absolute worst stocks you can own right now, I urge you to take a look at this updated report that lists the market's most overvalued stocks, and learn the process you can use to keep avoiding them in the future. Click here now for a free copy.
This article is commentary by an independent contributor. At the time of publication, the author held no positions in the stocks mentioned.