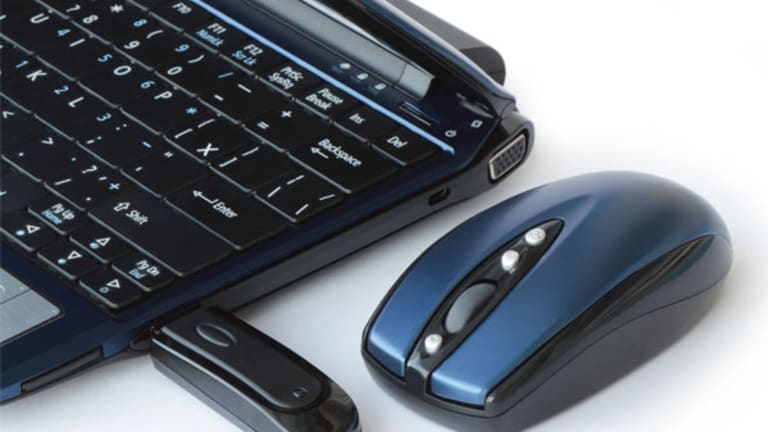 Micron Stock Has 30% Upside on Cash Flow Growth, Solid Margins: Earnings Preview
With Micron due to report earnings Monday, investors on the sidelines should get in now.
NEW YORK (TheStreet) -- Shares of flash memory giant Micron (MU) - Get Micron Technology, Inc. Report are on fire. The stock is up 42% year to date and 454% over the past two years. Investors have made a killing.
But with improved cash flow and margin expansion on the horizon, now is not the time to think about selling.
Unfazed by recent competitive pressures from Samsung (SSNLF) , Micron management continues to push all of the right buttons, yielding a 98% jump in revenue in the most recent quarter. And with business synergies emerging from Micron's acquisition of Elpida Memory, these shares look set to reach $40 in the next 12 months, suggesting 30% upside from current levels.
After a period of weak volumes and low average selling prices, memory chip growth is once again on the uptrend. This is what Micron rival SanDisk (SNDK) understands -- and it's why SanDisk picked offFusion-io (FIO) earlier this week.
IBM Fights for Respect and Relevance on Rough Seas of Investor Confidence
Why Big Car Companies Don't Give A Rat's Ass About Tesla
5 Reasons to Change Your Outlook on Emerging Markets
The improved economic environment is only a small part of the reason. Micron management never hesitated. They've been making moves amid the declining PC industry and soft average selling prices to grow both revenue and profits. And until there are meaningful signs of slowing down (e.g. cutting guidance), there is no reason to believe Micron's growth won't continue.
The stock's dominant performance over the past two years will carry great weight in investors' decisions. But what matters at this point is where Micron is heading. This is what investors must understand.
Micron's business is based on flash memory -- non-volatile storage technologies that require no power to retain data. They are used in devices like MP3 players, tablets and mobile phones. This is a market that Micron has perfected. And unless you believe that mobile devices are due for a steep decline, it's foolish to sell Micron at this point.
What's more, SanDisk's recent acquisition of Fusion-io highlights the growing market for solid-state drives for enterprise. The new and untapped frontier is the flash-transformed data center. Micron will have a new opportunity in this area to help companies better manage heavy data workloads.
These companies include some of the strongest names on Wall Street, like Facebook (FB) - Get Meta Platforms Inc. Class A Report, Hewlett-Packard (HPQ) - Get HP Inc. Report and Apple (AAPL) - Get Apple Inc. Report. Combined, these three contribute to 61% of Fusion-io's total revenue.
This is where Elpida will begin to pay off for Micron. As it stands, Apple was already using roughly 80% of Elpida's memory capacity when Micron made the deal. With a strong relationship already in place, Micron's ability to sway Apple away from SanDisk and Fusion-io won't be as difficult.
And given Apple's new product launches -- like the iPhone 6, iWatch and potentially other categories -- Apple's current product cycle should bode well for Micron's long-term ability to enter the flash-transformed data center space.
With Micron due to report earnings Monday, investors on the sidelines should get in now. On the basis of long-term margins expansion and cash flow growth, Micron stock has upside toward $40.
As more synergies are realized from the Elpida deal, management will create more value. At that point, $45 per share is not out of the question.
Millennials' Inheritance Not Guaranteed: Boomer Parents Overspending
Oracle Plunges: What Wall Street's Saying
Biotech Stock Mailbag: Zafgen, Bluebird, MannKind
American Apparel: Is It Fit for a Buyer?
At the time of publication, the author was long AAPL.
This article represents the opinion of a contributor and not necessarily that of TheStreet or its editorial staff.