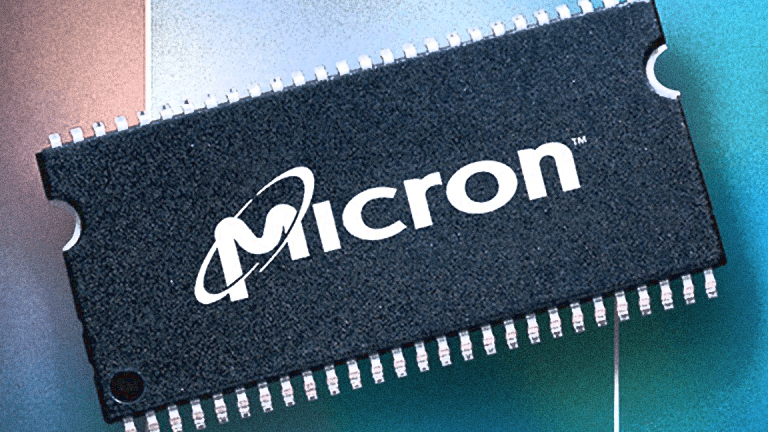 Publish date:
Micron Slumps After Issuing Light Guidance: 7 Key Takeaways
The memory giant beat estimates, but issued a light quarterly outlook that was blamed on CPU shortages, inventory adjustments and China tariffs.
The memory giant beat estimates, but issued a light quarterly outlook that was blamed on CPU shortages, inventory adjustments and China tariffs.
After issuing solid results and guidance for several quarters in row, Micron  (MU) - Get Report offered a below-consensus outlook on Thursday.
However, that by itself might not justify a major selloff in a company that would trade at fairly low multiples even if its earnings were cut in half, and which expects healthy supply and demand conditions to continue for its core business.
On Thursday afternoon, Micron reported August quarter (fiscal fourth quarter) revenue of $8.44 billion and non-GAAP EPS of $3.53, topping consensus analyst estimates of $8.25 billion and $3.33. However, it guided on its earnings call for revenue of $7.9 billion to $8.3 billion and EPS of $2.88 to $3.02, below a consensus of $8.45 billion and $3.08.
After initially trading higher post-earnings, Micron sold off in response to its guidance and closed down 7.1% in after-hours trading to $42.81. NAND flash memory rival Western Digital (WDC) - Get Report fell 2.1% to $58.80.
With the qualifier that analyst estimates will probably be lowered due to the guidance, Micron now trades for 3.8 times a pre-earnings fiscal 2019 (ends in Aug. 2019) EPS consensus of $11.17. Clearly, markets are wagering Micron's EPS is about to nosedive, rather than simply decline some after having soared over the last two years.
Such an earnings plunge isn't a given based on Micron's near-term and 2019 outlooks. Here are some takeaways from Micron's earnings report and call.
1. Micron Blames its Guidance on CPU Shortages, Inventories and Tariffs
On the call, management indicated that Intel (INTC) - Get ReportPC CPU shortages will impact its November quarter PC DRAM sales, and that a few customers are carrying out a "limited inventory adjustment." The company also noted that the Trump Administration plans to impose a 10% tariff on $200 billion worth of Chinese imports (it goes into effect on Sep. 24) will impact its gross margin a bit.
Naturally, the CPU shortage is expected to be a short-term event, although CEO Sanjay Mehrotra did say it could last beyond the November quarter. CFO Dave Zinser suggested the inventory adjustment -- possibly the result of customers stockpiling DRAM inventory while supplies were very tight -- will last "a couple of quarters." The tariffs of course will last until Washington and Beijing hammer out a trade deal.
2. The Company's DRAM Supply Outlook Looks Fairly Healthy
After previously guiding for DRAM industry bit shipments to rise about 20% in 2018, Micron now forecasts bit growth will be "slightly above" 20%. The comments follow an August quarter during which Micron's DRAM average selling price (ASP), which has risen considerably since the fall of 2016, was roughly flat on a sequential basis.
On the other hand, in contrast to worries about accelerating supply growth causing severe price pressure, Micron says it expects 2019 DRAM bit growth to be only around 20%. The company added it expects its own shipment growth to be in-line with the industry's in both 2018 and 2019.
DRAM accounted for 70% of Micron's revenue last quarter, and over 75% of its gross profit.

Micron expects NAND production to continue growing much faster than DRAM production next year.
3. NAND Prices Are Falling, and Likely to Remain Under Pressure Into 2019
While DRAM prices held steady last quarter, Micron's NAND ASP fell by a mid-teens percentage sequentially. That fits with remarks from Western Digital and various NAND buyers, as well as the declines seen in retail solid-state drive (SSD) pricing in recent weeks.
Micron, which previously forecast 2018 NAND industry bit growth of 40% to 45%, now forecasts 45% growth. More importantly the company expects bit shipments to grow another 35% to 40% next year, with Micron's output growth being "somewhat above" that rate.
Though lower prices should boost PC, data center and mobile flash consumption, a fresh 35% to 40% supply increase is likely a recipe for NAND price pressure continuing well into 2019.
4. Cloud, Mobile and Graphics Demand Drivers Still Seem to Be in Place
Micron's Compute & Networking Business Unit, which supplies DRAM to several end-markets, saw its cloud and graphics revenue nearly double annually. Strong cloud capital spending remains a tailwind, as does solid server and gaming GPU demand -- Micron notes Nvidia  (NVDA) - Get Report chose it as a lead partner for supplying the GDDR6 graphics DRAM chips used by its just-launched RTX-series gaming GPUs.
Micron's Mobile Business Unit, which supplies DRAM and NAND for mobile devices, saw revenue rise 60% with the help of content increases for marquee smartphones. The company predicts content increases will continue in fiscal 2019.
Nvidia is a holding in Jim Cramer's Action Alerts PLUS member club. Want to be alerted before Jim Cramer buys or sells NVDA? Learn more now.
5. Capital Spending Is Set to Rise Further
In fiscal 2018, Micron's capital spending grew over 60% to $8.2 billion. The company is now guiding for fiscal 2019 capex of $10.5 billion, plus or minus 5%.
Micron adds that its chip wafer capacity will remain flat in spite of its capex growth, and insists its spending is "focused on technology transitions for DRAM and NAND" that (in what's a positive for chip equipment makers) have steadily become more capital-intensive.
The glass-half-empty view of Micron's capex guidance: Higher capex will weigh on the company's free cash flow (FCF), and eventually (as depreciation expenses are recorded) its earnings. The glass-half-full view: A company expecting demand and/or prices to nosedive in its largest business wouldn't be growing its capex like this.
6. Cost Reductions Will Help Offset Price Declines
Mehrotra disclosed on the call that over half of Micron's DRAM bit production will involve its relatively new 1x manufacturing process by the end of this quarter, and that it will start seeing "meaningful production" for its next-gen 1y process in its May 2019 quarter.
For NAND, Micron, whose low-cost 64-layer 3D NAND chips already account for over half its flash memory bit output, says it's on track to start production for its next-gen 96-layer 3D NAND chips by year's end, and expects them to deliver "solid cost reductions in fiscal 2019." The impact of DRAM and NAND cost reductions on margins and EPS might be underestimated right now.
7. Micron Plans to Buy Back a Lot of Stock
Four months after Micron announced a $10 billion stock buyback, Zinser says the company plans to spend at least $1.5 billion on "programmatic" stock repurchases this quarter, and could direct additional funds towards "opportunistic" repurchases. He adds Micron remains committed to deploying at least half of its FCF towards its buyback program, and is "assessing an accelerated rate of completion of this program."
Clearly, fully using up a stock buyback that's equal to about a fifth of Micron's current market cap would (in addition to propping up the stock) be quite accretive to EPS. Micron produced $9.2 billion in FCF in fiscal 2018, and ended August with $2.7 billion in net cash.