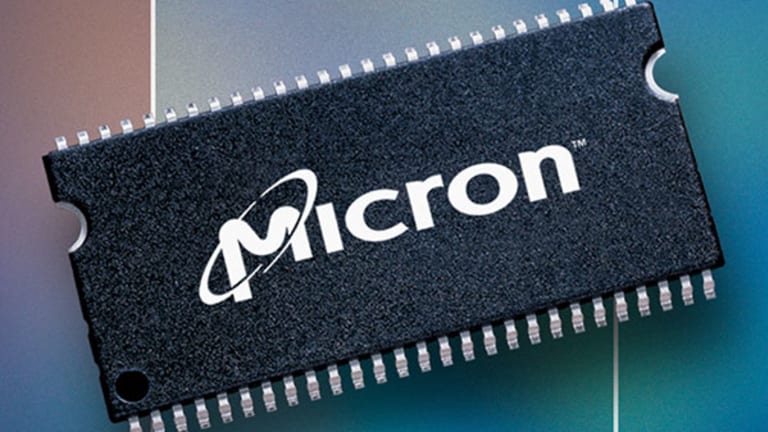 Publish date:
Micron Earnings Preview -- Buy the Stock, Ignore the Noise
With Micron projected to boost earnings by more than 15% over the next five years, now is the time to add to existing positions.
With Micron projected to boost earnings by more than 15% over the next five years, now is the time to add to existing positions.
NEW YORK (TheStreet) -- Memory-chip maker Micron (MU) - Get Report will report earnings results Thursday after the closing bell. And investors who have waited for their chance to buy a cheap company with long-term potential shouldn't delay anymore, given how cheap Micron stock has become. 
The Boise, Idaho-based company, which manufactures flash-memory and non-volatile storage chips known as DRAM and NAND, has made tons of money for its shareholders, posting a stock gain of some 300% over the past three years compared with a gain of 57% for the S&P 500 (SPX)  index. But the Micron story has changed.
Revenue and earnings have been hard to come by in recent quarters. And the market has
 Micron for it, sending the stock down some 30% on the year, lagging the broader averages. But it's not time to press the panic button. Expectations are low. And to the extent Micron can deliver on the analysts' reduced estimates, these shares can be revived.
For the fiscal third quarter that ended in May, earnings are projected to have declined 24% from a year earlier to 60 cents a share, while revenue is expected to have fallen 1% to $3.93 billion. For the full year ending in August, the average estimate is for a year-over-year decline of 5% to $3.07 a share, and a 3% increase in revenue to $16.89 billion.
Why are these projections so low? Although the growing popularity of mobile devices -- built with solid-state drives (SSD) -- makes them a strong revenue driver for Micron, its DRAM (dynamic random-access memory) business, which accounts for roughly 30% of its total revenue, has been under pressure.
As the world's second-largest DRAM vendor, Micron's revenue and profits have slowed due to the continued decline in personal-computer sales. And things are not expected to improve quickly. Consensus estimates suggest an 11% year-over-year decline in PC DRAM demand for 2016, after a weak 2015. And this explains the recent struggles for Micron stock, which has lost almost 20% of its value in the past year.
Nonetheless, Micron looks too cheap now, trading at under 7.5 times earnings, against a price-to-earnings ratio of 21 for the S&P 500. Applying a P/E of 21 to earnings of $3.23 a share in its last fiscal year puts Micron stock at around $67. With shares trading at around $24 today, this implies Micron is discounted by more than 60% from the rest of the market, factoring the gap in P/E.
So, purely from a risk-versus-reward scenario, Micron stock looks to me like a "no-brainer," to borrow a phrase from billionaire activist investor Carl Icahn. With expectations so low, now would be the time to own Micron stock, especially when projecting out to fiscal 2016 earnings estimates of $3.60 a share. Not only does that drop the forward P/E to 6, but against a P/E of 17 for the S&P 500, Micron stock looks even more undervalued than it does today.
This implies that Micron is expected to deliver little to no growth in the next 12 to 18 months. But assuming Micron does meet full-year 2015 earnings projections of $3.07 a share, this puts the company on track to grow 2016 earnings at a 17% year-over-year rate. And that's two percentage points faster than its projected five-year annual growth rate of 15%.
So for relatively small risk, investors can own a deeply discounted stock that is projected to grow long-term earnings at a mid to high double-digit rate. Not to mention, at some point, the DRAM market, which has consolidated to just three key vendors, will stabilize. And when that happens, Micron, as the world's second-largest DRAM vendor, should command a $30 stock price, suggesting 20% gains from current levels.
This article is commentary by an independent contributor. At the time of publication, the author held no shares in any of the stocks mentioned.