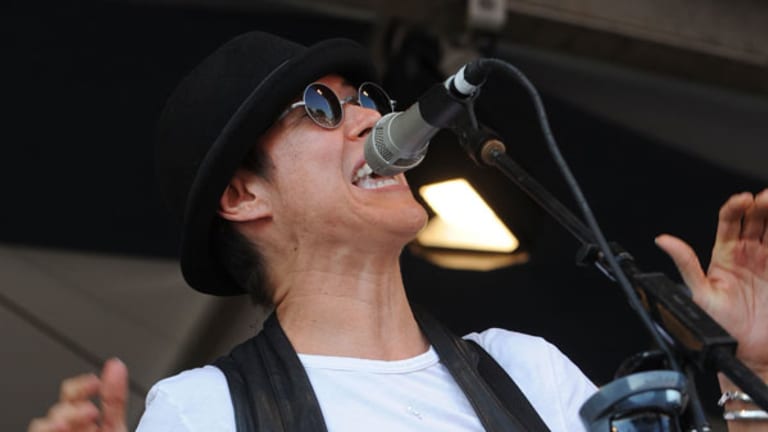 Michelle Shocked: One Stray Shell Is All it Takes
The indie artist has successfully blown up the audience that once identified with her. Her world will never be the same.
NEW YORK (TheStreet) -- It doesn't matter whether you don't know who Michelle Shocked is or much about her besides the homophobic rant she went on Sunday during a gig at Yoshi's in San Francisco. What matters is that you know who she is now because of that one very specific incident and that you as a student, worker, professional, corporate rep, investor, executive, etc., realize how quickly one slur or slip can sink everything.
Forget about crisis management and spin control. As we've seen with Shocked and with Lance Armstrong before her and countless other before that, you get a reputation exactly once. You may be able to salvage some face or dignity later if you have enough good people on your side -- see "Rourke, Mickey" -- but you're living another chapter. There's before "it" happened and afterward, and no amount of repair can bridge that again.
I'll confess that I knew of Shocked long before this thanks to a Lilith Fair stop in Hartford during the '90s. I'm not a fan of revisionist history and won't hide the fact that I went to see The Indigo Girls, Lucinda Williams, Bonnie Raitt, Suzanne Vega, Tracy Bonham, Beth Orton, Letters To Cleo and Neko Case and loved it. Shocked didn't play, but someone out in the parking lot played "Come A Long Way" off her 1992 album
Arkansas Traveler
and clued me in when I asked who it was.
I bought the rest of the CD and never really got into it, purging it with Heather Nova and Poe CDs during the early 2000s like a felon in witness protection shedding an old life. I'd remember it vividly, however, when Florida-based online radio host Nicole Sandler played it on her
"Radio Or Not"
show on Thursday after being blown off by Shocked for an interview scheduled to let Shocked clear the air.
Shocked was a no-show and, though she'd conduct a largely incoherent
about it that same day, you get the feeling she's not keen on telling the whole story. Meanwhile, the number of folks willing to listen to it just keeps dwindling.
>>>Read "Lululemon's Reaction to Yoga Pants Mishap: Brilliant Marketing" on TheStreet
Here's what we do know: Shocked was performing Sunday night in San Francisco and decided she'd open up her onstage banter to include quips about California's Proposition 8 invalidating gay marriage. She noted that when the state decides to "force priests at gunpoint to marry gays, it will be the downfall of civilization, and Jesus will come back" and implored the audience to "please send a tweet saying, 'Michelle Shocked just said God hates faggots.'"
The San Francisco audience became understandably upset and asked Shocked to clarify, she responded with theology and Bible verses in Spanish, and the audience walked off just as the venue cut off Shocked's microphone. By Tuesday, nearly 14 dates of Shocked's upcoming tour celebrating the 25th anniversary of her 1988 album
Short Sharp Shocked
were cancelled by various venues.
In truth,
Short Sharp Shocked
is where this whole mess begins. A quarter century ago, Shocked was living in a tenement on Avenue D between 10th and 11th streets in New York's East Village. She was a typical songwriter playing the clubs, but the success of
Short Sharp Shocked
put her, her tight-cropped hair, her progressive politics and her androgynous, ambiguous personality at the fore.
She was coming up at the same time as Tracy Chapman, The Indigo Girls and other artists who, if not members of the lesbian, gay, bisexual or transgendered communities themselves, were positioning themselves as nonjudgemental allies. Shocked's aesthetic played into certain lesbian tropes and stereotypes, but her quote in
a 1990 issue of Chicago'sOutLines
about having a "woman lover" led even reasonably broad-minded followers to believe she was perhaps not so straight.
After becoming a born-again Christian in recent years, however, that view shifted. She is on her second marriage to a man and told the
that "I've been avoiding interviews with gay press -- I'm going to kill my publicist." Still, when asked whether she'd consider being cited as an "honorary lesbian," she said "I'd be honored."
>>>Read "The Business of Being an Artist" on TheStreet
At least that was the message she gave her LGBT followers. When it came to her newfound Christian friends at places like the
in 2011, however, her response when asked about her "position on homosexuality" was a bit different: "Who drafted me as a gay icon? I'm the world's greatest homophobe. Ask God what he thinks."
Though that quote didn't sneak its way out of the Christian music ecosystem, her words at Yoshi's flew out over the same Twitter feeds she'd recently come to embrace and, in recent days,
. She Tweeted from stage, she Tweeted through her interview no-show with Sandler and dropped her Twitter handle during the
Spin
interview.
As much as social media gives companies, it can take it away just as easily. Shocked stepped in a bit of quicksand and, instead of calling for help and grabbing for the nearest vine, started spinning her legs Wile-E-Coyote style and sinking deeper and deeper. Unfortunately, this is a bad time to run short on Acme products. According to a
Washington Post-ABC
poll released earlier this week, 58% of Americans believe it should be legal for gay and lesbian couples to marry, up from 37% a decade ago. The Pew Center says 14% have changed their minds about gay marriage because a friend or relative is gay.
Meanwhile, companies including
Aetna
(AET)
,
Bristol-Meyers Squibb
(BMY) - Get Bristol-Myers Squibb Company Report
,
Diageo
, eBay,
Electronic Arts
(ERTS)
and
Marriott
(MAR) - Get Marriott International, Inc. Class A Report
have signed on with the Business Coalition For DOMA Repeal to help turn back the 1996 law saying marriage can only occur between a man and a woman. Meanwhile, both
Intel
(INTL) - Get INTL FCStone Inc. Report
and
UPS
(UPS) - Get United Parcel Service, Inc. Class B Report
have pulled their donations to the Boy Scouts of America to protest troops that discriminate against gay scouts.
If Shocked couldn't read those coffeehouse tea leaves, maybe she should have taken notice of another similar incident that occurred back when her videos were still getting sporadic MTV airplay. In 1991, Skid Row lead singer Sebastian Bach drew fire for taking the stage in a shirt that read "AIDS: Kills Fags Dead." Bach was fronting a hair metal band at the height of the AIDS epidemic, and the macho guys in makeup not named Rob Halford weren't too keen on gay rights or LGBT causes.
That would change a bit in November of that year, when Queen lead singer Freddie Mercury would die of AIDS-related complications, but the culture at the time didn't expect much of Bach in general, much less an apology. To his credit, Bach has been deeply apologetic since. Granted, his first apology included a crack about cancer killing grandmas dead, but donations to AIDS research down the road were far kinder gestures.
Michelle Shocked, however, isn't some aging '80s rocker now better known for making occasional cameos on
The Gilmore Girls.
She's continued her low-level folksinging career thanks largely to the image she'd cultivated and the fans who assumed she was in their corner. They may now be bourgeois parents thumbing through stacks of Aimee Mann and Edie Brickell CDs in their country guest house to thin out Shocked's
Texas Campfire Tapes
and
Captain Swing
, but a lifetime ago they saw that radical with the close cut being dragged away by cops on the cover of
Short Sharp Shocked
and saw someone they could relate to. Someone who might understand. Someone who they may support well into both of their middle age by going to overpriced shows at tarted-up jazz venues just to relive the good times they'd had together.
That's gone now. Even if Shocked gets it together and offers some sensical or, at least, apologetic explanation for what happened on Sunday night in San Francisco, she's broken open the crevasse between before and after. Fans won't celebrate 25 years of
Short Sharp Shocked
anymore, they'll look wistfully on who both they and Michelle were before going right back to who they are.
In business, that's inventory and liquidation. In music and in life, that's just "thank you" and "good night."
-- Written by Jason Notte in Portland, Ore.
>To contact the writer of this article, click here:
Jason Notte
.
>To follow the writer on Twitter, go to
.
>To submit a news tip, send an email to:
.
RELATED STORIES:
>>Nirvana's Nevermind and the Death of Guy Rock
>>The Mysterious Shine Of Twilight Pop Stars
>>How Dusty Springfield Made Adele Possible
Jason Notte is a reporter for TheStreet. His writing has appeared in The New York Times, The Huffington Post, Esquire.com, Time Out New York, the Boston Herald, the Boston Phoenix, the Metro newspaper and the Colorado Springs Independent. He previously served as the political and global affairs editor for Metro U.S., layout editor for Boston Now, assistant news editor for the Herald News of West Paterson, N.J., editor of Go Out! Magazine in Hoboken, N.J., and copy editor and lifestyle editor at the Jersey Journal in Jersey City, N.J.