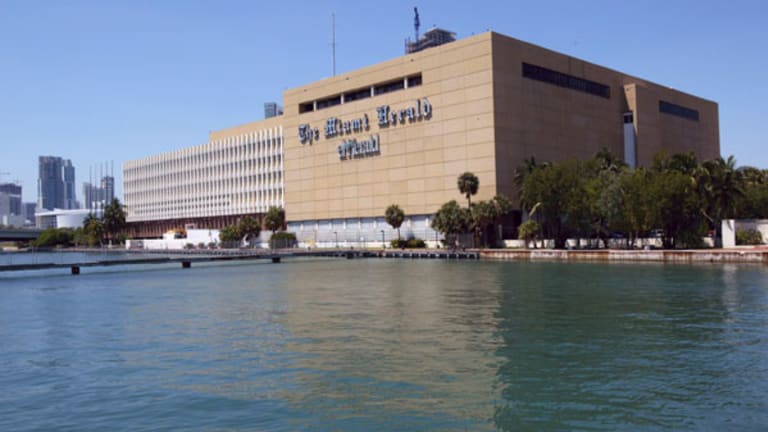 Miami Herald Bids Biscayne Bay Adieu
The Miami Herald will soon abandon its historic site on Biscayne Bay. Here, a reporter looks back on his years at the newspaper.
MIAMI (
) - Of all the terrible sad stories about the decline of the American newspaper industry, the saddest for me was last week's report that
The Miami Herald
staff gathered to drink champagne and prepare to vacate the Herald's historic Biscayne Bay building.
The building will be sold to developers who will tear it down to build a luxury hotel adjoined by high-end condominiums. The Herald will move to a suburban location near an expressway. Good-bye to a newspaper's one-of-a-kind home near the heart of the city. Hello to more unneeded waterfront property for rich people.
I worked at The Herald for eight years, the high point of my nearly 40 years as a reporter. Our newsroom hummed with energy because Miami is a news factory, a city engaged in the production of news. As a deadline approached, the energy level would surge. I was always inspired by returning from some airline industry event at around 4:30 p.m., when people in nearly every other line of work were starting to go home, in order to write a story with a 6 p.m. deadline in a newsroom where dozens of other writers were doing the same thing.. I have rarely been so convinced in my work life that I was doing what I ought to be doing.
My desk at The Miami Herald was the best desk any newspaper reporter ever occupied. I was in the back row of the business section. If I looked straight ahead, the entire newsroom stretched out ahead of me. In my memory it is about the length of half a football field, although I imagine it was actually shorter. I could observe the bustle of activity around the metro desk as reporters would approach, confer and then drift away to write. Invariably, two factors influenced these discussions: the story's importance and the reporter's identity. The bigger the story, of course, the greater the number of people who were involved in discussing it. Additionally, as in every newsroom, some reporters were in favor while others were out of favor. The office melodramas would unfold before my eyes.
To my left, all along the newsroom's outer wall, were those magnificent soaring windows that overlooked Biscayne Bay. To my immediate left, directly across the bay, was Miami Beach. Sometimes, I would watch storms or hurricanes roll in. I never thought about hurricanes until I arrived in Miami, but there they were a way of life, one more source of great stories for The Herald. I have always felt that if you were a good reporter from somewhere else and you arrived at The Miami Herald, you could become a great reporter, because you covered great stories. We even had reporters who specialized in hurricanes. We won a Pulitzer Prize in 1993 for covering Andrew the previous year. One of our headlines was "We Need Help," all in caps, because at first, nobody outside Miami had any idea of the extent of the devastation or, it seemed to us, any interest in mitigating it. We spoke for Miami then.
If I looked left 30 degrees, I could see the Port of Miami. On Fridays, giant cruise ships would sail in and out of the port. I covered the cruise industry as well as the airline industry, so I knew each ship's history as well as the CEOs who directed
Carnival
(CCL) - Get Free Report
and
Royal Caribbean
(RCL) - Get Free Report
. As a reporter, knowing them somehow contributed to my sense of self-worth.
People say you should never marry a newspaper reporter. They work weird hours, they don't get paid much, and they think they are very important.
After graduating from college, I hitchhiked from Los Angeles to Ushuaia, Argentina, the farthest south city in the world. Periodically I would arrive in a capital city, often in the back of a pickup truck filled with people, and go to a good hotel, where I could not afford to stay, to buy the international edition of The Miami Herald, which was flown in every day on Pan Am. This made me want to work for The Herald. I started out at
The Daily World
in Aberdeen, Wash., and worked my way up through three more papers, bigger and bigger ones, until I finally got to where I aspired to be.
On Dec. 4, 1991, I wrote a story about how
Delta
(DAL) - Get Free Report
had declined to honor a commitment to fund Pan Am following its bankruptcy. Pan Am shut down, and we couldn't deliver our international edition. For me, for both reasons, this was a particularly sad day.
When I first arrived at The Herald, I was assigned to every business section's worst beat: real estate development. About four months later, in March 1989, three unions struck Eastern Airlines. At the time, Eastern had been covered for ten years by a very talented veteran reporter. He used to walk around the newsroom muttering to himself about airlines. I thought he was very possibly insane. By the time the long-awaited strike took place, his nerves were shot. He requested a different beat, and was assigned to federal courts. Soon afterwards, the trial of Panamanian strongman Manuel Noriega began, because at The Herald there was no place to hide from big stories. I acquired the Eastern beat because nobody else wanted it. It goes without saying that within months, I was walking around the newsroom muttering to myself.
I will share just one of my thousands of stories about covering airlines at The Herald. One day I wrote about how
American Airlines
undefined
was seeking concessions from its pilots union. As it happened, on that same day American CEO Bob Crandall came to town. He didn't care for the story. When I went to a scheduled meeting with him, he called me into a small office, shut the door, and yelled at me, uninterrupted, for about 20 minutes. His general theme was that he was not seeking concessions and that, as he put it, "I hate f..... unions." I remember thinking, as I stood in that cramped room with the most important executive in the airline industry, perhaps the most important executive in the history of the airline industry, that I was a Miami Herald reporter and I did not remotely care if somebody yelled at me.
Afterwards, I walked out into a hallway and the station manager, a nice guy named Art Torno, was standing there. He smirked at me. "I told him not to do that," he said. Commercial aviation is such a small world that last week, maybe 20 years later, I
for a story. Also, Bob Crandall was always friendly to me after that.
Like most newspapers, The Herald was not a democracy. Rather, it was ruled by a series of coups, resembling Marx's idealized state of constant revolution, in which editors would periodically be mysteriously replaced. In my eight years in the business section, we had four editors. Two were good, one was overmatched, and one was horrible. The point is that The Herald, when I worked there, was a reporter's newspaper and a writer's newspaper. We had the ability to push back against our temporary overseers. Spontaneity in writing was among The Herald's many strengths.
The syndrome that led to the Herald's impending move from Biscayne Bay is the same one that afflicts newspapers everywhere, only worse.
McClatchy
(MNI) - Get Free Report
purchased The Herald as part of its mistaken $4.1 billion acquisition of Knight Ridder Inc. in 2006, which was exactly the wrong time to pay too much and load up on debt because readers were fleeing to the Internet, advertisers were following them and the world's economy was about to collapse. The acquisition's failings were exacerbated because in Miami, many residents who spoke English as a first language had died or departed for the suburbs. The combination of financial problems meant that hundreds of reporters and editors were let go. Eventually the real estate that is home to The Miami Herald became more valuable than the newspaper itself.
Our family left Miami because crime was rampant and we weren't sure we wanted to raise our three children there. Also, a large number of people in Miami were unbelievably, perhaps unintentionally, rude. In the evening, my wife and I would often tell one another of the day's events. The final, shared line of any narrative would always be "Welcome to Miami."
On the positive side, our children, who are Jewish Catholic Colombian Americans, were in the majority, because few places in this country are as diverse -- or as interesting --as Miami. We still miss it. It had a newspaper that was perched at its heart and that captured its spirit.
-- Written by Ted Reed in Charlotte, N.C.
>To contact the writer of this article, click here:
Ted Reed